Not Quite a Demolition Derby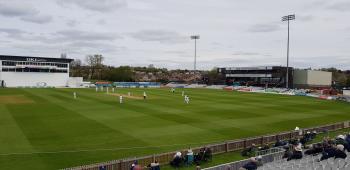 tense stuff
By Beefy texts
April 23 2018
Beefy reports by text to Barmy Kev ( BK) on today's action with a contribution from Seaxe Man. Apart from the prolonged delay before the inevitable defeat we hear about care regarding the sound mike and someone confused with his binoculars.
BK- Hope today is not too painful for you
Beefy- 95-3 goes to 95-4 and to 94-5.
BK. Embarrassing. I will take back what I said about us being too good for this league
Beefy- 160-6 Stirling plays good shots then the idiot gets caught and bowled
BK- We're !X$!@ ed
Beefy They are -4 Over rate. Was hoping the SAS could recue us.
Beefy – Lunchtime beer. Derby member moaning about the rancid smell of onions and burgers from the van in corner.
Seaxe Man- Woodpecker into tenth season starting to look Wenger like.
Beefy -Toby going for slogs 1X6 , few fours than out for 46. BBC radio reporter with a microphone near me. I better stay silent. He is recording I better sit down. lol
Beefy – New ball taken won't be long now. Lol
Beefy- It's great walking into members and getting asked pint of usual
Beefy -Derby bowlers are getting the ar$e. Sending ball down in anger Whizzing around batsman.
Beefy 302-8 Helm 39 Harris 47
Beefy 323-8 100 partnership
Beefy 329-9 – Helm LBW 52. Derby fielders round bat jumping up and down like mad.
Beefy- Guy pi$$ed here sitting in members bar. Just picked up his small binoculars looking wrong end!!!
Beefy Last hour . Minimum of 16 overs
Beefy – 340 all out . We tried great batting by Harris
BK- Good fight put up . Thanks for updates.
Beefy – Now to find a restaurant my train leaves 8pm.