My Glass is Fuller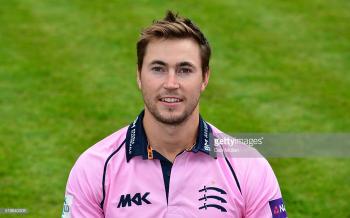 Fuller London's Pride
By Beefy Roberts
July 22 2018
Beefy reports on the twists and turns of a day that could have been worse for us.
Middlesex win the toss and we are batting. Stirlo in one-day mode hitting 2nd ball for four and some hit or miss swipes until caught at slip with score 17. Dingy is wearing club cap in maroon colour a Spaniard mission statement. Our 50 up for loss of one bought up quickly after 9 overs. What could possibly go wrong?
A comfort break needed I return we are 53-3. I am going to spare sharing further details but we are soon after 76-7 . Warwickshire fans near me are asking where Compo is? I'm trying to find a picture of horse pooh to send to Kev for report .Woakes to JK 100 bought up with a 6. We are 107-7 at lunch.

It's ladies day. A lady tries entering pavilion wearing a smart black dress but her shoulders were not covered and was denied entry Meanwhile, men were seen allowed to roam round in short sleeve shirts with jackets off.

It was an extended lunch break for me in Middlesex room. Robbo seen in passing with his left hand heavily bandaged. I return to my seat its 162-7. I should have not returned we are 162 -8. I''m actually glad I stayed 50 partnership and we have a bonus point. Seaxe Man shouts come on JK only 29 needed for ton and is out next ball. We are all out for 236 all out, much better then expected.
More voids to reporting due to my extended tea. I'm back in my seat the Bores are 83-2. The highlight after was big shout Ollie pleading, begging with umpire to give Trott out finger eventually up out for 47. Could this be a turning point? With close of play 152-4 it was on the whole Warwickshire's day so I doubt it. .
View a Printer Friendly version of this Story.
My Glass is Fuller
Middlesex till we die (IP Logged)
22/07/2018 21:14
What do you think? You can have your say by posting below.
If you do not already have an account
Click here to Register
.
Edited 1 time(s). Last edit at 2018:07:23:22:26:36 by BarmierKev.
Re: My Glass is Fuller
23/07/2018 08:07
I am so glad that you recovered sufficiently to write this, Beefy.

You were slightly more aflame with righteous indignation than the word incandescent can do justice to when I saw you later, and rightly so.

Who thinks Stirlo is an opener?

Gubbins got a very good ball from OHD.

Eski's deliberate steer / nurdle straight to any of a waiting slip cordon of only four was an absolute disgrace.

A public flogging, followed by a week in the stocks would be half just retribution.

Mala is all at sea right now. No idea. I would not pick him for the two''s let alone England.


Morgan may be trying to rehabilitate himself with a view to extending his playtime after the ODI WC but he needs to play without a gap between bat and pad to facilitate that.

Well done Max Holden. He played some lovely shots. A back foot drive up the hill to the Grand Stand was dreamily graceful as the pick of them.

JK's attack was mixed with very sensible shots, and some utterly glorious violence. The overhead tennis smash for four off Woakes after giving him the charge will live with me for a long time.

Thank God Ollie is playing in the V more.

The Lambeth Lara was also good value, and why not, after the recognised batters had been so rubbish. He owes us nothing,
Sorry, only registered users may post in this forum.