Thursdays continue to get worse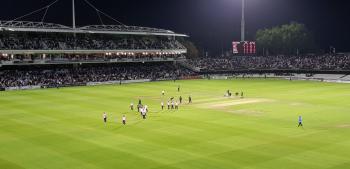 Heading for Knackers Yard
By London Leprechaun
August 17 2018
London Leprecghaun reports on, thankfully. our last T20 game at Lords for this year. As its a familiar story the most interesting bits are the conversations at the end. Feel free to skip right there and see what you think.
Whlle it was raining this morning half of me hoped it might not stop in time for the match. But as I was coming with a friend who had never seen live cricket before I was happy that it went ahead on what became a nice evening. Not that I had much expectation of the game itself.
Arriving around 5.30 gave plenty of time to find room in the Lower Tavern, and take my friend on a brief tour of the ground. Interesting to see someone genuinely delighted to be at Lord's and interested in seeing it all for real. We do take it for granted sometimes.
Also interesting to see the ground fill up to near capacity by quite early in the match. Which seems to prove that T20 crowds don't really care about the significance or otherwise of the match. Certainly most of the people round us didn't seem to be taking much notice of what was going on or how much they were interfering with the view on endless trips for beer or burgers.
What about the cricket I hear you ask. Or not. I really don't feel any desire to go into detail about a depressingly familiar pattern for us. So just a few thoughts:
Simmo in at three. Why. Even when he could buy a run he's not a T20 no three.
Why was Franklin playing in a meaningless game. Surely this was the match if ever there was to play youngsters.
The Essex bowling and fielding was ordinary and some of their captaincy decisions were odd. But though we got over 200 plus the score was a disappointment when we were at 10 an over halfway through.
We keep slowing down after good starts. One reason is that when we have batsmen going well _ today Stirling and Morgan _ the other batsmen seem to think their role is to give them the strike and not look to score themselves. When Surrey took us apart at the Oval it was not just Finch. Roy was not that far behind him in scoring rates. Which gave Surrey such a high scoring rate.
Today it took what looked like a forceful word from Moggie to James Fuller to get him to start hitting in his own right which gave us the forty or so runs we scored in the last four overs.
We fielded poorly. I missed the first Essex, wicket because of bumping first into a friend and then Mike Gatting. But I gather that was a good catch.
But after that it was a catalogue of near misses, diving over the ball, missing the stumps, and plain and simple drops. So Kent always had wickets in hand and even though they needed 11 an over for a little while a win for us was not ever really likely. Not that most of the people round us seemed to care one way or the other. If they actually knew what was happening.
Typical of the whole season really. We always seem to be a few runs light and our bowlers are struggling especially when they are not backed up in the field.
More interesting were the conversations after.
My friend really enjoyed his experience. He liked being able to see the whole field of play not just what TV shows. He enjoyed the atmosphere and the noise and he liked that the match was, to him, relatively close. He now wants to come to a proper one day game. So T20 has done its job in that sense.
While we were on the bus I was talking to a couple of other long standing Middlesex supporters and venting to each other about how awful the T20 season had been, and wondering what the coaching team had brought to the party over the last two years.
Another spectator said he had enjoyed the match with all the fours and sixes and was not worried that it was close because both sides were equally poor. He only comes once a year by invitation and was not bothered by the result.
Another apparently more regular supporter and a self declared "purist" said look on the positives. We saw 400 runs scored in three hours. Did it really matter that it was because the sides were equally poor?
Which all seems to sum up the range of things that T20 is all about.
Discuss.