A salt and battery leads to season in tatters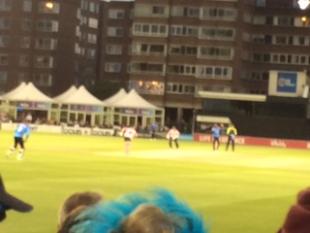 No change in result
By QPR Chris
August 18 2018
QPR Chis had the dubious honour of being our last T20 reporter for 2018. Well done for going and reporting. Your end of season celebration was well deserved.
Middlesex fans will be used to reaching the end of a T20 group stage feeling a sense of disappointment at what might have been. This time, however, it is greeted with a huge sense of relief and longing for the return of the Championship, despite our inconsistencies in that format. What an unmitigated disaster T20 has been, even for a club with our poor record since the competition's inception.
The trip to Hove booked long ago (in the misplaced hope that we might be playing for a qualification spot!), I was determined to make the most of it. Hotel booked to facilitate a night out in cosmopolitan Brighton afterwards, I met Rogers and Out in the afternoon in one of the city's excellent pubs to chew over the ruins of our T20 season. It was somehow cathartic to do it - get all the frustration off the chest - and we were encouraged by the inclusion of Andersson and Bamber in the squad, given some impressive performances in the 2s.
So to the game. Fantastic ground, so atmospheric under the lights. Needing victory to qualify, Sussex (with sad inevitability) got off to a flyer and thoughts abounded of a score of 300 (!!). To our credit, we pulled them back with Sowter bowling particularly well in the middle and Fuller taking three wickets in an over. Why did Andersson only get one over we thought? Two lots of five wides in the last over bowled by Stirlo gave Sussex a still impressive 215. In truth, I didn't give us a prayer.
Grounds for optimism however were provided by the ever reliable Stirlo accompanied by Simmo batting at 3. They flayed the bowling to all parts. It was fantastic to watch. With 90 odd left to win at 8 an over, and Middlesex well ahead of the DLS par score, we looked odds on to round off a miserable campaign with a morale boosting win. Then it all fell apart, with quality Sussex bowling accompanied by panic stricken batting (not least the needless run out of Morgan) seeing us fold in quick time. The type of defeat that explains why we're bottom.
The denouement saw Barber's stumps rearranged yet, ironically, I couldn't help but feel a sense of contentedness that this rotten campaign was all over. Blue haired Sussex fans cheered their quarter final place - and good luck to them.
So to some reflections. 12 losses in 14, including eight in a row, is an appalling record that not even the biggest pessimist expected. It needs thorough self-reflection and forward planning for next season. White ball cricket is really important. We have looked a demoralised side since being destroyed by Roy and Finch at the Oval - a chastening experience for our younger players - and never recovered to any extent after that. It can't have been easy for the likes of Barber, Scott and White suffering loss after loss.
One has to feel for Stirlo. Consistent performances with the bat throughout only to see our innings falter thereafter, or the bowlers not up to the task of defending it. Morgan and Fuller showed why they have key roles with the bat. Fuller has great potential as a big hitting all rounder. For me, the bowling was found most wanting especially after Bravo and Agar left, and Helm and Finn got injured.
So that's it for T20 for another year, finally it's all over. And I celebrated that fact long into the Brighton night. The following morning's sore head was well worth it.