It Might As Well Rain Until September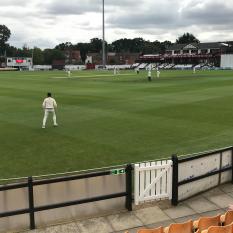 Early wicket
By Frank In Sense
August 21 2018
Frank In Sense gives his take on day where more fun happened off the field and rain seems to be our only hope
I started the day explaining to Rogers and Out friend on his first red ball game to be a Middlesex fan you needed to be a halfwit or misfit.

Harris in 7th heaven takes two quick wickets. Kev caught one on camera. ( see front page picture and who was no longer in slips)

After 2 overs we are 26-0. Our best 20 20 start of the season.

Gubbins out again in 30s . LBW looked outside off stump he never looks happy with decisions but this looked dodgy. Biggest shock to follow first round of drinks Kev asks for cup of tea. Kleindevelt his 1st ball Robson miserable season continues beaten by lift. I'm no longer a fan of Malan even less now he is out first ball. Kev says he looked good until he was out. Morgan needs 112 for parity. Eski out from an awful shot. I don't drink alcohol anymore but I'm going to the Boozer lunch time.

At the County Pub no hurry to get back. Following game there on phone Morgan out seemed an iffy shot from my view. Big cheer in County pub Robbie off the mark. Even bigger cheer it's raining and players off and we are staying in pub. Kev does a rain dance that doesn't payoff . Only 2 overs lost.

We return White and Holden steadying ship doing well with light fading. They can't use floodlights here and players need to go off. Holden caught behind from one he couldn't see and then players off for bad light. Early tea.

The excitement was for rest of our innings was whether we would avoid follow on, gain a batting point , Bamber gets a starter for 10 and our top scorer Extras get a 50. None of these achieved.

Following on there was a sweepstake on how many we would be down by close. I went for 0. No reflection on our batting but dark clouds gathering. There was time for Gubbins wicket to give Rogers and Out money. Soon after rain put us out of our misery for now. Unfortunstely no more rain forecasted for rest of game with us in a hopeless position.
High stakes