Tales of The Unexpected ends with a Murtagh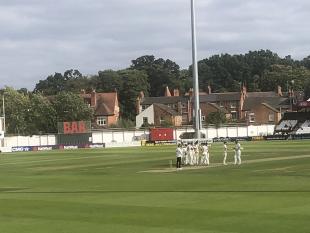 We won
By Barmy Kev
August 23 2018
Barmy Kev reports on our unlikely win with all the twists and turns of a dramatic day
Monday night and certainly up until lunch yesterday I didn't expect to be here today. The fact the game went into a 4th day was a minor miracle in itself. With our last proper game against the Bears in mind I am thinking we now have a 50/50 chance of victory.
We start with two wide ones left by Murts then 3rd ball of day stumps shattered. The positive is currently there seems to be something in pitch. From here onwards the ball-by-ball commentary finished.
216 needed and with the two batsmen who I was hoping would still be out there are now opening the bowling. 19 for first wicket and Northants seem in little trouble. How many times doe# this happen Frank In Sense is off to buy a wicket and Zaib is caught and bowled by Harry.
The next wicket seemed as if it was never going to happen. No demons in the pitch Vasco and Proctor looked frustratingly comfortable. An unsympathetic Northants fan near me asked the Middlesex faithful "are you enjoying your day" with a smirk. Lunch approaching I shout in direction of pitch come one before lunch and Proctor taking a Gamble is caught behind. 97-2 lunch we are just about in with a chance.
It was planned to be a dry day but we went to Abingdon pub where we had to imbibe. We made sure we returned in time for resumption. Mass contrast to day 2 when we were reluctant to return.
One major difference after lunch Ollie sub in slips and no Morgan on the field (I wish Moggie well suspecting this an injury not a tactical switch). As I comment on his value our sub phew catches the dangerous Vasco. Wakey Wakey soon out playing no shot. Crook not looking comfortable LBW. All 3 wickets off Murtagh. He returned to Murtagh's Mound and answered my question of what he had for lunch evidently a not very nice sweet and sour chicken that did the job. It's 125-5 and in no time the game is even again
Bamber is bowling well and we have two South Africans in one-day mode riding their luck. Our lucky break take it when you get it Kleindevelt two clear noises ball missing leg stump Pollard gave LBW having nearly put finger down. Oh Duckett out for a duck caught by our super sub. After the dodgy LBW the same umpire refused two that looked closer. Levi was a wicket waiting and was caught behind by impressive White behind the stumps
148-8 we are now clear favourites but life is never easy as a Middlesex fan. Buck and Hutton, who has irritated us before batting for Notts, are digging in. We are now playing after tea and journeys home are going to be later than imagined. We are checking revised train times, scores from other games on our phones for interest or maybe a distraction. In these situations I'm talking more nonsense than normal to help calm me.
Once within 30 and two wickets left the usual wicket superstitions seemed not to be paying off. The relief when Buck gave Fuller easy catching practice was imaginable. Still 29 needed and each single made me nervous.
The last wicket of Hutton given LBW from Murtagh was met with ecstasy. The guy who asked us when we were struggling if we had an enjoyable day shook our hands. This was genuine and saved me asking him whether he enjoyed his day with a wide smile.
One crucial factor was 9 extras conceded compared with their 37 and 56. This was down to accurate bowling and White's keeping.
In summary, for the third time in this form we have won a game when we have been behind through the best part and lost most sessions. This shows our fighting spirit. I do feel this papers over the cracks. We have international players who are underperforming but lets leave that for now. Our rookies Holden, White and Bamber all stepped up to the mark and can give us hope for the future. Credit to Jonno. I musn't forget Harry's incredible batting and bowling. Of course Murts match changing bowling today.
So much for a dry day. I joined Rogers and Out for a celebration in town. As typing this the morning after I'm still buzzing. I hope those whose journeys were affected by the uncertainty got home safely and are still as jubilant as me
MIDDLE MIDDLE MIDDLE