La La Bamber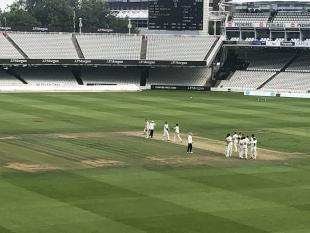 Another win
By Haringey Racer
September 1 2018
Haringey Racer gives us great detail about a dramatic Middlesex victory. The only thing we don't hear about is whether he finished his sandwiches.
The state of play at the end of Day 2 gave me an early decision to make. How much food should I take? After a nanosecond's consideration I decided to allow for the possibility of a slow over rate plus the extra half hour leading to a finish sometime after 7 pm and prepared sandwiches accordingly. Trains behaving perfectly, I arrived at the Lord's security checkpoint 20 minutes before the start.
With five overs until the new ball became available it doesn't take the tactical acumen of a Brearley to know that Middlesex didn't want to lose early wickets. Archer opened from the Pavilion End with an uneventful maiden to Harris. Robinson opened at the Nursery End and his fifth ball moved a little off the seam, just enough to catch Malan's outside edge for a routine catch at the wicket. Not the start we wanted.
Things got worse the following over when Fuller, who had survived a loud lbw appeal from Robinson first ball, had a wild slash at his third ball and was well caught by Jordan at slip, high on the keeper's side. So, within three overs we had lost two wickets for three runs. To nobody's surprise the new ball was taken immediately. Rayner and Harris advanced steadily, although one half-hit hook from Rayner off Archer dropped just short of fine leg. Harris was then given leg before to a ball from Archer which cut back, kept low and, from Harris's reaction, may have hit the bat. 226-8.
Archer greeted Bamber with a well-directed bouncer that he played very well straight to his feet but next over Robinson uprooted his middle stump. One single later Finn faced two balls from Archer. The first was a bouncer that he fended off unconvincingly with his glove to the vacant short leg region, the second he pulled straight to short square leg. Fifty minutes played and Middlesex all out 232, setting Sussex a target of 231. Archer finished with 5-69, the best performance by an Archer at Lord's since the 2012 Olympics.
Harris and Bamber opened the bowling and with the final ball of the second over Bamber hit Wells's leg stump. 7-1. Salt and Haines appeared to have decide that attack was the best way to start the chase and interspersed extravagant plays and misses with good shots to the boundary. Fuller replaced Harris at the Nursey End and Finn replaced Bamber. The score had reached 41-1 just before lunch when the opening ball of the 15th over, from Fuller, surprised Salt for pace and bounce and he edged a routine catch to Eskinazi behind the stumps and caused both coaches to revise their lunch-time talks.
Walking round the ground at lunch time the consensus was that the game was still in the balance. The usual pessimism from certain Middlesex individuals held that we were fifty runs short. No doubt Sussex fans of a similar persuasion thought we had fifty too many.
On the restart Fuller completed a wicket maiden to give him figures of 3-3-0-1. Finn was then hit for boundaries by Haines (edged wide of the slips) and Finch (worked through midwicket from outside off stump) in the same over. The Sussex fifty came up in the 18th over before Finch was missed by Rayner at second slip off Fuller. I say missed rather than dropped as Ollie was at full stretch leaping to his right. Nobody else would have got close but we've seen him take those so often in the past. Finch then straight drove a four to rub salt into Fuller's wounds before Fuller hit him on the hand with one that lifted unexpectedly. He took a single from that exposing Haines who cut the final ball of the over straight to Malan at backward point. 59-3. A single off the first ball of the next over brought Wright, on a pair, to the crease. His first ball cut back and bowled him. Five balls faced in the match and out twice for no runs; not his best game at HQ. Ben Brown had something of a charmed life early on: he edged Fuller wide of slips for four. cut just over a diving cover for another, and top edged an aborted pull shot off Finn straight up in the air and landing just out of reach of both bowler and keeper at a Brian Close range short leg.
Bamber and Harris then returned to the attack and Harris immediately trapped Finch lbw for his 50th Championship wicket (if the Lord's PA can be trusted) of the season. 86-5. The 100 came up with a drive from Wiese through the no-striker's legs – the shot of the match in my view. Brown was still riding his luck while, if anything, taking even more risks. A fine lofted straight drive of Bamber was followed by another edge through the slips off Harris but his luck finally ran out next ball and he edged to Eskinazi. 111-6 and pessimism starting to diminish but not, obviously, evaporating completely. It diminished further the following over when Jordan edged Bamber to a diving Eskinazi who almost took the ball out of Robson's hands. Not bad for someone who hasn't kept wicket much in recent times. 114-7 became 114-8 as Archer was bowled by one that seemed to keep a bit low and move up the slope, far too good for a number nine and two wickets in three balls for young Bamber.
No batting collapse is truly complete without a run-out, preferably one of the comedy variety. Having moved the score on to 127-8, Wiese lofted Bamber over mid-off where Malan ran back and circled the ball in an unsuccessful attempt to take the catch. Meanwhile Robinson was taking what he thought was a safe second run and was run out by Malan's direct hit at the bowler's end. 128-9 and even the most pessimistic Middlesex fan was quietly confident. That confidence was slightly strained by a last wicket stand in which Wiese was content to trust his partner, Briggs, rather than turn down any runs but with the stand at 47 the inevitable happened, Briggs edged Fuller to Eskinazi, and Middlesex were the winners by 55 runs. Wiese remained 37 not out, Sussex's highest score of the match but two runs fewer than the extras they conceded in the first innings.