Toothless display while Murts is at the dentist.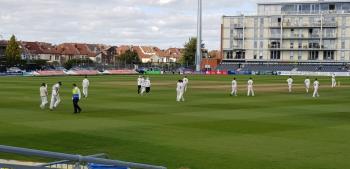 Can i go home?
By Beefy Roberts
September 7 2018
Play starts . I'm back on the Hammond Roof with all 3 results possible.
2 subs on field. No Murts (dentist appointment some said at tooth hurty) and Harris seen moving around boundary edge very slowly.
Mala first change for Fuller and Hammond makes 50 and then hits him for 6. Mala and Morgan question the ball. Meanwhile last nights curry has taken revennge
Murts returns from dentist chair and when allowed to bowl takes the first wicket. By now I have given up on a result.At lunch 167-5 this was hard watching game going nowhere.
Wickets started to fall at regular intervals after lunch with first being run out Higgins mix up. I ordered a ham roll , given a turkey one in error. When back to return it and someone had eaten my ham one. 2 soft drinks cost £5. Not impressed.
Over rate +4. Robbo bowling. They declare 306 needed to off 40. Thank you Glous!
Stirlo opening to show intent. He is run out while trying to avoid ball hitting him. 3-1. Glous fans were saying Middlesex were good at 20/20 and meant it hmm.
Still chasing target Mala skier 13-2. 18-3 Gubbo LBW . Morgan having charmed life out another skier 2 balls after tea 28-4. Robbo is showing proper defence it has all calmed down . Fuller out 56-5 as last hour starts. Robbo/Eski 50 partnership sees us through to the handshake. Time to go home