Win it or Loo Seat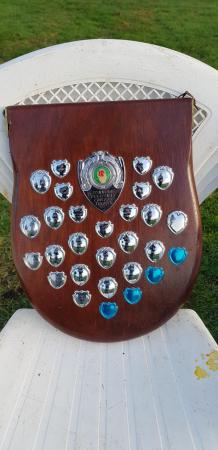 Toilet cricket
By Beefy Roberts
December 31 2018
Beefy reports on a bog standard day of toilet cricket in the middle of winter.

Today 30thDec I'm watching live cricket in England. It's the annual game played between Flitwick CC and Ampthill CC competing for the 'Loo Seat Trophy', It's been contested since 1994,. Bad light dodgy winter weather never gets in the way of this tournament happening.
I found out about this game whilst reading a book called The Exhaustive Guide to Club Cricket by Dan Whiting or Middle Stump as he is also called.
It's 12 overs a side playe on an astro-turf wicket. Not a drop in! Small boundary markers to show the rope area using training stumps. Once a player reaches a certain score, he retires,to allow another to bat.
Ampthill batted first, Flitwick opened with a spinner from one end. Scores? No idea their version of Don Shelley sat at a white table with book in hand.
One shot Ampthill batsman hit the rugby post to his left, then went between posts.. Is it a conversion or 6 runs? We will never know!
A pitch invasion started,as a young lad of about 2 years old ran onto the field of play,carrying his own plastic cricket bat, He was soon carried off by parent.
There were a couple of unlucky tries at diving catches? The crowd of approx 40 were then joining in as unlucky ball catchers.
Ampthill made 107-5 Off their 12 overs A quick turn around happened,as the word was it's beers were ready in The Albion pub at 1200 hrs, A 10 min walk from the sports ground.
Flitwick started like they meant buisness,and wanted to retain the Loo Seat as something to sit on. They were 60-4 Off 5 overs,sending the ball everywhere,and had level scores at 107 off 9.2 overs. Flitwick the winners by 6 wickets.
Everyone retired to The Albion after play for ales,and trophy presentation by the umpire,who gave an entertaining speech.
Cricket on Dec 30th? Same time next year? Wouldn't miss it!
View a Printer Friendly version of this Story.
Win it or Loo Seat
Discussion started by Middlesex till we die , 31/12/2018 00:11
Middlesex till we die
31/12/2018 00:11
What do you think? You can have your say by posting below.
If you do not already have an account
Click here to Register
.
Edited 1 time(s). Last edit at 2019:01:14:22:20:48 by BarmierKev.
chunkyinargyll
31/12/2018 09:24
Did Clyde and Ring-a-ding open the batting for the Ampthill mob?
BeefyRoberts
31/12/2018 11:39
25th game next year,only problem is public transport for getting to ground,nearest station is Flitwick and will need a cab to the ground,but,a small price to pay to watch a game.
There is a scorecard on-line as well.
Yea,really glad I went along,and to share a small piece of the game.
Sorry, only registered users may post in this forum.