Lost Masterpiece.Who's Sorry now? ( Part 1)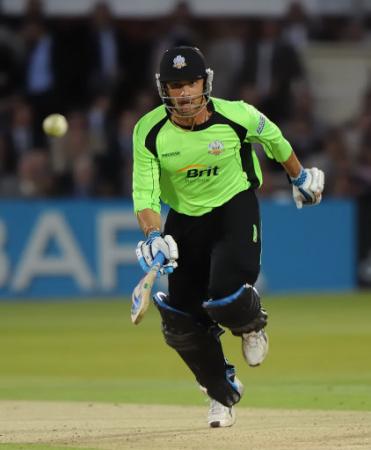 Failed today. Shame
By Lizzie, Jez and Ged
February 20 2019
Ged has been able to dig out from the Cloud some old reports that are lost in MTWD archives. The first from 2007 is what we believe to be the end of our jinx the first 20/20 win over our neighbours Sarf of the river. Side contributions from of our two ex moderators of their forgettable memorable day. Enjoy
3rd July 2007 Middlesex v Surrey Twenty20 Cup Lord's by Lizzie
Pre-match
To my relief, I was relieved of my duties as being a "responsible adult" as two other members of the PE staff decided to come on this school trip, so I could go back to my original plan of having nothing to do with the small children. Especially as I'd been portrayed as some kind of "Miss Middlesex" some of them seemed to think I was going to get them free stuff. Er. No!
Anyway. About thirty paces away from Lord's it absolutely bucketed it, complete with thunder and lightning. As I was in shorts [it was sunny when I left Slough!], wasn't too impressed. And while I was getting searched, they elected to take out my Spanish notes and read them, so they got soaked. Good. Quick change into trousers, I resembled a drowned rat. Headed off into Lower Compton, we'd won the toss and elected to field, 19 overs aside.
Surrey Innings
Chadders and Dial M opened up the bowling, while Benning seemed to have fun spanking fours all over the place before being bowled by the excellent Henderson. Brown went first, caught Joycey bowled Murts, and was delighted to see Ramps go for six to the bowling of Henderson! Umbrellas went up at 49-1, but the shower passed fairly quickly. JD got the last two wickets, having Butcher stumped for 5 and Batty caught by Murts for 6, before at 13 and a bit overs it decided to rain. Again. This time heavily.
Rain Break
Couldn't be bothered to move, I was too cold, so I spent the interval huddled in my England fleece which I'd bought earlier, and then realised still had a electric tag in it. Was quite uncomfortable. Had no idea how I made it out of the shop. Still. We'd already opted for the extra half hour, and play reconvened at five past eight, with us needing 73 off 10 overs. Excellent, I reckoned. We'd do it.
Middlesex Innings
Out came Smiffy and Morgs to Lily The Pink, which I was happily humming, I'd barely made it past the chorus when the Skipper skied it to Benning for a duck. Oh. Hmm. Wasn't happy. But Joycey and Morgs put on a brilliant stand, especially when Joycey hit three successive boundaries. Joycey unfortunately fell to Schofield, but JD and Morgs saw us home, JD with an impressive 26 not out off 15 balls. Had some champagne to celebrate, finally the Surrey jinx was over!
To sum up:
Wet. Cold. But extremely happy!
Barmy Jez writes:
Ah, yes, I do remember that one now – in fact, very well. It is one of the two occasions I have got Sarah to Lords (she left when it started raining because she was bored). Not sure if that was a works outing either – I suspect it may have been, as was tradition around those years anyway.
That in itself was almost as good as the day in 2008 – Surrey really struggled after a good start, Ramprakash particularly, who really couldn't get it out the park that day. After an early wicket, our chase never looked in doubt (apart from to the Middlesex faithful that had never seen us beat Surrey until then).
Ged
Ah, yes, I vaguely remember too. It is in my diary to attend and I think I did go. I don't think many (if any) other people from the Z/Yen office joined us – I think there was a relatively large group of Jez's old mates from Uni plus Jez's brother Ben plus Sarah.
I certainly remember going on one occasion when Sarah was there looking mighty bored and then she left early, politely saying that she "had a bit of a migraine"
Scorecard can be found here.
http://www.espncricinfo.com/series/8053/scorecard/268444/middlesex-vs-surrey-south-division-twenty20-cup-2007
View a Printer Friendly version of this Story.
Lost Masterpiece.Who's Sorry now? ( Part 1)
Discussion started by Middlesex till we die , 20/02/2019 10:07
Middlesex till we die
20/02/2019 10:07
What do you think? You can have your say by posting below.
If you do not already have an account
Click here to Register
.
Edited 2 time(s). Last edit at 2019:03:03:21:55:00 by BarmierKev.
Sussex Seaxe
20/02/2019 10:56
That's a very interesting stroll down Memory Lane, thank you. I particularly liked the Lily the Pink reference and champagne always warms up a damp evening (?)
Sorry, only registered users may post in this forum.