Luckily the Law is on our side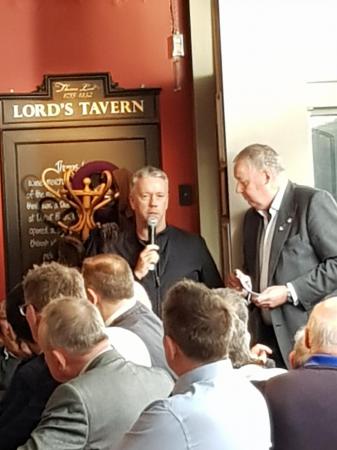 Law abilding to Gus
By Barmy Kev
March 3 2019
Kev reports on Q&A for our new coach that heartened those who attended for the coming season
28thFebruary I had the privilege of attending a Q&A session for our new head coach Stuart Law. At £25 a ticket, which included a lunch with a half bottle of wine this was affordable and attracted many genuine fans. It was also a great opportunity to catch up with some MTWD diehards who for some reason were placed on a table in the far corner. The main debate over dinner was a nickname for our coach. I still like "Mother In."
The Q&A started with prepared questions from Gus and then from the floor. The edited highlights of his answers are:.
Having his Office at Lords " what is there not to like"?

He wanted Finn to bowl like when he first faced him while playing for Lancashire and hinted England may have not done him any favours.

His role at West Indies was challenging to motivate players changing their ways of thinking. The job for us he expects not to have such issues

He is aware of over rate issue, wants to maintain a prominently seam attack, but will keep an eye on it.

He wants players to play with smile on their face. while giving a no nonsense impression

He wants us to challenge equally on all forms. He is ecstatic about our 20/20 signings.

He is impressed with our youngsters. Martin Andersson received a special mention.

He is against short-term overseas signings that disrupt the squad and may stop the progress of someone like Max Holden

At Queensland, to win trophies they signed Botham, then Hick. They scrapped overseas signings relied on own youngsters and won 5 trophies in 10 years.

He is against pigeon holing players like he was as white ball specialist. He mentioned Sam Robson as an example for red ball
His enthusiasm and desire to succeed came across strongly which rubbed of on those at the Tavern who gave Stuart a massive round of applause.
A lovely touch, the attendees were given a Blue Peter like badge with how many current successive years as a member. The highest I saw was 40, well done the Leprechaun. I was 10 due to a temporary broken sequence. I will wear this with pride.
Stuart having done the rounds the time came when he finally met the MTWD troublemakers. He was impressed with our nickname of Vermin Corner. As his bosses left inviting him to join them, he was happy to stay with us, chat more about his career, hopes for Middlesex and cricket controversies. Fortunately, the copious red wine has clouded my memory and he is safe.
What I do recall is Stuart Law came across as passionate about making Middlesex successful and (excuse my Australian) a bloody nice guy.
He's Middlesex till he dies