Cricket Mourns for Two Greats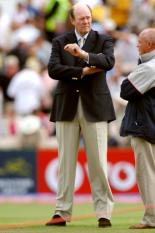 By Dan Rankin
January 2 2013
The cricketing world has lost two greats of the game this past week, with the sad passing of former England captain Tony Grieg and TMS favourite Christopher Martin-Jenkins......
Greig who had been suffering with Lung Cancer towards the back end of last year, died suddenly at the age of 66 with a heart attack.
He played 58 Tests for England from 1972-77, including 14 as captain. In his later years, he became a respected commentator both here in the UK and down under for Channel 9 television.
The channel said that Greig died at about 13:45 local time on Saturday.
He was most famoulsy part of the Kerry Packer world series, which changed the face of cricket in the late 1970's.
"He changed cricket in the way we know it now," said former England legend Ian Botham. "The players of today have a lot to thank Tony Greig - and Kerry Packer - for."
In a double blow for the game, softly spoken Christopher Martin-Jenkins sadly died of Cancer, aged 67.
Widely respected in the game, CMJ was a popular voice on the BBC flagship, Test Match Special with fellow commentator Jonathan Agnew saying "CMJ, as he was widely known, was one of cricket's most respected writers and broadcasters."
Both are a great loss to the game we love.