A Glamorgan Glitch?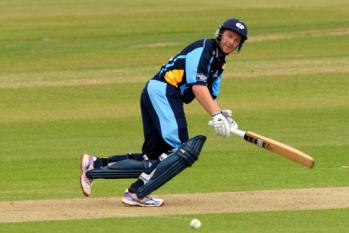 Andrew Gale
By Gary Watton
May 5 2013
Yorkshire's incursion into Wales has proven as 'successful' as the England rugger buggers' recent excursion to the principality. To quote that nice Anne Robinson, "you leave with nothing." Mind you, the most successful county in England did start their County Championship adventures with defeat before bouncing back spectacularly in the last eight days, so here's hoping history repeats itself in the 40 overs league.
Before I offload the lovely scores for your unbounded pleasure, permit me the following coroner's inquest.
It is patently obvious that the visitors allowed Glamorgan to get off to a flier and post a daunting run rate exceeding seven per over. Therefore, the first major observation from yours truly is that Yorkshire's much-changed, not to say very inexperienced bowling attack needs to give our batsmen a chance when we bowl first. Nobody, not even Pyrah, emerged with much credit from our bowling non-performance.
However, in spite of the duck eggs accumulated by Jaques and Root, our batsmen made a good fist of pursuing over 280 runs, with Ballance, Bairstow, and Gale all recording fifties. It is particularly encouraging to see Andrew Gale find some semblance of form with the bat, which one hopes he can take into the county championship arena sooner rather than later.
At Colwyn Bay; Sunday 5th May; Glamorgan won the toss and chose to bat
Glamorgan: 285 for 7 (40 overs)
Bragg b Pyrah 50 (105-2)
Wallace b Patterson 10 (49-1)
Cooke c and b Patterson 58 (151-3)
North c and b Pyrah 68 (245-5)
Allenby c Root b Rhodes 14 (190-4)
Goodwin c Rhodes b Pyrah 45 (267-6)
Wagg lbw b Pyrah 3 (267-7)
Owen not out 11
Cosker not out 7
Extras: 19
Pyrah 4-43
YORKSHIRE: 257 (38.2 overs)
Gale lbw b Cosker 65 (159-4)
Jaques b Wagg 0 (1-1)
Root c Cooke b Wagg 0 (1-2)
Ballance st Wallace b Cosker 50 (93-3)
Bairstow c Owen b Hogan 53 (186-6)
Pyrah c and b Cosker 9 (181-5)
Rashid not out 42
Rhodes b Owen 18 (222-7)
Patterson c Cooke b Hogan 5 (235-8)
Wardlaw c Allenby b Owen 2 (255-9)
Ashraf lbw b Hogan 0 (257)
Extras: 13
Hogan 3-29; Cosker 3-36
GLAMORGAN WIN BY 28 RUNS
View a Printer Friendly version of this Story.
A Glamorgan Glitch?
Yorks Cricket (IP Logged)
05/05/2013 20:36
What do you think? You can have your say by posting below.
If you do not already have an account
Click here to Register
.
Sorry, only registered users may post in this forum.
More Yorkshire CCC headlines
Yorkshire CCC latest threads
Yorkshire CCC Poll