The Only Way is Through Essex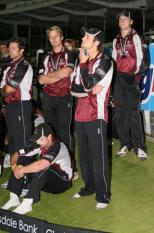 Get Yerselves Up Lads
By Grockle
August 29 2011
Two debutants in this one for us as Chris Jones and Steve Snell come into a keeperless side because of the international call-up of our glove men. Snell will be registered for the CL as wel it seems and Chris gets a chance to show his ability in the short game to make a claim for Hydrabad. We have won the toss and we decided to bat - anything to do with our run rate advantage? Probably.
v Essex CB40 @Taunton Monday August 29 2011
We win and it's semi final day at Taunton. We don't and we are off to Hove probably for a difficult smash about with Sussex. The side is a little different because of the loss of Jos, Craig K. In comes Jones for Compton and Craig Meschede takes over from the other Craig in the batting line-up while new registered player Steve Snell will pick up the gloves (he's already wearing his shirt).
The side is:
Trescothick, Trego, Jones, Hildreth, Snell, Suppiah, Meschede, Thomas, Kirby, Dockrell and Kartik
Marcus won his third toss in a row and decides to bat - something to do with Essex and run rates...or just he's had enough of chasing. Pete joins his captain as opener but soon finds himself on the pitch alone as MT retires after hitting two boundaries and is helped off the pitch by two people. Worrying for Wednesay people. Out comes Kartik in this kind of pinch hitter role he seems to be taking in one day games when we lose early. He helps Trigger to take the game past the 50 mark before he departs for 29 off 21 at 68. Hildreth replaces him
The Reply
Kartik does the other thing he does which is he opens from the River and he goes for 5. Meanwhile a number of supporters are being handcuffed in the Somerset Stand and led away by the gentlemen of the A&S Constabulary. Interest in that means we nearly miss Pettini being plumb in front to Alf 5 for 1 8 balls in!!
It doesn't stay in our favour as Mickleburgh and Wheater start to move the score on and MK and AT do struggle to keep the Essex men in check and it is Dockrell who breaks through when he gets Wheater to put one out to the Somerset boundary and into the grateful clutches of Alex Barrow who is subbing for the Boss. 83 for 2 is not looking that wonderful but it does look a little better after the two wickets taken by Snell behind the stumps off the bowling of Craig M from the OP. Westley for 1 at 85 and Foster for 2 at 95. Mickleburg is holding this innings together with 50 plus and the result is still not a certainty for either side after 18 overs with Essex still a run from 3 figures.
Ten Doeschate is in. Not the batting problem he was last year but still a man you don't take lightly especially as he has a "set" man in Mickleburgh at the other end. That is changed by Kartik at 105 when he C&B's him. 113 for 5 with over 15 overs to go and 128 to get is a match there for both sides. Napier joins TD and they look to push the score along and its a 33 partnership before Kirby puts the proverbial cat among the pigeons by having TD in front LBW at 146 just inside the 25th over.
Topley arrives, looking like a bit of a rabbit and Napier starts to put bat to ball as often as possible and could win it on his own if we let him. 15 overs almost needing 106 to win. Steve bowls a great 30th but Essex need 63 off 10 as Alf takes the 31st and Napier is looking very very dangerous. Presently however, if Middlesex beat Sussex (needing 20 off 6 overs and 8 wickets in hand) this game means nothing and we get a home semi anyway.
When Topley is dropped at 197 by Kartik in the 33rd we all start to feel that it is not going to be our CB40 day. When Alf takes Napier next ball LBW for an excellent 41 at 197 the hopes rise again though the 200 arriving still makes the total possible.
Topley caught Dockrell bowled Suppiah halfway through the 35th at 208 starts to make the Middlesex result immaterial as well. Suppiah bowls Mills to finish it at the end of the 35th and we will be at home in the semis!!
Well done. Tickets will be on sale from tonight to members. Big queue presently. You have to come and get them .THEY ARE NOT ON THE WEBSITE I'm afraid people though you can phone in for yours from 9:00 tomorrow. Details are now on the site.
Brian Rose is at the boundary as the side come off. He hugs Alf and then shakes hands with the whole side as they come off. Good to see. This means a lot after the weeend.