Green green grass at Home - Middlesex CC1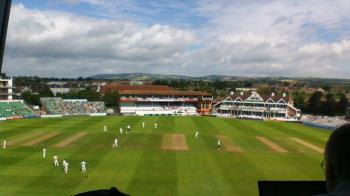 By Grockle et al
July 10 2016
Championship cricket back at the County Ground as we welcome Middlesex. They seem to have been shorn of some talent and Chris Rogers seems to have decided that the pitch chosen for this game is 'too worn' and has moved the game to a green top. No toss is the decided option and Middlesex put us in first. Interesting
v MIDDLESEX CC1 @ Taunton Sunday 10 July 2016
We start the second half of the CC1 season on one of the greenest wickets I have personally seen at Taunton for a while. It might be an underestimation of the wear on the central wicket or it might be the lack of seam options after England call ups and other things. No Roland Jones, No Finn, No Stirling No Murtagh. Have they set up a pitch looking for a home win? Well it might be...it might also backfire as we bat first. As a piece of trivia.... this is Pete Trego's 200th first class match.
Somerset's side is;
Trescothick, Myburgh, Rogers, Hildreth, Allenby, Trego, Overton C, Barrow, Overton J, Goenewald, Leach
No Tom Abell yet so the back injury must still be an issue. This offers an opportunity to Johann Myburgh to extend his first team work and consolidate some good form. No Ryan Davies who was ill for the Pakistan match but then played in the short form games. Both Overtons are in which might not be the case later in the season now that Jamie has been called up for the Lions. Jack Leach is also back reminding people of his value hopefully as the 50 over tournament gets underway.
We start on time in breezy but sunny conditions. Banger opens with Johann against the hopefully less formidable opening bowling attack of Harris and Fuller. Harris' first ball from the River is slapped for 4 by MT but JMb does not fare as well against Fuller's first over and does not survive it. Caught behind without scoring at a total of 6. Maybe tje green pitch is NOT going to work for us. Rogers is in early after a long rest from cricket and an even longer rest from playing at home. By the 5th over the two Somerset men have accumulated 18 and there is some life in this pitch for the men from the 'Sex.
Fuller has Rogers in a lot of trouble early, very nervous, but they do keep giving loose stuff to Marcus and he is in form to put it away. Much mote authoratative than last year. No scratching about, he is killing anything loose presently. 45 after 10 with Rogers only on 2. However after that Chris starts to look a little better and with the 50 going up from a Marcus boundary in the 12th, early jitters seem to have been dealt with. At 77 with Rogers almost up to Banger's score the 'boss' gets an inside edge and plays on to a ball from Harris from the New Pavilion for 35. 77 for 2 at the end of the 16th and James Hildreth is in
The 100 arrives from a faultles Hildreth square four and it is 103 half way through the 22nd and Rogers goes to a well crafted and patient 50 off 68 balls with 10 fours. Unfortunately James immediately misses a straight one and goes LBW to Fuller for 19 at 115. In comes Jim Allenby with an awful lot to prove.
After a wander around the pitch at lunchtime saying hello to "Grizzzly" (who bore no resemblence to what I thought he would look like - and that Somerset accent sir!!) and taking part in a discussion with "Tractor", "Shepton" and "Bagpuss" about the nature of Somerset cricket while trying to ignore the pretty regular clatter of SCCC wickets. Middlesex bowlers seem to have got the length of the pitch and therefore started to ask our batsmen a few more questions without giving them the same amount of loose stuff.
After lunch with the score in the 125 we lost Rogers at 133, Trego at 153, Craig at 154 and Barrow at 172. 4 wickets for 48 runs in 11 overs and 5 balls. Then the rain arrived in force with 184 on the board and we took an early Tea. Play is expected to start again at 4:25 with 7 overs lost and 41 left to play in the day. It could be an interesting third session. We don't want to see over 10 wickets down today looking at the twitter traffice presently holding forth anout the Someret decision to move the pitch.
Jamie finally brings up the 200 in the 53rd over after both Fuller and Podmore have had the ball moving about, he was dropped in the 51st when he slashed wldly at a ball from Podmore and managed to flick it wide of Ollie Rayner who got fingers to it but could only tip it over the bar.
It's all pretty much a case of survival at the moment. However Jamie doesn't survive long enough and is caught behind off Podmore (on Championship debut)trying a full blooded drive at 211 four balls into the 57th for 14. Immediately the rain tips down and the players go off.
Back on just after 5 and Jack Leach jumps Tim and comes in at number 8. Podmore then gets one to move away from Allenby and he goes for a fighting 44 at 213 for 9. 115 balls and 6 fours. TGis the last man in and 250 looks a distance away.
After 23 runs of spirited defence, Jack is caught at second slip by an outstanding diving one handed catch from Ollie Rayner off Fuller. We walk off with 236 to our name and with 17 overs to deliver to Micdlesex before the end of Day 1. Presently Graham Cowdrey and the umpires seem to have no issue with the pitch "...given the present state of play..." . Angus Fraser is not presently particularly happy but there's some cricekt to come in this game yet.
Craig Overton starts against Robson and has him LBW second ball. o for 1. He seems to have the length zeroed in if the first over is something to go by. Wicket maiden and three unplayable balls in it. Tim opens from the River to Gubbins with Eskinazi at the other end. Half way through the over Middlesex get runs off the bat. The last ball spits up but they've got 6 off the over. No idea what Jamie is going to do with this.....
29 for 1 after 6.5 overs when the rain starts again and the umpires send the players dressing room bound but as the groundstaff bring the covers on the officials then call the players back and the game continues after the covers are rolled off again. It's dark on the pitch, there is dark stuff heading in from the Taunton town centre but the clouds over the Quantocks are high and bright. All a bit of a conundrum for the match controllers with drizzle but 9 overs to complete the day. Meanwhile Tim continuues from the River....it's been too loose from that end I am afraid up until now.
Once again umpires call the players off as rain sweeps across the ground and then stand around as the sun comes out, the groundstaff get the covers on and then off as the game continues into the 9th over. Craig bowls a maiden and then the 10th is delivered in driving rain and intermittent sunshine. Also a maiden as Gubbins (31 from 33) and Eskinazi (1) are happy to defend the evening away. To spice it up a bit, Rogers introduces Jamie at the New Pavilion for the 11th. Eskknazi can't be impressed, especially as the wild wide third ball beats everyone crashing into the boundary. Just keep it tight Jove. The first and the last were the balls...the rest? Needs work. Allenby takes over at the River. Johann Myburgh has had two opportunities to run one of these batsmen out with accurate throws but both times the stumps have remained standing "We never hit the stumos" is the frustrated call from the box. At the end of the 15th the 50 is up for the visitors. Jamiehasn't got this right, too much down the legside, not enough in the right spot...the odd ball isn't good enough snd it has to be better in the morning. Jim finishes the day's play and Middlesex finish with 51 for 1 Gubbins has 31 and Eskinazi has 7. 185 runs behind.
DAY TWO
A lovely morning for the second day with warm sunshine even though there is grey cloud about the place. Cove takes the ball. runs in. bowls full and Eskinazi drives the ball straight to James Hildreth at midwicket and we have first blood. 51 for 2. Chris Rogers has obviously had a word but I'm not sure Tim Groenewald was listening because there is little difference between the morning andthe late afternoon sessions. All the early chances are to Craig as Gubbins gets a leading edge to one which. had he not been busy appealing for leg before, Overton really should have caught. He dives but jjst too late amd his manner afterwards suggests he really should have got it.
The Somerset skipper is keen to keep the pressure on and we see a surprise replacement at the River end as Pete Trego, who has been undersused as a bowler this season to be hinest, comes on for the 22nd. With his 5th ball he gets Malan playing on and it is 74 for 3 which introduces George Bailey to the middle and the real contest of the day is on with Gubbins and Bailey the two main obstacles to a Somerset advantage.
Gubbins goes to 50 at the end of the 24th off 72 balls with 6 fours and a six. Tim Groenewald changes ends at 87 for 3 for the 29th snd seems to have Bailey dropped (very difficult chance) in the slips at 95. Then Chris introduces the player he hopes will be the main difference today as Jamie comes on at the River for the 32nd . Unfortunately he bowls 3 balls and then picks up his jumper and walks slowly off the pitch while Pete finishes the over and sees Middlesex reach 100 off the last ball of it. I have no idea what has happened but it does look ominous for today and for his Lions work later in the month.
Gubbins is dropped by Marcus diving in front of Allenby at first slip on 110 off TG and alongside that comes the news that Jamie is in shorts in the Caddychack and not expected back on the pitch any time soon. Someone else needs to step up and be counted at 114 for 4. Jim Allenby takes over at the River on cue and has Gubbins caught by MT in the same position at the other end at 115 for 4. Excellent. Simpson comes in snd is Jim's second victim as he is caught behind in the 38that 117 for 3. Jim has 2 for 3 and we have 5 down with Franklin and Bailey at the crease. Job not over yet, James Franklin has made runs here before.
Cove returns at the New Pavilion but Allenby isn't finished yet as Franklin leaves a straight one and he has 3 for 10 and Middlesex are 133 for 6 just before lunch... we probably would have taken this at the start of the day. The session ends at 146 for 6 with Bailey holding the innings together on 43 and Rayner on 1
After lunch Ollie Rayner and George Bailey prosper on the fact that our bowlingplan has been scuppered by the absence of Jamie Overton. Just as you want that extra pace you have to turn to the slower pace of Tim and Craig without overworking them of the medium pace of Jim and Pete. It takes 12 overs and some runs before Craig finally gets Rayner for 12 at 177. By this time Bailey is well set and just needs someone to hold up their end while he chips away at the Somerset total. Harris provides that and more enabeling Middlesex to pass 200 and they have added 12 more before the roar goes up as that man Allenby gets the Aussie caught Craig Overton for 71. The introduction of Jack for a couple of overs before the interval suggests that it hasn't come too soon as Harris by this time has made 24 and seems set to move the visitors past SCCC's first innings total with Fuller (22) as they reach Tea with 242 on the board. It has been a long afternoon session.
After Tea Somerset take the new ball immediately and Tim and Craig look to end some solid Middlesex defence before any addition creates a lead we have to worry about. Harris and Fuller are playing well however and with the sun out and the pitch graxuslly turning from green to brown teh second half of this game looks like it might be interesting as well. It is important that Rogers works his men to ensure that the visitors do not get away. 250 is up in the 83rd over.
By the 96th the men are still there with Fuller off 72 balls with 5 fours and a six and the tail has wagged for Middlesex. Without the pace variation of Jamie to at least turn to we are forced to put Jack on as a container and hope for something to break this 9th wicket partnership before the game becomes a usual procession to a draw. The sun is out the pitch has dried, there's nothing in the air and despote a couple of fairly decent LBW shouts (the Jack Leach one parti ularly unlucky) it seems that the Alex Barrow drop of Bailey at 146 for 6 in the middle session may have been the crucial point. You have to take your catches as the old adage says.
Here we are... 300 up with just under 15 overs to go tonight and the draw is now starting to wave from the sideline unless something silly from Somerset in the second innings tomorrow morning. With 101 overs gone and Harris moving to 50 (143 balls 5 foursthere is a drinks break and a ponder on the hour that went between Bailey being dropped and finally being out, and hour when this pitch last all its life opening up a 100 partnership possibility from the number 8 and number 9. This is a new record for Kent beating the previous stand which has stood since 1895 of 93. This subsequently arrives and the job of getting these two out becomes a necessafy chore to the Somerset side who seem jaded by this time in the day. It went with them for the first half but certainly hasn't gone with them since about 2:30 this afternoon. The win in this game may have gone and with it any possible interest in the end of the season Championship run in (possibly a folorn hope anyway).
Johann Myburgh nearly gives us hope with a superb effort to take a diving catch...to no avail as the ball heads for the boundary. It would have been a stunner and it was close. But the onslaught goes on as the Middlesex lead nears 100 and the two batsmen seem in no trouble at all. Fuller makes his best score of this season at least and Chris Rogers turns to Johann Muburgh..... it's all gone very pear shaped this late evening I am afraid and I have no suggestions as to how it could be changed as Craig Overton returns with 5 overs to go.
The day comes to its inevitable end at 361 for 8. Congratulations to both Fuller (best ever first class score) and Harris and 361 for 8 puts us against kthe wall for at least tomorrow . A gamble that didn't come off. But to me no less important because of that. Our captain took a chance to make our CC1 season more than another 'hang on by the fingernails' campaign. He then put his faith in his side and to a great extent they gave him what he wanted. The bowlers this morning gave him the bowling he wanted. At lunchtime we were well into them and there was something there. An injury we didn't need happens, a catch is dropped and we find ourself here. Can't blame the captain..... who do you put the blame on? Would Bates have caught the chance? Think so.......