Gordian Notts CC1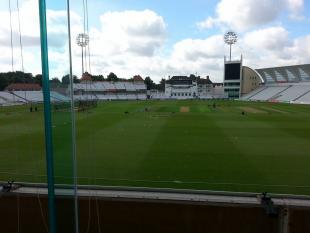 By Grockle et al
July 17 2016
A beautiful summer morning greets Somerset's visit to Trent Bridge. A good forecast means we expect a full game with few if any weather interruptions and the chance for the team to put the disappointments of the Middlesex games behind them. No Jamie Overton of course and Ryan Davies comes in for Alex Barrow.
v NOTINGHAMSHIRE CC1 @ Trent Bridge Sunday 17 July 2016
With decent weather we expect a full four days here. Last time I came to this fixture in 2014 it was all over for us by the end of the first day with conditions in the morning ensuring that we were bowled out for well under 200 and conditions in the afternoon allowing them to pass our first innings score for the loss of 3 wickets. We dragged it kicking and screaming to the last day but that was about all that could be said for it.
Somerset need a win in this competition and the side they put out to try and do that today is;
Trescothick, Myburgh, Rogers, Hildreth, Allenby, Trego, Davies, Gregory, Overton C, Leach, Groenewald
The only unenforced change in that side from the one facing Middlesex last year is Ryan Davies. Jamie Overton will be out for a considerable amount of time so Lewis Gregory returns in his stead. No Tom Abell again so his back problems must be a way from being sorted. Craig Overton needs a good first half of this game to get over the end of the last one. Notts won the toss and have elected to bat first.
DAY 1
Lewis Gregory opens from the Radcliffe Road end to Mullaney on a pitch so far over to the New Stand side that it looks like our kind of short boundary. The strip is almost in line with the scoreboard it is so far to the right and the rope is some 10/15 meters in from the Fox Road stand. A number of locals commented with surprise. 8 of the first with a boundary and 4 extras off the first...one was a no ball , missed the other.
Within 7 overs, Craig is on at the Radcliffe Road after Lewis has gone for a number including 3 no balls. He bowls his first two as maidens so there has been some kind of conversation since last Wednesday one would assume. It is 54 minutes before Libby runs a run and by the 15th Trego and Allenby are taking up the bowling requirements at both ends. 40 for 0 at 15 overs.
The first session becomes a session of pretty low scoring but mostly in boundaries while Somerset try everyone out finishing with Jack Leach who has not exactly kept the score down going for 27 off his 6 overs. The frugal bowler has been Tim Groenewald with only 11 coming from his 8 overs and 4 of them being maidens. Lewis has tried both ends and both Pete and Jim have given us a bit of medium pace bowling in tandem.
At lunch it is 101 for 0 with Mullany going to his 50 off 89 balls with 10 fours and a six (I can't honestly remember that I have to say and you'd expect it to be quite an event in this morning of play). The hundred partnership came up in the 31st and llunch came an over later with no addition to the score. Mullany has 53 and Libby has 41. A slow 'ease' into this game....... It does not bode well for victory points unless something changes pretty drastically as no one looks significantly dangerous with the ball from our point of view.
I've very rarely watched a whole session without finding anything to write about but I have to say this was nearly the first. Other than to tell you who openeind the bowling after lunch (Craig and Jack) and to tell you when things like when the 150 came up (79th over off 295 balls) and when bowling changes took place there was absolutely nothing to tell anyone until nearly Tea.
Then....finally Tim Groenewald got an edge from Libby and Jim Allenby very competently and gratefully took the catch and we had dismissed a notts batsman (for 90) at 196 for 1. It has been like watching someone trying to plait fog watching our bowlers trying to get through the defences on this pudding of a pitch. The 200 has just arrived off 62.2 bowlers. There is little for the batsmen to work with and less for the bowlers in the air or off the surface, except for Tim who has bowled a tight lne and length it has been toil and nothing else for the rest of the attack, all of who (except Johann) have been used and none have been inspiring.
Mike Lumb has joined Mullaney at the crease just as the opening batsman moves to triple figures with a 6 off Jack. He swings his fist in the air as he finishes the stroke. 105 off 171 balls with 16 fours and 2 sixes.... and that is Tea. That innings about sums the day up. The leading bagtsman has faced 171 balls, hit 18 of them for 76 and got mostly singles off another 20 odd. No runs off the other 120 ish.
The 201 att Tea becomes 231 some 45 minutes later before anything of note happens. Jack gets one to turn and rise against Lumb who is good enough to touch is and is caught behind for 10 231 for 2. Jack and Tim have kept things in check for most of the afgternoon but with 22 overs to go they have done enough and Craig is back into the attack with a creditable first 10 going for only 27 and 4 maidens Meanwhile Jack is wheeling away at the scoreboard end with 88 from his 24 overs....though there is now a wicket in the column which looks a little better. The 250 does not arrive during his delivery of the 76th which goes for only 2 to take the Notts score to 248. It does however come from the first ball of Cove's 77th with a Mullaney four that takes his to 134.
The game goes into its last hour of the first day with little looking likely to change other than Mullaney will go to a studied and solid 150 . Unfortuantely before that can happen Marcus drops him with the score on 259 at first slip off Leach. "Dropped catches lose matches" I think the phrase is and we needed to see the back of this man on this day. AQs it is he reaches his 150 off 252 balls with 22 fours and 2 sixes. The next ball his partner Taylor (no not that one) has an Anthony Gibson 'rush of blood' and puts one straight down Cove's throat in front of the pavilion to go for 21. This brings in Wessels and prompts the new ball in the 89th over. It is given to Cove from the Radcliffe Road and to Tim from the scoreboard end. Lewis is not a new ball bowler as a number of press people have mentioned this afternoon. I know we have resource issues but use the ones you have sensibly seems to be a lesson to learn.
The 300 duly arrives in the 92nd and the weary crowd start to move away as there seems to be no real hope of anything stunning happening before the end of play. I would love to report that the players start to look like they are going through the motions but I have to say that is the way it has looked most of the afternoon. Unpalatable crickt on an unforgiving pitch - wonder it any Notts supporters pages have 'Trent Bridge is killing cricket' threads on their websites.
Today it has not only killed it, it's chopped it up, taken photos of it, put it under the floorboards of the house and then given itself up to the authorities screaming "I'm guilty, it was me what done it Guv!!'
Then, just when we think it is all over and we can pack up the kit for the night, Jim Allenby gets one to straighten to Rikki Wessels and gets him LBW. A wicket he has slogged for all afternoon and never eve looked like getting comes his way and Nottts are 309 for 4. They send in Fletcher as a nightwatchman and he'll face an over from Lewis. I have to say I would rather it was from Tim G but you can't have everything....
He nearly gets Fletcher C&B with the fourth ball of his over, a very creditable effort though it was always going away from his diving outstretched hand. It ends at 96 overs with Mullany on 161 from 273 balls.....311 for 4. Probably 3 wickets more than we expected and probably 50 runs light of where they would have liked to be. A better second day has to happen if this is going to be a result game for anyone. Notts will want us batting around Tea tomorrow and we'll want them out around Lunch.
We shall have to see in the morning. I have to say that on today's conditions the first of those is the most likely.
DAY 2
Dawns slightly overcast with high white broken cloud and the hope of something in the air that might give the bowlers a chance to get amog the Notts bowlers in the early part of Monday. But the forecast is for hot and dry with the possibility of early evening humidity. So Somerset need them out and to be well established before the last hour of the day. ANY advantage of the morning conditions has to be exploited if this game is going to go anywhere near a winning result for us and not put us in the situation of looking to bat twice to get the Notts boys to go out again.
Nothing in the extended weather forecast should worry us. It is expected to get hotter tomorrow. The only worry would be the prediction of thunder storms this evening in some parts of the country but the East Midlands are on the edge of that boundary. Moisture in this pitch tomorrow morning could be a concern for Matthew Maynard.
Trent Bridge is a favourite haunt of Chris Rogers with the bat for both his country and whichever county he has worked with in the past. The Notts commentators are saying they expect every visit from Marcus to be the one where he takes them to the cleaners because he has never really shone with the bat here either for Somerset or England. James Hildreth has had an enforced rest from the rigours of the game while the T20 has been on so he might want to stamp some authority on this to show his quality and importance to the squad. Pete is in form after the match last week so with luck we will show up for this one when we get the chance.
As Craig starts the first over of the day from the Radcliffe predictions are that Fletcher the nightwatchman will survive until 11:15. Based on yesterday's surface that might be on Tuesday morning!! As Tim opens from the other end it does not look all that promising but I am being pessimistic as Mullaney is the first to depart caught behind to Craig with only 316 on the board in the 99th over for an excellent 165. The ball is not spitting and doesn't seemt obe moving but something is different. After the opening attack we turn to the medium pace of Allenby and the man does us proud with a questioning and very on the mark spell of bowling from the Radcliffe while Jack wheels in from the other and seems to be tying the batsmen down a little better. Patel chooses 'option B' today and rather than being a pain in everyone's posterior, he holes out early off Craig at 336 for a mere 15 courtesy of the safe hands of Hildy. In comes Chris Read - no game against Notts is ever more than 'in the balance' while he is at the wicket and with the dogged defence of Fletcher at the other end they move towards that 400 run figure.
But Jim is not to be denied and he finally catches the bowler in front at the end of the 122nd over with the score on 377 for a very useful 32 and some 90 minutes after the predicted demise. What is more Jack has Chris plumb in front with the very next ball at the start of the 123rd and it is 377 for 8. So two new men at the crease (Tahir and Hutton) 400 not yet on the board 396) and LUNCH.
It could be an interesting afternoon session. Craig thinks so as he removes Hutton at 401 caught behind by one that lifts and then sedns Harry Gurney on his way in the same manner 2 balls later to register 4 for 54 off 25 overs and a welcomed return to attacking bowler form. This was certainly a much better performance from him than the disappointing end to the Middlesex game.
It was a good overall bowling performance, keeping their heads and being patient on a demanding wicket. Tim and Jim should be mentioned in dispatches both bowling over 20 overs at just about 2 an over. Jack worked very hard and was rewarded with 3 wickets for his 36 overs. Although Lewis was taken on by the Notts batsmen he kept to his task and held the line but Craig was certainly the pick of our men overall.
So..... is this going to now turn into a minefield that Imran Tahir is going to work his magic on? Well it is time for Marcus and Johann to take their place and work their own special stuff. And they do.... Marcus is pretty much in charge from ball one. At times he simpy reminds the crowd and the bowlers that they are bowling to a mainstay of an England side that was something special itself. His drives are just mindbending at times and other shots hit the boundary board before the crowd get their hands together. Everyone goes the same way and really only Fletcher causes him any real problem with some very aggressive and questioning seam work. At the other end Johann again shows what a valuable player he is for us at times. He takes the lead role on more than one occasion and the quality of some of his cover drives is up with the best. His 50 comes first from 71 balls but he gets fooled by one of those Tahir deliveries and is bowled at 54 with the opening partnership amounting to 123 off 23.2 overs. We are moving.
Chris Rogers comes in needing to stamp a captain's mark on this game for his side. It hasn't been an easy CC1 campaign for the man, despite the fact that he is a better number 3 choice than Tom Cooper was he hasn't yet really got his game in gear yet. If there is ever a time to do it it is now. As Marcus goes past 50 off 60 balls the skipper gets into his groove a little more than usual and neither batsman really loooks in trouble except for a catch behind that the Notts believe is obvious (I was in the press box and heard nothing) but Marcus does not move and more importantly neither does the umpire's figure. Fletcher is not impressed.
Tea comes and goes as Rogers moves to 50 and the Mighty 'Banger' moves towards an almost inevitable century. It comes and equals Gimblett's record for county centuries Many here, possibly remembering heady days in 2005 stand to the man they had almost forgotten as he does at Trent Bridge what he hasn't done before for either side he har represented. Some on here may talk about the great Viv with almost Godlike reverence but I rate myself as extremely lucky to have spent some 20 years watching this man play this game for a side I support. he really is a very special talent.
The hope of passing the follow on figure without losing another wicket is certainly there but 2 short of a deserved 50 the skipper snicks one from Gurney and Read pouches it. Harry Gurney, who seems to have been in the doldrums for a while is certainly generating impressive pace in the last session of the second day. But Rogers helped MT add another 101 for the second wicket and ensured tha Notts will 'probably' have to bat again. During this period Marcus survives another 'certain' caught behind appeal from Fletcher and the whole Notts side. This induces shouted comments from the supporters of the county of Stuart Broad. It is certainly not helped by the Somerset man then obviously snicking one that is put down by a flying slip fielder. But on we go. Did he hit either? No idea but there was no body language fromt he big man that suggested he thought he had. He certainly hit the third.
James Hildreth walks to the crease back in the format he is best suited to after a bit of a break from the regular cricket life because he was not used in many of the T20 games. Unfortunately the break looks to have broken his concentration because from ball 1 he seems out of synch with the game. Lots of playing and missing, a four off an edge shows a level of uncertainty we haven't seen much from him this year. Harry Gurney smalls 'blood in the water' and goes for James. Almost inevitably Hilda's spell at the crease is very short as he leaves a ball down legside and loses his leg stump at 5 and 234 for 3.
So with some 5 overs left in the day we are in a situation where we may negate all the hard work of the day and lose late wickets. Jack Leach walks out as nightwatchman with the only function being to protect his centurion. This he does very competently (he must be knackered) and Somerset finish on 244 for 3 wiith Marcus on 117 and Jack on 1. Game on I do believe.
DAY 3
Trescothick and Leach stride out for the third day to face Tahir and Gurney on a beautiful morning. Jack doesn't stay all that long as he tries to guide a googly from Imran away, gets a leading edge and is caught by Patel at midwicket. Although he has helped his partner bring up the 250 and than pass the 'follow on' figure (is it still 150?) he wanders back into the hutch at 254 without increasing his own personal overnight score of 1. Jim Allenby joins the big man.
Jim looks to move it on a little while supporting his opening batsman and Marcus just continues with sublime straight drives and nuanced little nudges into gaps making the Notts fielders sprint to the boundary, sometimes winning and sometimes not. He passes 150 and then his side pass 300 while Allenby provides excellent support moving on himself at a steady but not exactly electric pace.
Just before lunch Notts take the new ball and bring back Fletcher to use it from the scoreboard end. Marcus seems slightly becalmed on 160 while it is Jim who pushes the score on a little moving towards what would be a well deserved 50
He does reach that and contributes that to a 100 run partnership after which he is provided with a second (it might even be a third) life as he is dropped at first slip with his score on 51 and Somerset on 367. Patel and Tahir are then given the job of bowling in tandem to keep the score down and winkle these batsmen out. Patel succeeds in the 101st over when Jim tries to work a full ball away and plays all around it and gets castled for 63. 379 for 5 and in comes Peter Trego. He probably does not have any specific orders yet but he may get some if this goes past Tea with us very close to or over their first innings total.
In the period just before the break however, Notts start to change the Somerset plans to some extent by becoming effective with the ball. The 400 arrives with Pete on 5 and MT on 188 but that is it for Trigger, which is a blow, as he is caught by the close fielder Taylor off Tahir in the very next over. Any fireworks expected from that part of the batting is no longer an option.
Lewis arrives and stands at the other end while his partner puts us into a lead and works towards the magic 200 figure. Unfortunately he does not stay long enough. Before the double ton Marcus has another partner as Lewis is caught plumb in front by a straight but faster delivery from the South African. Out comes our last really recognised big batsman in the shape of Craig Overton. He immediately makes himself popular with his team mate by calling him through for a very quick single. Not what a nearly 40 year old who has spent 2 and a half days on the pitch and is on 199 wants really. Nevertheless it does not take the shine off the double hundred that Trescothick gets with his 31st boundary to cover in the same over. 31 fours and 1 six in a truly majestic batting performance,. He soon registers 1000 first class runs for the season by reaching 205 at 422. Not a bad effort off 11 games I think AG said in his post on the forum.
But with Tea on the horizon the opener is fast running out of partners. Craig Overton tries to go over the top of the ring off Tahir and doesn't get the ball over the substitute fielder Smith and we are 426 for 4. Possibly a glimpse into Rogers' thinking is that Ryan Davies comes in. I would not expect the young man to have a good time against Tahir and maybe that is what the skipper has thought, he'll either go quick and I'll send Tim in to fire the guns OR he'll survive and we'll have a chat about what to do after Tea with Banger and the big hitting Groenewald
After the interval it all turns into a bit of a damp squib as the young keeper tries to drive a first ball off break through mid on and slices it to slip. Then, while we are all investigating whether Marcus has ever carried his bat (he hasn't) he is caught by Taylor off Tahir for 218 and everything becomes immaterial. That is the operner's sixth score of over 200 in his career, quite a way below the 284 top score but still massively significant for his county in this game. He has been 200+ not out twice before but they were in declared innings and you do not 'carry your bat' unless it is a 10 wicket innings and you are the not out batsman at the ned after being one of the starting pair.
Somerset lead by 36 runs as they finish on 437 all out. Imran Tahir finishes with 7 for 112 but his last 5 wickets came at the cost of 10 runs.
So at 4:20 on Day 3 Nottinghamshire return to the batting crease to face Craig from the Radcliffe Road End with 25 overs to be bowled this evening. We would like some wickets down tonight. I'm not sure we care how many as long as we have got into them. It's 8 overs before we get anywhere but the second ball of the 8th sees Mullaney defending but not well enough and Craig has him LBW for 11. Notts are 20 for 1.
Not long after that they are 21 for 2 as Michael Lumb has his middle stump uprooted by the blistering pace of...Jim Allenby who gets one through. 14 overs to go and two down before they go into the lead... this is getting interesting.
With no more clattering of stumps, Notts go back into the lead with 7 overs to go, we've tried a bit of Jack but seems to have settled into finishing Day 3 with Tim and Lewis. His first over goes for 1 which is a serious improvement while Tim has bowled 3 for the cost of a mere 7 runs. The Notts batsmen are seriously cautious and are most definitely playing for the end of the day. No runs, no risks, no rash shots.
That is how it ends. Anything straight is defended, anything not a problem is left alone, there are a couple of strangled appeals and pleas to the umpire but stumps are called at just gone 6 one over above those alloted with Notinghamshire on 58 for 2. Taylor is on 22 and Libby is on 24. A wicket each to Overton and Allenby have set us up for tomorrow and we are all going home with the prospect of thunder, lighting, hail stones, witches, frogs, baleful winds dogs and cats all coming our way in the next few hours. Well it will make for an interesting evening... and an interseting day tomorrow if there is some overnight humidity. It certainly doesn't look like it at the moment.
DAY 4
A 'whiter' morning this morning, very high cloud that the sun has not yet burned off. Major humidity in Nottingham last night which many Somerset supporters will be hoping has stayed about for the morning. The bowlers need help in the first hour to make this into a game with an outcome. A quiet first session today will probably create the environment for nothing but the draw. However if there is some movement and the Somerset bowling attack can use it, then the lunchtime situation may foster in a very interesting afternoon. We probably need at least 6 wickets down by the lunch interval as a minimum. It is highly unlikely that Notts will go for the batting total to push Somerset in the second half of the day. They are a mere 50 odd ahead and would have to make that 250+ before they would consider putting their visiting opponents in towards the Tea interval on this stretch of ground.
Somerset against Tahir on a breaking up pitch though? That could also have a bit of interest in it. There are a number of options for later on but it all depends on what happens between the hours of 11 this morning and 1 this afternoon.
As the grey cloud rolls back in over the New Stand Craig opens to Libby and the Somerset faithful are hopeful. These have to be the best conditions for bowling in of this match and they come just when we could do with them. All we really need to do is utilise them to put Notts 'under the cosh'.
The conditions have changed most definitely in our favour and although Notts start off solidly it is really difficult to get the ball away and progress towards a declarable total is numbingly slow. At the same time all four bowlers used by Somerset are tight and on the money especially Craig Overton and Jim Allenby. Ther are some truly unplayable deliveries heading at the Notts pair and it is inevitable that one will get it wrong. It's Taylor who is first as he misses one that seems to swing into him from Jim and is given out LBW at 74 for 28. Rikki Wessels is the next man in but he stays hardly any time and does not add to the score before he is on his way caught by Marcus at first slip off Craig 74 for 4.
Libby and Patel look to regroup but both bowlers have Samit in all kinds of trouble in his early overs. However he survives so Craig turns his attention to Libby who he gives a torrid time to from the Radcliffe Road End. Notts pass a 50 run lead at 86 for 4 but Libby finally succumbs as he is peppered outside off and then a full ball fires in which he tries to chop down on but chops onto his stumps and Overton sends him on his way for 44. 5 of the 6 wickets you would have wanted down by lunch are there.
Read comes in - the last man we want because of his stubborness to accept we can beat his county. Samit tries to run him out first ball but fails to help us along - he isn't scoring any and has been on 5 for what seems to be forever. The score is not moving towards 100 very quickly and we bring back Lewis to give Craig a breather. Chris thinks he has him and hooks him into the New Stand for 6 but as he turns he smacks his wicket and is out hit wicket at 98 for 6. In comes Fletcher ahead of Hutton (who has a slight hand injury but will bat if needed). But he doesn't last long as he plays down the wrong line and loses his off stump to Gregory and Notts are 98 for 7. The 100 comes up with the last over before lunch and once again Notts have re-organised the Somerset battle plan just before a sessions ends.
Now we would like to see the back of Patel particularly and his two companions (Tahir and the injured Hutton) before the home side get to 3 figures and give the South African spinner a chance to use the conditions to his advantage while we look to get a three figure winning total.
It is with us but the momentum of this game has ground to a halt and then switched sides more than once in the last three and a bit days so there is still some more to come perhaps. But one has to say Somerset 'should' be able to put this one away from here and if they can't? Well they are going to have few better chances to win a game than the present position.
But it has happened before.
After the lunch break, the sun appears once more and the weather does its best to keep us guessing. With the sky now blue again and the grey skies banished to beyond the boundaries this game takes anotehr turn. Samit Patel turns from the 'rabbit in the headlights' version of just 40 minutes before into the six hitting swashbuckling cricketer he has been know to be. The ball starts to do nothing except beat Somerset fielders to the rope and the numbers start to rachet towards a 100 lead. Meanwhile Tahir stays away fromt he ball and the striker's end wherever possible. It gets to the point where we introduce Jack Leach because there is little happening and now we need the wickets and to restrict the score as well. Tahir finally gets on strike and steps back to a Leach delivery that keeps on following him, passes him and take out his stumps for 7 at 135 for 8. Hutton does not take the number 10 spot and so Gurney strides out up the order instead. Rogers re-introduces Lewis at the Radcliffe Road End to show Patel a bit of pace. Patel takes the bait n ball one and fires it towards the New Stand, a shot that would have given him six everywhere except where James Hildreth is fielding. He catches the ball, Hutton does not appear to bat and we have dismissed the home side for 135 leaving us with a 100 run target to win this one.
Gurney and Fletcher are tasked with opening the Notts attack on our second innings. The same opening partnership is offered for them to have a go at. This is threfore a question of can they get through our top 5 with seam, Patel and Tahir before we can break the back of this total rather than leaving it to our back of middle order of Trego, Davies, Overton and Gregory.
Another session another conundrum.
By the fourth over Fletcher from the Scoreboard and Gurney from the Radcliffe have made little headway against Marcus and Johann. They have 22 and nothing is really looking exceiting for the Notts boys. So Read has to move. He puts Mullaney on at the Scoreboard in the hope that he can do an Allenby with his medium pacers and block up the end. Marcus decides that isn't going to happen and dispatches him 3 times to the Upper Fox Road corner of the ground. Fletcher changes ends to the Radcliffe and exerts the same level of control from that end. Then Read plays his ulltimate card as he brings tahir on from the Scoreboard with a ball with the shine still on it. He has not other option really.
Johann Myburgh has the job of taking the spinner on, though Somerset really don't need to unless the weather starts to close in. Nevertheless the Someset number 2 puts the first ball to the New Stand boundary and follows it with the third. He is definitely flumoxxed by the 5th and the honours end about even but there are 47 runs on the board so ahir has to win or the game is over.
The 50 comes up off the 8th bowled by Fletcher and Somerset have 63 by the end of Tahir's second. After that the men from the West Country start to go to town, especially Johann who takes Tahir for 3 sixes in 5 balls in the 13th. Read pulls Samit Patel in at the other end but it's too late really. By the 14th they need 11 with Marcus (37)playing second fiddle to his partner Johann (47) who has hit Imran Tahir out of the attack and forced the return of Mullaney. The thing to play for now is a Myburgh unbeaten 50 which is so well deserved. Needing one at the start of the 17th he takes ttwo off the first ball and goes to 50 off 51 with 6 fours and 3 sixes - anyone want the selection job of the first 5 for Durham with Tom Abell back in the seconds?
By the middle of the Mullaney over they need 1 run and they finish it off in the 17th to win by 10 wickets!! Just a thorough professional job. No panic, concentration on the job at hand and a very very good overall victory based on just sticking to the job and doing it very well.