'Sex THREE times in a month!! ....50 overs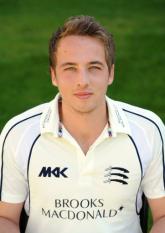 By Grockle et al
July 26 2016
We welcome Middlesex for the third time in not long and face a very hard task in this format as the boys from the South East have brought their big guns except for Steve Finn. Josh Davey gets a run out against his old county and Max sits this one out. We've won the toss and will bowl first.
V MIDDLESEX @ Taunton Tuesday 26 July 2016
Scorecard
Commentary
Another grey start to a game but dry and siggesting no rain of any real quality though there may be showers in theearly afternoon. Middlesex return for the third time in a very short period but with their bigger bowling and batting guns with them. We keep most of the side that beat Glamorgan on Sunday but add some umph to the seam and leave a slow man out.
The Somerset side is;
Allenby, Myburgh, Trego, Jayawardene, Hildreth, Gregory, van der Merwe, Overton C, Davies, Groenewald, Davey
No Max Waller for this game while Eoin Morgan, Paul Sterling and Tim Murtagh are all in this side after missing the CC1 and T20 matches here. Steve Finn was on the card but has been replaced by Harris
We have won the toss and decided to have a bowl. I may miss the first quarter of the game because I have to be elsewhere so hope to be back by about 12:30 12:45. Let's hope there hasn't been devastation by then.
Craigopens at the New Pavilion to Higgins. Belated appeal fourth ball but he didn't hit it. 2 for 0 after 1. Josh Davey will open at the River end. A very good run out chance is missed with the fourth ball as Higgins was halfway down the strip. Craig Overton was miles away. 7 after 2.
I return at 1:30 to find Middlesex just below 200 with 13 overs to go and think to myself...well it could have been worse. Josh Davey is bowling but the men at the crease are using the crese to make our boundary fielders work. It seems that 'occasional bowler' these days Peter Trego has done some of the damage with 27 for 2 off his 6. RvdM has also been mentioned in dispatches and he takes his secomd removing Simpson for 27 as his partnership with Gibbins starts to get dangerous in the 43rd over.
The main aspect that still seems lbvious to everyone but the captain is that we need some pace OFF the ball and that while this is the case we should not be underbowling those who can take the pace off - in the 44th Allenby has bowled 1 for 3 and Myburgh has bowled 1 for 4. We get a lucky one from Cove as Franlilin knicks one behind and we are 235 for 6 with 6 and a half to go. Maybe it is time for the medium pacers during the next 6 but in contrast, Overton is in his 8th, Davy has bowled 7, Gregory has bowled 7 znd Groenewald has bowled 5. The only slower paced man who has been used is RvdM who is presently bowling his 10th and goes for 50 and 2 wickets. 247 for 6 at 45.
The question is who will he be replaced by at the New Pavilion while Cove continues to run in from the River?
And predictably...as it was on Sunday, the bowler chosen is Tim Groenewald - when this happened on Sunday Salter took a real shine to him from this end. But Tim learns and his over is more solid and with the last ball as he tries for a yorker, Gibbons smacks the full toss stright into Hilda's hands and it is 265 for 7 after 47. In comes Rayner to try and help Fuller get this to 300 against Lewis. 274 for 7 with 12 balls to go and 290 thanks to 2 Greonewald full tosses deposited into the Ondaatjeto take it 290.
Once again, why is our besy medium pacer, a man with years of one day experience only bowling 1 over of his allocation when his side is suffering as the batsmen take to the pace attack? What the hell is the plan and why doesn't it change no matter how many times it happens?
We get Rayner run out, but tat is too good a name for it. Having run one and seeing Tim not exactly rushing to pick the ball, Fuller tries to take a cheeky second off the penultimate ball. They don't make it but it causes panic in the ranks. The last ball is missed and a much more impressive run out from Davies as Harris runs in. The young man just picks the ball up, rolls it to take out the middle stump and starts to wander off.
Somerset need 297.
THE REPLY
Myburgh and Allenby come out to face the Middlesex bowling attack. Murtagh starts from the New Pavilion and Johann smacks his first through the covers for four to stamp his intention on the game. He takes a huge six off his last to fire up 10 for the first. JM has been pretty clear. Harris takes the first from the River. Jim slashes at the third and goes for 0...... questions to be asked about his contribution? Silence from the crowd as he walks off. Peter Trego in at number 3.
Meamwhile Johann is on fire and is happy to take the game to the the opposition. By the 5th ball of the 5th over Somerset have only amassed 24 but Myburgh has 22 of them. He then kind of hobble to the middle of the field and has to oie down with some problem with his hip or top of his leg. He then has to retire hurt for that 22 - no real idea what has happened. Mahela Jayawardene replaces him in a game made for his particular talents.
In fact he provides Pete withan excuse to bludgeon a bunch of boundaries that bring the 50 up in 8.3...with PT on 23 and MJ on 5. By the 10 over mark it is Somerset's 61 plays Middlesex's 48 and Franklin takes over from Murtagh at the New Pavilion - shame Pete seemed to be getting a liking for him.
By 15 overs the pair have moved the score on to 85 with Pete on 37 and MJ on 26 - a sublime straight drive suggests ot might be his day but a slightly higer one to midwicket suggests it isn't as Morgan sends him on his way for only another 2 and it is 87 for 2(3) with the Sri Lankan once more looking like he is going to cut loose but not actually doing so.
Hildreth is the next one in snd we still need a significant partnership to help us take this one. Pete must have been watching the striaght drive as he produces two pearlers of his own as he moves to 50 off 53 balls with 7 fours and brings the 100 up halfway through the 20th. By the end of the 20th we have 107 - in touch with but not quite up with the D/L 109.
In the 23rd Hildreth ends a promising partnership with Pete by lamely chiping the ball to Morgan at Midwicket and going for 9. It does suggest that we are not capable of the application needed to put together the big solid partnership that would win us this one. We are losing wickets pretty regularly while being slightly tied down and we still need 180 with 27 overs to go. This is illustrated by the fact that we are now some 22 away from the D/L and in reverse from it.
Another indication that once again does not prove anything but increases the perception of something not being right is that presently, with the side looking a little jaded, the side is sat on the balcony of the dressing room while the captain is sitting outside the Director of Cricket's office on his balcony watching the game with Matt Maynard - is he laying down the law or commiserating with his mate? Personally I don't think it matters. It is what it looks like that the supporters will take away with them. "Media savvey" is what we need our people to be
At halfway we are st 130 which means we are about 40 runs off the pace. Which is exactly what Franklin the Middlesex captain is taking off the ball..
This seems to be working because we have only moved on to 160 off 30 overs but that is ahead of Middlesex's score at the same point and only 6 behind the D/L. It may be slow but the 50 partnership comes up at 167 with Trigger on 86 and Lewis on 19 and while these two are out there then anything is pretty much possible.
The first thing is a Trego 100 off 106 balls with 9 fours and a six. It comes at 196 with a misfielded boundary and leaves 101 to get. Lewis is playing sensibly, taking the singles, hitting the loose stuff and giving his partner the strike. We pass 200 with a near fatal shot from Trego to the Caddyshack but Nick Gubbins coming in off the boundary stops it very well as it bounces just in front of him. By the end of the 37th we have 201 and still need 96 off 13. This game is by no means over yet.
This is proved by Trego going up the wicket to Ollie Rayner, missing the ball and being bowled for `04 at 203 for 4. Well played Pete but that wasn't the time to lose your stumps. In comes RvdM the right man for the time of game but still with a lot to do with 93 needed off of 72 balls.
With 10 overs to go we need 80 and we get some luck as Morgan drops Gregory on 42. It went hard nut he ought to have held on to it. VdM is then dropped by Tim Murtagh at fine leg and the ball rolls over the boundary for four. He then drives the next one over the boundary in front of Gimblett's. 11 off the over mostly from the Dutchman's bat.
Higgins takes the 43rd and has gone for a run a ball until RvdM audaciously ramps him for 4 off the last ball.
Gregory goes to a very hard won and valuable 50 off the second ball of the 44th and then his partner decixes to out do him with an Exocet four to the scoreboard staright afterwards. But the 250 came at the end of the 44th. With 5 overs to go we need 38.
After the 46th the equation has come down to 27 needed to win and the Middlesex bowlers are starting to panic as the first ball of the 47th is hooked for 4. But then RvdM swipes at one and gets a tickle so it is 274 for 5. And in comes Josh Davey!! Please tell me why the batsman coming in is NOT Craig Overton?
But the boyz have it down to about a run a ball and that should be gettable. Sterling comes on at the River with Lewis facing. He takes the single. After a dot Josh takes a single but then Lewis is bowled and finally we send in Craig. 280 at 48 and this game has been put back in the pot by idiotic captaincy. Why oh why?
15 off 11 with Josh on strike to Harris
2 more off a no ball and it is 11 off 11 Josh on strike
4 off the free hit 7 off 10 Josh on strike
2 runs Josh on strike
5 needed off 9
dot - nearly a Craig run out
5 off 8 - single
Craig on strike. 4 off 7 - straight drive for 4 and we win with an over to spare.
So a game of some interesting bits... a few questions.... some players coming in and dping the business. Well done to Josh Davey. It seems this is what he does fof the seconds but massive amounts of pressure on him and it waz really goos to see him keep his heda and do kwhat was requried.
So no 'Sex whitewash and we top the table I think.