To the death with Durham CC1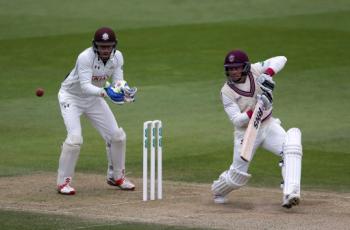 By Grockle et al
August 4 2016
Durham make the trip down fromthe North East for a vital CC1 game. The weather is variable but Somerset seem to hope their spinners will have a say as Roelof va der Merwe joins Jack Leach in the home team line up.
v DURHAM CC1 @ Taunton Thursday 4 August 2016
Commentary
On a windy Taunton morning with the sun out but drizzle and cloud about I turn up at Taunton expecting Durham to take the bowling option and not take the toss. What do I know, Durham want the toss, they lose it and Chris Rogers decides to bat first. The inclusion of 2 spinners suggests he expects it to turn later in the game (the pitch is a little greener than one would expect here so they've left some on). But can our front end face Rushworth and Onions and blunt their new ball attack?
THe Somerset side is;
Trescothick, Abell, Rogers, Hildreth, Allenby, Trego, van der Merwe, Overton C, Davies, Groenewald, Leach
Lewis is rested but it is probably the two spin option that the skipper is interested in.
Marcus and Tom stride out to face Rushworth and the said Onions. But they lose the early skirmish as Tom strides back after wafting at Onions' first ball and being caught by Rishworth with nothing to his name. 6 for 1 after 1.1 overs. Marcus drives smartly through the covers to score his first boundary with his first ball but he doesn't survive Rushworth's second over as he snicks one behind with a score of 6 and it is 6 for 2 before we really settle down for the day.
Rogers and Hildreth effectively open for their county and do a little better, pushing the score to 22 after the first 5. Not the start we were hoping for in the sun having chosen the batting option but where would we be if we didn't have to rebuild on the first morning of a home Championship match?
After 10 overs we've blunted the first Durham attack and reached 49 with Hildreth on 24 and Rogers 19. Coughlin comes on at the River end - let us hope it isn't his gsme to make a name for himself as usually happens to one Durham player each season. (Gareth Breeze is not playing........)
We pass 50 in the over and move on. Unfortunately during his next over Chris plays a loose one and is out to Stoneman at point for 30 at 61. Once again, he scratched around, got a start and then let it go. Jim Allenby is now in.
Wifi issues stopped the rest of the day and a strange day it was too. I was going to go through it later but to be honest the second day was as strange so the scoreboard will probably give you most of the detail anyway. Needless to say our front end was blown away by seam and stupidity with certain players getting out to un-necessary and downright orresponsible shots (Pete, James, Roelof Ryan you know who you are) Jim Allenby was seemingly unlucky with his dismissal which the replay suggested has harsh to say the least. But with some fight fromthe tail in the forms of Cove, Ryan, Tim and Jack we staggered to 184 by 3 in the afternoon and were looking down the barrell of an innings defeat if we were lucky.
From then on it all went very weird. Wood at the end of the day said the footholes were breaking up from ball one and after 10 ovets of Cove and Tim and Jim the skipper switched to spin and brought Jack on from the River and Roelof on from the New Pavilion. The first time I have seen spinners in attacking mode at Taunton since the days of Mushtaq nearly 20 years ago. It also is the firsttime I have seen a team of Somerset spinners murder batsmen in such enjoyable circumstances for thst time as the Durham batsmen illustrated that they had litte difence against a ball that was doing all kinds of things in the hands of our slow men, especially RvdM who had it spitting and shifting all over the place.
In tandem and in order the two men started to remove the Durham men one after another all afternoon. By the end of the day they have not got to our total, 17 wickets have gone down in the day and all it pretty level. Durham end at 154 for.
DAY TWO
A cloudier and , muggier start to the day with supporters wanting to see the back of the last three Durham men, preferably before they pass our total. We start with RvdM at the New Pavilion and Craig at the River but it is not very long before they have Jack back on with his spinming partner. in no time we have removed all three for 5 runs more than we got and the game is a one innnings match 30 minutes into Day 2. Jack has 5 for 69 and Reolof has 4 for 59 with Craig popping in with a skittling late during the lasy part of Day 1
Then...? Hell in a handbasket as Onions and Rishworth find a brand new ball that is swinging all over the place and Somerset batsmen who simply do not have a clue. A first baller for Trescothick is followed by Rogers leaving 3 before the 5th has him in front. Then a King pair for Tom. How the mighty have fallen. 3 for 0 in 7 balls and Durham's 5 run advantage still intact.
It isn't until Allenby gets a boundary in the 3rd over that we get anywhere near their score. We have 21 before Hildreth is caught at second slip off Onions. Trigger follows him LBW a couple of balls later without bothering anyone. Allenby follows them after racking up 15 at 33 for 6 and we finally reach 50, and then 56 (lowest score against Durham) in the 14th as RvdM takes 3 boundaries off Onions.
At lunch with a 44 run stand between the Dutchman and Cove we are 80 for 6....making a game of it? Not unless they more than double this!
After the break we continue moving and take the total over 100 in the 22nd courtesy of a leg bye but in the 24th RvdM's valuable contribution of 47 ends when Onions cleans him up and it is 105 for 7. In comes Ryan Davies, probably chanting to himself "don't hook don't hook". These two did a faitly decent jon in the first innings but it isn't a long partnership as Hickey bowls Overton for 38 at 117. Another useful contribution but one feels it won't be enough. Jack Leach is in to support Ryan who at least looks up for the fight but the spinner chops on at 128 and in comes Tim Groenewald to finish it off against the two Durham spinners of Borthwick and Hickey.
But after smacking a huge Somerset Stand six off Borthwick they find that they've got Wood from the New pavilion and he isn't going to give them any half volley lob ups to murder. In fact Ryan tries to pull him but the ball is way too fast and he is lucky that Onions drops him coming in from the New Pavilion boundary. He does six Borthwick to the CA in the next over, taking us over 150 with a boundary off the next one. Another one takes them to 156 after 35 with Ryan at least taking them on..
We have 175 at 39 when they replace Wood with Coughlin. Ryan is on 46 with Tim on 18. A 48 run immensely valuable partnership which becomes a half ton one off 52 balls. 178 at 40 overs. Hickey takes the 41st and Ryan wants 50. He tries to take the six and nearly gets caught but runs 2 togo tor9. Unfotunately the red mist sort of comes down and but he chips it up and is caught at midwicket for 49. A real fighting knock with the wrong end....but there is some considerable promise there. All out for 180
52 for the last wicket. 70 odd for the 7th. We are side with no front end but a lot of battling bowling allrounders.
Durham need 176 to win znd you have to say that a side that is 21 for 4 really does not deserve to get out of jail in this one.
That, however, is a personal view and not one held by Rogers, Overton and Groenewald. Jennings is LBW with the 5th ball of the first over as the seamers look to take the shine off the ball before giving it, I expect, to the spinners. 4 for 1 after 2.
Roelof is on for the 6th but they leave Craig on at the River. In the 7th when it looks like he might have gone on a little long Ryan goes for one that he should have left to Jim and drops it. Hero to villain? But Borthwick then slaps one to Hilda and it is 19 for 2.
Tea comes with the 9th at 27 for 2.
After Tea it becomes pretty obvious in the first hour that the venom of yesterday is not there and the Durham men are far more circumspect than they were. At 60 for 2 in the 21st I call the game for the visitors. Unless Craig can find something or Tim has one of his inspired spells, this game will burn out early tomorrow if not in the last half hour tonight so I'm gonna get the Bicknoller bus before the flower nazis of the Taunton show get on there with their purchases.
Hope to get home and find I'm wrong but the gut says NO.
DAY THREE
The game did not end on Friday night. During the last hour the spinners retook the high ground and put another three Durham batsmen back in the hutch but the score went over 100 and the visitors needed 46 runs in the morning with 5 wickets remaining. A very small crowd came to see what was probably going to be a valiant defeat of Somerset. However, Jack Leach had other ideas and in his first over (the second bowled) He sent Onions back LBW with his 5th AND Coufghlin back caught by Allenby with his sixth. Blood in the water after 11 balls and things were looking a little more hopeful.
Poynter and Hickey took 5 off RvdM's next but Poynter only lasted another 2 balls of the next Leach over and the last batsmen departed LBW for 12. No one really cared what the score was but the 3 wickets had gone down for the 5 of the previous over. Now it was REALLY on.
At 136 for 8 Durham went into the 45 over facing Roelof but failed to finish it as the Dutchman dispatched Wood caught Trescothick (his 500th professional catch) off the third ball and then Rushworth capitulated from the fourth caught by Allenby.
Somerset had won one of the strangest games I've ever watched. A 39 run victory with the last 5 wickets falling for 7 runs in less than 5 overs on the third morning. 13 ducks in the game including 3 first ballers for Somerset's opening pair. No score over 190. Nearly all Durham's scalps to seam and nearly all Somerset's to spin. Somerset win from a position of being 3 for 0 and 33 for 6 in their second innings and Durham fail needing 46 runs to win with two days to get them in. 9 match wickets for Jack Leach and 8 for Roelof van der Merwe who probably just snatches the man of the match award for his batting in the second innings as well. 500 catches for the Boss and loadsa points in the CC1. That may very well be relegation out of the way for this season..... can we even consider the other end of the table? After this game absolutely anything is possible.