Could be Worcs QF 50 over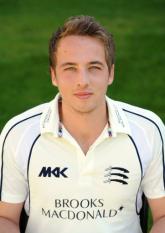 By Grockle et al
August 17 2016
No Tim Groenewald for today's game so Josh Davey gets a run out in this home quarter final. Beautiful day, full house and warm sunshine predicted for the whole day . Worcestershire won the toss and will bat first. Moin is in for them
v WORCESTERSHIRE 50 @ Taunton Wednesday 17 August 2016
Scorecard
Commentary
Match is on SKY
A home quarter final is not as common as it used to be in Taunton so this one feels like a real event. Members were queueing at 7:30 to get their seats, the queues were still there just beflre the game started even though the gates were then open. The weather has turned up as well and we look out on a beautiful English scene on my last day in the green and pleasant land.
Worcestershire won the toss and chose to bat. The Somerset side is:
Allenby, Jayawardene, Trego, Abell, Hildreth, Gregory, van der Merwe, Davies, Overton C, Davey, Waller
Tim Groenewald is absent from the side so Josh gets the chance to further enhance his 50 over reputation after seeing us home with the bat. The place is not totally full but we are at 90% ish calacity when the game starts with Cove (pavilion) and Josh (river) opening for us against Ali and Kohler-Cadmore.
Both guys start well and we are rewarded with a superb catch from Jayawardene off Craig to send Kohler-Cadmore back to the hutch for 2 with the visitors 15 for 1. Ali and Fell look to set a partnership and start to move, but Davey has something to say in the 10th when he has Fell caught by Abell as he looks to flash one to the boundary. He goes for 15 at 40 for 2. In the same over he then has Clarke for 2 caught by Reolof diving forward at mid on and the Pears are in trouble at 42 for 3.
Good stuff and there is an obvious buzz about the side. The trouble is that Ali is not one of those back in the Caddyshack and he and Mitchell start to deal with the damage. With a couple that drop in no man's land or go over the fielder (including a masterful effort by Mahela to one he really should have got nowhere near but just evades his grasping fingers at full stretch) that's it for wickets and Moin goes to 50 at 86 for 3 (51 balls and 7 fours) with the hundred coming up in the 23rd. It is 123 by the end of the 25th and Jim, Max and Pete have all become part of the attack. But that man Ali is still there.
Daryl Mitchell ominously goes to 50 in the 29th at 146 for 3 (also just passing the 100 partnership) It came off 67 balls with 2 fours and 1 six. Just after the 150 arrives though we get light in the darkness as Moin takes on one too many Trego balls and is caught in front of the Caddyshack for 81 at 155 for 4.
We are then treated to the Pete Trego Show as he bowls 4 for 14 and takes 3 for 8!! Mitchell is dismissed courtesy of an excellent overhead catch by Josh running backwards (he almost miscalculated it but adjusted well). 175 for 5. Then Whitely gets one that rises on him and is caught behind for 0 with knly one run added to the overall score. 176 for 6. Lewis then gets in on the act having Cox also caught behind for 0 at 177.
D'Oliviera and Leach are in now looking to deal with the problems that Moin's moment of madness has created. Take your chances boys and use the advantage.
With 10 overs to go the Rapids have just passed 200 at 204 for 7 but the reintroduction of Craig then reaps a reward as D'Oliveira flips one in the air too far and is taken by Josh coming in from mid on and they are 206 for 8. Then it's back to Pete who receives the ball as Joe Leach has no chance on a second run and he smashes the stumps asunder. 207 for 9 which is 210 at the end of the 42nd.
No addition by Jack Shantry as RvdM has him plumb in front with the 5th ball of the 43rd and we have 211 to win after stopping them using 7 overs of their allocation. Not a bad first half....NOW can we put this one to bed professionally?
MJ and Jim stride out to open against Shantry and Barnard and at the end of 5 we have advanced to 26 for 0. We really just want a steady 100 plus partnership to build on and then a Trego century to put it away. There is really no hurry at all. Presently Allenby is out scoring Jayawardene 3:1 but we all reckon he owes us one as this is his last game (no semi or final appearance it seems as he is already contracted for something else).
After 10 overs things are going to plan. The 50 came up in the 9th with Jim on 27 and MJ on 22. With 20% of the game gone we have moved to 58 and our Sri Lankan star has caught up his Aussie partner. Mitchell tries his spinners but it does little, not a lot of life in this one it seems. At 15 overs we've moved to 81 and MJ hits a huge 6 back over D'Oliviera's head as part of that. By the 18th over we are 2 runs away from 3 figures without loss and are making very heavy weather of losing this one. It comes up 4 balls into the 19th and also brings up his 50 off 50 with 4 fours and 1 six.
By the time Jim gets to his 50 (he was 47 when his parter got there) with a boundary it is 124 for 0 and MJ has added another 18 to his personal total. At the halfway stage we have 138 with MJ on 78 and JA 62. It all looks very very easy at the moment. The 150 arrives from another Sri Lankan boundary in the 27th as he moves into the 80's.
Worcester are now clutching at straws using different bowling couples to try and create some change as Jim seems to be chasing his partner to three figures if he can. He deposits Ali into the Somerset stand tomove the toal required below 40 while the little man moves into the 90's. It is 174 at 30 overs and our overseas man needs 3 for his ton by the end of it while the visitors seem to have no answer at all.
Ali takes the 32nd and by the end of it our little master needs 1 and has stolen the strike and he goes to 100 off the second ball. 188 for 0 and finally we get to celebrate a 99 ball ton with 13 fours and 1 six. Well played sir.
There probably isn't enough runs to get the skipper to his well deserved hundred but getting there without a wicket down would be good. Unfortunately itis not to be as he steers the first ball of the 34th over from Ali to Fell and we are 1 down for 188 with Jim out for a supporting but match winning 81.
This brings in Pete to help the Man of the Match to finish it off. He is in no mood to hang about and niether is MJ who hits Ali for six off the end of the over. Three more big scoring shots, a few byes, wides and singles and it's all over. We win by 9 wickets with our man from Sri Lanka paying his dues for the county in the format he really can excel at. You may have seen the last innings he plays in competitive cricket in the UK today and it was very special.
MJ is the Man of the Match for his major ton. He hasn't refused the Final so we all have to hope. But we need to get through the semi first. Wonderful. I'll be watching it from the Land of Sand but it was worth the running about to get here. A really professional match - sheer pear murder from ball 1 to the end.