So......... Shall we review?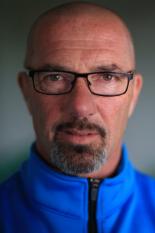 By Grockle et al
October 7 2016
So Matthew Maynard is not going anywhere any time soon. Sorry those of little faith.... it seems he did have a plan after all.
Predicition versus actuality can be a funny thing. There were many confident predictions of disaster from the posting public at the start of this season. It should be about now that we should be speculating on the identity of our new DoC as Matthew Maynard's two year period in the job comes to an ingnaminious end as many expected it would.
But that's the joy of watching a side with a level of faith, occasionally it comes to pass that your faith is rewarded and the doomsayers and miseries who wander through the turnstiles on a regular basis it seems to look for ways to destroy the hopes and dreams of others are found to be lacking in their knoweledge and the players, management and coaches put together something that kicks them in the crutch and sees many scurrying back into the shadows to moan alone while licking their wounds and hoping for poorer seasons to come.
Matthew Maynard is NOT leaving it seems, he's extended his contract for another two years. The conspiracys theories of his 'jobs for the boys' approach and lack of coherent plan seems to have been mistaken..... Somerset seem to be OK at the moment. A decade's work on the pitch including a new draingage system, all for naught according to some has not killed the game in the county but seems to have changed the conditions to such an extent that we now petrify batting teams with out triple spin options!! Kentish Townie must be revolving on something, I hope the old boy is still around and the deliveries of humble pie are winging his way as we speak.
Chris Rogers took time to bring his big bat with him but his presence at the helm of the Championship brought success in his first and final season. A retirement with a finish that saw us pipped for the top CC1 spot by a bit of wheeling and dealing at Lord's, left us with a decisive victory against Notts and left him with a ton in both of his final innings was far more than many who have been here a long time could have thought possible. He leaves but he has put something in place that the side will want to build on in the very near future before the idiots at the ECB destroy the Championship forever.
Our T20 campaign was a dismal failure and gave some of our new population the confidence to make predictions about the rest of the season, the quality of our management, organisation, coaching staff, captains, moral fibre, playing ability. Certain individuals came under extremem crticism not least of which was Jim Allenby who seemed to be responsibile for everything that had gone wrong with Somerset since the dawn of time. Admittedly the tactics he operated in the 20 over competition were quite remarkably out of date. If you add to this a lack of information from the club about his own level of fitness and a public/on the field persona that did not immmediately endear him to his new supporter base, you can see why he was not Mr Popular for much of the first third of the season.
One could also say that such was the level of reality in which some commentators lived it would not have made any difference because they had taken a dislike to the concept of him at the sart of the season before and already had their flow charts on the wall showing how he and Matthew Maynard had planned out the downfall of Somerset CCC since their time in the cradle and were putting that plan into action, signing people who could not play the game so that the South West would never rise again to it's average levelof mediocrity for most of it's illustrious history except for the Golden Age of blessed memory when we'd beaten everyone to everything using two very talented guys who spent most of their time in the pub and a very tall man from a Carribbean island somewhere.
But the T20 was inept. We finished where we deserved to finish, Reolof van der Merwe was our player of the tournament and his achievements were not what he himself would probably have called wonderful but he was the best of a very bad bunch. The crowing from the cheap seats was load and proud. Gleeful posts about young players leaving before the end of the season like rats from a sinking ship. Prose about the demise of a DoC who couldn't do his job and the mates he'd brought in to enjoy the spoils with him were two a penny. It as diffcult on the surface to argue with some of what was being said though there were some green shoots in there that seemed to be ignored in the 'Maynard and Allenby Moanfest'.
Trescothick hadn't started too badly, we had not lost a Championship match even though we hadn't won one. Tom Abell and Johann Myburgh were starting to settle into some kind of form. Rogers wasn't making runs but nice things were being said by the young bowlers about his field settings and on the field we looked more focussed and organised under his control. RvdM and Jack Leach looked an interesting pairing in the slow ball department and the skipper turned to Lewis Gregory more than once and got what he asked for. Tim G and the Overtons were making the tail a force with the bat....we weren;t giving up all that often.