New Year, New Captain is 2017 the one?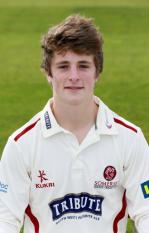 By Grockle et al
January 9 2017
Welcome to 2017 everyone. The club skipper Tom Abell will welcome you I am sure as will the rest of the squad who have all been stating their desire to get on with this season after having a good go at winning the CC1 for the first time last summer. What are the prospects and what are we in store for... so many years of promise that haven't delivered. Is this the one that will?
From the members who have been watching this county side stumble, fall and rise again over all of this century and a great deal of the last, through those who talk about the 'Golden Years' of Beefy and the West Indian's who graced our side, to those of us who have experienced some or all of the last 22 years within the Grockles community there are rumbling expectations that 2017 is going to be something special ion the long format game.
Personally I'm not as hopeful because I've been here before with far more reason for positive expectation but I am aware that we really ought to get this done soon because the title we desire more than any other is not long for this game in my humble opinion. At least not in any form worth trying to win.
The County Championship First Division title has eluded Somerset for all of its professional life. We've been close and probably were unlucky that a rule change gave it to Nottinghamshire in 2010. We've had better potential sides than then or now and got nowhere near it and probably ought to admit that we were a little surprised when suddenly we were in with a shout in 2016.
Many seem to believe that last August and September were the curtain raiser for an onslaught on the CC1 this year that will not be denied. Where is the source of that optimism?
We did seem to hit a rich vein of wicket takers suddenly. It was strange because they were nearly all spinners; Jack Leach in the lead with Roelof van der Merwe suddenly bamboozling batsmen on the 'Taunton Motorway' and newbies like Dom Bess debuting with composure that suggested he had been secretly playing for the firsts since he was a babe in arms. No one could really live with us at home for four days. They came and were dispatched.
The tactics and composure of our Aussie captain Chris Rogers seemed to instil a confidence in our four day unit that we hadn't seen for a while. Openers Tom Abell and Marcus Trescothick were solid and dependable. Rogers himself finally found his form and Johann Myburgh, James Hildreth, Peter Trego and even the pilloried Jim Allenby created a middle order of some backbone. It all went swimmingly.
Tim Groenwald led the seam attack with tight precision and Craig Overton, Josh Davey, Lewis Gregory and Pete T kept the scores in line while the slow men trundled their way through batting orders.
Well..... is this going to be the shape of good things from April? The one day cup is moving to May it seems and the warm and balmy evenings of the summer seem to be full of three hour T20 happy slappy stuff. Where is the Championship as the ECB whittle away at it? Mid spring to early summer and late summer to early autumn as far a I can see. Condusive to our new way of playing the game? Well not really at home, though the second half looks a brighter prospect than the first. As I have posted, I am in the West Country from early June to mid/late August and I get to see 12 days of cricket at the County Ground. SEVEN of those 'days' are 20 over slogs in the early evening. The playing fields of Taunton will be pristine for most of the 58 days of my summer....not sure why that is except that iut pretty much confirms the governing body of English cricket's opinion of the four day format of the game. It is now hardly played in the time when it is at its best. It is played on the moist nd damp fringes of the season when watching and playing are at their worst leaving the good times for the money stuff. How much did we lose to India by?
Anyway, what changes do we expect to see to the unit that will start our 'main priority' competition in very early April? We know Chris Rogers will not be returning after his retirement and the club have taken a bold move in investing in youth by making Tom Abell the club captain and skipper of the four day unit. Brave say some, a statement of the future say others and I'm with the 'twelve men and true' of the jury and will await to see the outcome. It is good to see a statement of confidence in the young opener and there is no doubt that the potential is there so we will rally around and look for good things.
Marcus will be putting on his gloves and picking up the bat after a really excellent 2016 campaign and we want runs from the off from him. The number three spot was not all that convincingly filled by our skipper last year until the last game and we have yet to announce the international pick for this year. I personally am hoping to see Johann Myburgh stake a claim after watching him destroy Tahir of Notts during our mauling of them at Trent Bridge last summer. If the man can take on an attack like that this year we don't have to worry about the 3 spot. Four will be the spot for the best English championship batsman in the country. England don't want him so we'll gratefully stick him in every game and expect James Hildreth to deliver as he has started to do each season in his later career.
Jim Allenby will be skippering the white ball games and we must all be hoping that he can produce some of the better form he offered us in the four day game after a scratchy start to his second season. I'd like to see Adam Hose taking an interest in four day cricket and of course we have to find a spot for Steve Davies at least as a CC1 batsman if not as a constant keeper. Pete is looking like a batting allrounder these days and will probably finish off at least our starting 6. There are others looking for places from the academy so the older boys had better be on their toes.
The batting unit HAS to fire from day one of game one and we have to produce totals that provide our bowlers with the time they need to remove 20 wickets. Draws won't do it we have to WIN early games and not come up on the rails in the second half of the CC1 season. Weather is our constant opponent. You can't beat other sides without the time to do it and the environment seems to be one of the main deciding factors in the CC1 these days thanks to the ECB's lack of understanding of the importance of the longer game because of the distraqction of the 'Mighty Dollar' (or Rupee) perhaps. Can't wait to watch the rain downpour being highlighted by the floodlights in those newly exciting CC1 day/night matches.
Our bowling unit has created expectations they now have to fulfill. Tim Groenewald has taken to the role of veteran leader of the attack as Charl and Alfonso did before him. The Overtons will both be fit and as Pete moves to batting allrounder, maybe Lewis is moving to a bowling one. He was Rogers' 'go to man' last season and rarely disappointed. Josh Davey came in and showed potential last season and Ollie Sale and others may want a say in 2017 so we have seam but not huge experience.
We now also have spin. Whether Jack Leach was ready to push England to better performances in india during the winter or not is a debate being had. His 'dodgy' action (has anyone actually seen the problem) has now been sorted and we all know he IS ready to push his county further. His backups are also hitting their straps and many expect some good things from Dom Bess. We are lucky that RvdM seems to have got himself organised now and can act as the older head for the young men. There were times last season at home that he was unplayable himself so it all looks promising.
Our bowlers were criticised for getting 'all' their wickets at 'Ciderabad'. Our batsemn were criticised for getting all their runs on the flat unresponsive 'M Taunton'. At home everyone expects us to win games for whichever contradictory reason the summarisers and 'experts' at SKY give for the victory. Our away form will be the decider. We usually start slow and we usually do better in the warmer second part of the CC. We have to start hard and ensure that the second half of the summer puts us in the driving seat with the pack chasing.
Will it happen? Well it could. It has been on the cards before and it didn't. Maybe.....just maybe this is the year. A revisit in late May amy give us a more solid answer but the West Country certainly expects and there aren't that many years left for Somerset to promise and then come up short. Dare to dream people.....it's nothing new.