A Canterbury Cliffhanger!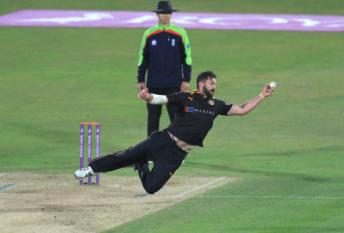 Flying Plunkett
By Gary Watton
August 18 2016
Well this was one lucky win. Yorkshire, assisted by their full compliment of England internationals, laboured to a par score of 256. It could have been more, but were it not for Rashid's vital runs in the last over, it could have been less. Then the Tykes just about managed to chip away at the Kent batting. Nevertheless it took a hilariously good catch from big Liam Plunkett to not just pluck the ball out of the air, but to pluck a potential triumph away from the home team.
This was not a vintage Yorkshire victory, but instead owed much to character and patience. We seemed to have the knack of taking wickets precisely when we desperately needed to do so. Even a ninth wicket stand between Hartley and Tredwell threatened to turn the tide, as their run chase ebbed and flowed. In the end it took a ludicrous lbw decision against Tredwell to terminate Kent's commendable run chase. The winners will have to play a bit better than this in the semi final against Surrey, and they shall have to do so without their England one-day quintet - no mean task.
Meanwhile it's time for finals day at Edgbaston in the annual Twenty20 circus. Adam Lyth certainly looks in good nick. The same cannot be said of the dogged but unconvincing Gary Ballance. GB will probably be an asset in the final series of County Championship outings, but he may well have to make way for Jack Leaning in the Twenty20 matches. Let's hope that Rafiq also recovers from his Canterbury horror show. Still, the white rose proceed forward in chase of an historic and unprecedented treble. They could win everything in the next month. They could so easily win nothing too.
Royal London One Day Cup: Kent versus YORKSHIRE; in Canterbury; Thursday the eighteenth of August 2016. Kent won the toss.
YORKSHIRE: 256 for nine (off fifty overs)
Lyth c Billings b Coles 88 (167-4)
Lees c Blake b Claydon 7 (27-1)
Root c Blake b Hartley 45 (117-2)
Bairstow c Bell-Drummond b Hartley 9 (140-3)
Ballance run out (Billings) 37 (237-8)
Bresnan c Northeast b Gidman 10 (191-5)
Willey c Billings b Gidman 0 (192-6)
Plunkett c Northeast b Coles 16 (219-7)
Rashid not out 24
Rafiq b Coles 1 (241-9)
Patterson not out 3
Extras: sixteen
Coles three for 39
Kent: 245 (off 47.5 overs)
Bell-Drummond lbw b Willey 2 (3-1)
Denly c Willey b Plunkett 31 (66-4)
Northeast c Ballance b Plunkett 23 (53-2)
Billings lbw b Patterson 1 (54-3)
Stevens c and b Plunkett 54 (180-6)
Blake c Bairstow b Willey 50 (152-5)
Gidman c and b Plunkett 19 (191-7)
Coles st Bairstow b Rashid 22 (212-8)
Tredwell lbw b Willey 17
Hartley lbw b Rashid 15 (241-9)
Claydon not out 2
Extras: nine
Plunkett four for fifty-two
Willey three for 34
YORKSHIRE win by eleven runs and are through to the semi-finals to play Surrey in Leeds on Sunday the 28th of August.
BATTING CHARTS (minimum of one hundred runs):
Tim Bresnan: 293 runs; average - 58.6
Travis Head: 277 runs; average - 69.25
Adam Lyth: 435 runs; average - 54.38
Gary Ballance: 181 runs; average - 45.25
BEST BOWLERS (minimum of ten wickets)
Adil Rashid: ten wickets; average - 23
Liam Plunkett: twelve wickets; average - 23.25
David Willey: eleven wickets; average - 32.82
View a Printer Friendly version of this Story.
Kent
Come On You Tykes (IP Logged)
18/08/2016 15:42
What do you think? You can have your say by posting below.
If you do not already have an account
Click here to Register
.
Sorry, only registered users may post in this forum.
More Yorkshire CCC headlines
Yorkshire CCC latest threads
Yorkshire CCC Poll