Virat Goes to No. 1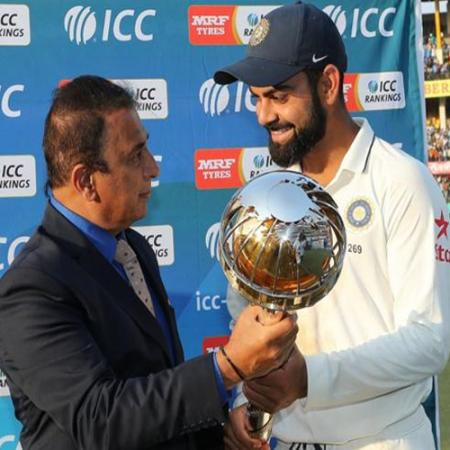 By Indian Cricket Fever
August 8 2018
Virat Kohli has achieved another personal milestone by becoming the seventh India batsman and first since Sachin Tendulkar in June 2011, to top the ICC Player Rankings for Test Batsmen, which were released on Sunday morning following the conclusion of the Edgbaston Test.
Virat scored 149 and 51 in India's 31-run defeat and has gone up by 31 points, which have helped him to end Steve Smith's 32-month reign as the top-ranked batsman and reach the top of the summit for the first time in his 67-Test career.
Virat now leads Smith (who had held the top spot since December 2015) by five points, but will have to maintain the form in the remaining four Tests to finish the series as the world's highest-ranked batsman.

Tendulkar had joined South Africa's Jacques Kallis in number-one position in January 2011, but had dropped to second spot following the Jamaica Test in June 2011 after he had missed the three-Test series against the West Indies.

Apart from Virat and Tendulkar, Rahul Dravid, Gautam Gambhir, Sunil Gavaskar, Virender Sehwag and Dilip Vengsarkar are the other India batsmen to have achieved number-one rankings during their careers.

However, at 934 points, Virat has become India's highest-ranked batsman, 14th overall, on the all-time tally of points. He had entered the Edgbaston Test on 903 points, 13 points behind Gavaskar, and is now ahead of the ICC Cricket Hall of Famer by 18 points.

If Virat can deliver another strong performance in the second Test at Lord's, then he can break into the top-10 by leapfrogging Matthew Hayden, Kallis and AB de Villiers, whose highest points tally was 935 each. Donald Bradman (961) and Steve Smith (947) are the two batsmen sitting on top of this exclusive list.

Virat, who powered India to the ICC U19 Cricket World Cup title in 2008 and then won the prestigious Sir Garfield Sobers Trophy for ICC Cricketer of the Year in 2017, is the 76th player to top the Test batting rankings. He is also the number-one ranked ODI batsman, but is ranked 12th in T20Is, 220 points behind number-one ranked Aaron Finch of Australia.

The batsmen to lose ground after the Edgbaston Test include Alistair Cook 17th (down by four places), Lokesh Rahul 19th (down by one place), Ajinkya Rahane 22nd (down by three places), Murali Vijay and Shikhar Dawan, who now share 25th position after slipping two and one spots, respectively, and Ben Stokes 33rd (down by five places).

In the bowlers' table, Stuart Broad and Mohammed Shami are the two bowlers inside the top-20 who have headed in the opposite direction. Shami is in 19th spot after sliding two places.

India off-spinner Ravichandran Ashwin has gained 14 points following his four for 62 and three for 59, which means he now trails South Africa's fourth-ranked Vernon Philander by just one point, while Ishant Sharma has collected 19 points to move within 13 points of 25th-ranked team-mate Bhuvneshwar Kumar.

The Test player rankings will now be updated following the Lord's Test, which begins on Thursday, 9 August.
View a Printer Friendly version of this Story.
Virat Goes to No. 1
Discussion started by Indian Cricket Fever (IP Logged), 08/08/2018 23:25
Indian Cricket Fever
08/08/2018 23:25
What do you think? You can have your say by posting below.
If you do not already have an account
Click here to Register
.
Edited 1 time(s). Last edit at 2019:03:24:18:31:52 by Birbal.
Birbal
17/08/2018 17:15
He is averaging 50/50/50 in Tests/ODIs/T20Is...

Nobody among his peer is close...Not Steve Smith, Joe Root, or Kane Williamson...
Akbar
18/08/2018 22:39
Virat is ahead by a fair distance. 3rd test 97 further entrenches his position.
Birbal
22/08/2018 17:34
Followed up with 103 in the second knock... 440 runs in Three Tests in the most trying conditions for batting... GENIUS
Birbal
23/08/2018 17:11
And RIGHTLY reclaims No. 1 spot and at 937 points is one point away from matching FOUR legends for all time points... Viv Richards, Garry Sobers, Clyde Walcott and Kumar Sangakkara,
Interesting list of the HIGEST career points ever achieved. No surprise that No. 1 is Bradman... though the fact that he never played in any other country except Australia and England would put an asterisk against it in my book.
Next is Steve Waugh... and others in the top 10 include Ricky Ponting, Len Hutton, Jack Hobbs, and Peter May...whose inclusion seems very odd...until you realize that like the ICC Test rankings and the ICC Hall of fame this is basically an ENGLAND BIASED ranking system...
Nonetheless tremendous achievement by Kohli who has buried the ghost of 2014 for ever. If he can score 335 runs in the next two Tests...he will overtake Sunil Gavaskar as the Indian with the most runs in a Series ever... though Gavaskar will still have gotten them in ONLY 4 Tests and on DEBUT...and Kohli will have taken 5... (unless he scores that many in just the next Test)...and well into his career....
Sunny was an absolute LEGEND...
Sorry, only registered users may post in this forum.