Hands of Andersson leads us to fairytale ending to season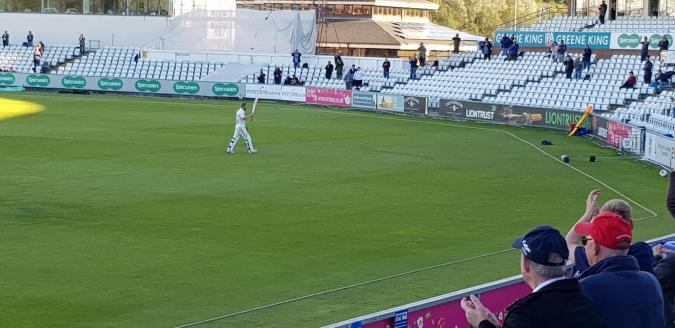 Farewell to a legend
By Beefy Roberts and Dingy Bags
September 27 2018
Beefy and Dingy report on a most bizzare day of cricket and what at one stage seemed an unlikely Middlesex win
BEEFY ROBERTS
It is overcast and warm. I'm optimistic at start of play. We then lose four wickets for 11 runs. Meanwhile astrong smell of burnt toast drifts across the ground!
Rear guard action,is needed. We are digging in and survive a few hairy moments. Andersson passes his highest score for us towards lunch and we go past Durham 1st inns score. Crucial moment Harris edge,and he is dropped by the normally reliable Collingwood
DINGY BAGS
The 90 minutes after lunch produced some of the most bizarre scenes. First of all Andersson and Harris took their stand past 50 and the chances of play going into Day 4 were increasing.
Then Harry was hit on the helmet by McCarthy. This was the third of our players after Gubbi and Eski to be hit in the head in the game. He went down at once and stayed down for quite some time. Delays like this are never helpful to a batsman and sure enough Andersson was bowled first ball afterwards.
Then came a bigger delay. George Scott went out and a discussion ensued involving both umpires and Colly clearly over the matter of a concussion substitute. Ollie was padded up so it was clear who we had in mind. Apparently we have no CLO overseeing this game (why?) so the umpires had to make a call. Meanwhile Bamber and Fuller stood with the Durham players. I felt they should have gone off. The announcer kept us informed. Ollie is playing.
We waited for a wicket off the next ball when play did resume but thankfully this was avoided. However, soon after Fuller refused two very easy singles off the first two balls of a Wood over which looked silly. It looked even sillier when he failed to cope with another short ball and spooned it up in the air
Neither Ollie nor Murts lasted very long after that and rather surprisingly tea was called with 50 overs still to bowl. 167 to win.
We hear Harry has gone to hospital for a check over and we wish him well
BEEFY ROBERTS
Murts first over from Lumley end,on a hat-trick from finish of 1st inns. Sadly,not accomplished. Later,Durham take quick single,and a shout from behind us by a moaner, He's been at it all day saying '"Why be so stupid Durham you have got all day tomorrow"' Murts having two balls dispatched right past him for 4 runs each time. Next ball passed stump by a smidgen. It doesn't look like it's going to be our day. Then wicket for Murts 27-1 Lees lbw for 21,Lees not happy about decision.,But the PA was as Murts was called Paul Murtagh...New signing??
Durham not in a hurry in chasing total, Fire alarms are now ringing,was this a test or a hidden message. I was imagining Kev chanting " is this a fire drill" Who cares Harte is removed by the impressive Andersson for a long stay 14 runs it's 45-2. I still don't know if we are a bowler short. Will Rayner bowl,or not? 3rd wicket,as Richardson goes for 3. All set for Collingwood to go out in style as he walks out to huge applause for his final innings of his distinguished career.
24 overs left play stops for drinks/toilet break. Durham moaner.shouts 'Come on,what the … is going on? Then the crucial one. it's all over for Collingwood is bowled by Andersson for 10. The whole ground stands as he leaves the pitch for his last time
79-5 as Davies is run out by JK with a pinpoint throw and takes out the middle stump. Now it's 97-6 Steel heads back to the hutch as he is caught by Super Sub Ollie Rayner.70 to win for Durham,4 wickets for us.... SuperSub strikes again,as Wood goes for just less than 1,as Ollie takes another catch. Next,a Murts bouncer to Salisbury and SuperSub gets his 3rd catch another just less than one. It's 98-8 105-9 Poynter gone as stump cartwheeled by Murts.
McCarthy now in,with Alex Lees a runner, Poor batsman can hardly walk.He didn't last long as Rushworth hooks the ball for Gubbo to catch. An amazing Middle victory for us. This one is for Diamond
So,that's all folks, Season finished on a high with a win. Winter well all, stay healthy,stay safe. Until next season...Beefy signing off.
View a Printer Friendly version of this Story.
Hands of Andersson leads us to fairytale ending to season
Discussion started by Middlesex till we die , 27/09/2018 08:48
Middlesex till we die
27/09/2018 08:48
What do you think? You can have your say by posting below.
If you do not already have an account
Click here to Register
.
Edited 1 time(s). Last edit at 2018:09:29:19:23:57 by BarmierKev.
chunkyinargyll
27/09/2018 09:25
Apparently Collingwood objected, saying 'Rayner is a spinner' to which Malan replied, 'No he isn't' (TIC) and umpires agreed with Malan, only for ECB to decide in the interval between innings that he was, and therefore couldn't bowl.
BarmierKev
27/09/2018 10:45
What a shambles. Just as well we won.


---

Barmy Kev
I'm only here for the tele
Sorry, only registered users may post in this forum.