We Ain't Going to Stanford it. Part 5 of 6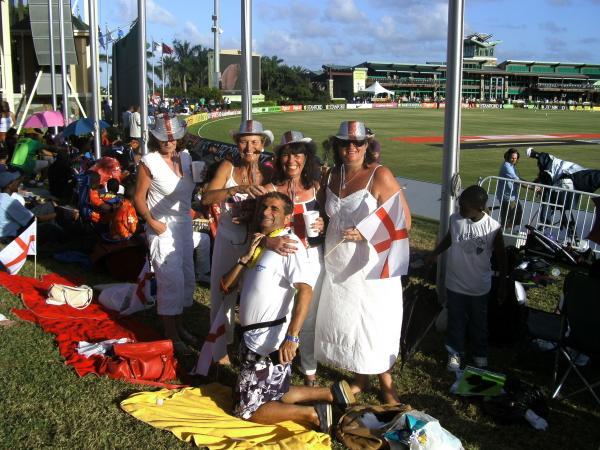 Hopeful England fans
By Beefy Roberts
February 3 2019
MTWD Admin feel this is an appropriate time to put up Part 5 of Beefy's recollection of the infamouus MTWD /England Stanford tour in Antigua. An abject England performance and a silly chant involving Kev. 10 years on some things never change.
This is the richest game ever in cricket. Worth $20m to the winners with losers sent packing with nothing.
Absolute mayhem on journey. to the groundthat is packed to the rafters. Press everywhere massive interest for this game. I was lucky to be given two free tickets for the player's area with free food and drink. One for me with the other worth a fortune for me to sell on to a tout. I chose to give it for free to the barman who looked after us so well during my stay.
England won the toss and decided to bat. To be polite we were dreadful. We managed 99 all out with 6 batsmen clean bowled. Samit Patel top scored with 22.The bowling was Sammy 4-0-13-2,Taylor 4-0-25-2,Powell 4-0-18-0, Benn 3.5-0-16-3, Pollard 4-0-26-2.
When Stanford side came into bat they didn't hang around and took only 58 minutes to reach their target reaching 101-0 off 12.4 overs. Gayle 65 no and Fletcher 32. This team suddenly became incredibly rich.
Part 2 of the day started earlier than expected thanks to England. Nov 1st is Antigua Independence Day. A party was organised and being held on the Recreation Ground the home of many famous matches in the past. A stage was erected at one end, live music and dancing yes dancing on the same square where Lara achieved his world record of 401 no, I kept boring everyone by keeping on saying "'I sat in that stand and saw Lara get his record'". We were virtually the only English there, the compere mentioned the cricket to our loud boos! The locals loved us joining in with their celebrations, which went into the early hours. As we walked to the taxi to pick up we walked passed the big Antiguan prison behind the main stand. Me and Kev just couldn't resist a chant at the prison '"We can see you sneaking out'" and there was suddenly extra flash lights in this area( you had to be there).
We were back at the Jolly Beach, to join the England and Middlesex team who were drowning their sorrows. For legal reasons I will stop this part of my report here.
View a Printer Friendly version of this Story.
We Ain't Going to Stanford it. Part 5 of 6
Discussion started by Middlesex till we die , 03/02/2019 16:07
Middlesex till we die
03/02/2019 16:07
What do you think? You can have your say by posting below.
If you do not already have an account
Click here to Register
.
Edited 1 time(s). Last edit at 2019:03:03:21:54:24 by BarmierKev.
BarmierKev
03/02/2019 16:16
Forgetting about England's showing. This report bought up some happy memories.

Feel free to read the links for parts 1,2,3.4 for the whole experience, which were up here 2015.

I hope the Barmy Army in Antigua with no cricket are now able to take consolation from the wonderful hospitality we enjoyed.


---

Barmy Kev
I'm only here for the tele
BeefyRoberts
04/02/2019 10:22
Not forgetting having to get vouchers to purchase drinks at the independence day party.
As we couldn't take the vouchers home,we had to get a big pile of cans and consume them.
BeefyRoberts
24/02/2019 10:02
I wonder if the cricket ground is still being used?

Although the person involved turned out to be there for his own good only,and,I must admit,I didn't like him!
He walked around the ground as if he was the King of Antigua.
But,the ground did have a lot of cricket memorabilia there,statues of players...can't remember whom sadly.
Stickey Wicket restaurant was there,and a huge swimming pool/fitness centre (we didn't use it)
The floodlights were short,due to being next to the main airport.
And,the food village/drinks were busy all the time.

But,the Antiguan hospitality was second to none,welcomed all the time!
Sorry, only registered users may post in this forum.