This Does Not Luke Wright for Middlesex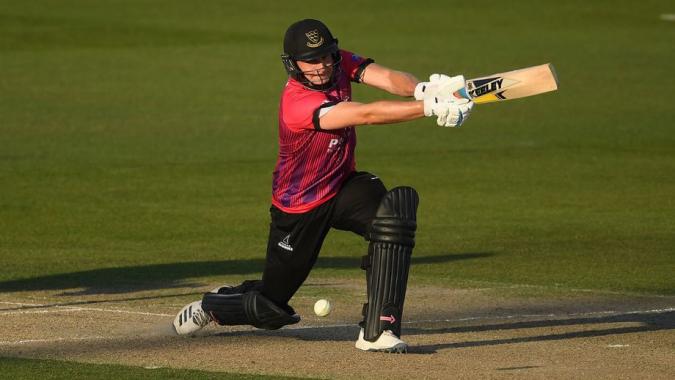 Our Nemesis
By Way Out West
April 29 2019
Way out West reports on his emotional return to Lord's, in feezing conditions and an overall poor display by Middlesesx. We then hear about his marathon session the day after that was not a drinking one.
Run Like The Wind(s)
Saturday April 27th
My first trip for two years to Lords despite being a member last season. A few of you may have met my father Allan, who sadly passed away in November 2017. It just didn't quite feel right going last year. For this game, I took along my 7yo son Isaac for his first Middlesex match.
The 15 minute walk from Paddington was very cold and it would appear the covers were on and the start would be delayed. Murtagh got two quick wickets courtesy of some superb fielding as we alternated between the warmth of the Middlesex room and the occasional windy seats on front. A further flurry of wickets reduced Sussex to 102/5. At this stage I wasn't sure if I was more impressed by our bowling, fielding or Isaac's stoicism in the face of the dropping temperatures.
Ben Brown now joined the well-set Luke Wright and it appeared very early on that they may be here some time. This period of play allowed me to reflect on what had and hadn't changed at Lords since my last visit. The Warner Stand is now fully operational and whilst very impressive and comfortable, the loss of the upstairs pitch facing bar to members is rather galling on a day like this. Have I mentioned it was bloody freezing? On a more positive note I was very taken by the large advertising style banners showing our winning trophies over the years. To reinforce the view that we are welcome tenants was the sign stating: "Lords home of MCC and Middlesex Cricket".
In terms of what hadn't changed, it was very nice to see some familiar faces on the walk around the ground including the WOW report legend that is Tinny O'Clock. Oh, something else hadn't changed, our ability to blow winning positions. Brown and Wright had added runs in a pretty serene manner and as Isaac kept mentioning, without adding any 6s. Cue mayhem as Wright went 6,4,6 to bring up his 100 off TRJ. Further maximums followed with Helm bowling some dross and the decision of Malan to bowl so late in the day rightfully punished by Wright, who was eventually out for an exceptional 166. Brown went the following ball and a full on collapse saw Sussex out for 298. For some reason I still felt confident.
A quick lap of the ground saw my wallet take punishment a la that given to Helm (£42 for a childrens pink Middlesex T20 shirt), before Stirlo and Malan began our reply. A bright opening by an increasingly balding Stirling soon ended with his usual out in the 20s. Max and Ross Taylor in particular, were out to poor strokes to Briggs and the writing on the wall was there for Middlesex and also me, as a very sleepy 7yo indicated enough was enough.
The trudge back to the station produced some colourful language as more wickets fell and we were all out for a poor 176 by the time we were back to Thatcham. Despite the weather and inconsistent cricket it was a joy to be back at Lords.
Sunday April 28th
The early finish on Saturday gave me time to rest ahead of a 4.30am alarm call with the London Marathon on the agenda. What a day it was too, the support of the crowds was immense although I never managed to see Kev who was there supporting the charity Dementia Awareness. I was delighted with my time of 3:51:55 and also managed to fundraise a decent amount of money for Muscular Dystrophy, I hope Kev won't mind me putting my link at the end of this report!
www.justgiving.com/fundraising/andrew-berry1981
View a Printer Friendly version of this Story.
This Does Not Luke Wright for Middlesex
Discussion started by Middlesex till we die , 29/04/2019 08:00
Middlesex till we die
29/04/2019 08:00
What do you think? You can have your say by posting below.
If you do not already have an account
Click here to Register
.
Edited 2 time(s). Last edit at 2019:05:03:09:26:18 by BarmierKev.
BarmierKev
29/04/2019 08:15
Thank WOW for sharing. Having met you and Allan a few times as a double act I can imagine your emotions. We will meet this season and raise a glass to Allan.

I was looking out for you at the marathon 3 miles from the finish but missed you. You were too quick for me. Congratulations on your time and fundraising efforts.

As for the cricket. Enough said.


---

Barmy Kev
I'm only here for the tele
MiddleToWest
29/04/2019 08:27
Hats off for that marathon time. Anything that's less than double the time that the winner does it in is impressive in my book.

Thank you for the report. I watched the first half of each innings on the telly. I was surprised when I say that Wright's highest List A (why do they call it that?) score was 'only' 129. Well, we won't see that stat again. I missed him going properly ballistic but it sounds like it was a fantastic effort.

I got increasingly irritated as our reply went on. Anyone can get out in the first few balls of an innings but so many of our blokes got a decent start. I don't include Holden in that because he looked like he was sh1tting himself from the off.

One that got away and will probably cost us any chance of qualifying for the next stage.
Good to have you back, WOW. Well done on your impressive marathon time, and well done to Isaac for sticking it out through the cold. I hope he enjoyed the mayhem more than you did - buying him a Middlesex shirt might prove to be a wise investment to secure his loyalty!
The shirt prices are indeed eye-watering. I really like our shirts and other merchandise - training shirts, jackets etc, and I would buy a hell of a lot of Middlesex merchandise if it were only a bit more reasonably priced. But I'm not shelling out £48 for a shirt, no matter how much I like the design. Cricket isn't football.

I had to follow this game via infrequent Cricinfo updates, as I was playing in a cricket match myself in Kent. I'm only just starting to feel my fingers and toes again.



Edited 1 time(s). Last edit at 2019:04:29:11:22:47 by hdo.
Rocks&Boulders
02/05/2019 12:40
Always the same players seem to do the well against us.
remember Mascarenhas used to be one.
Several ex-players too.
Sorry, only registered users may post in this forum.
More Middlesex CCC headlines