Rad Let the Cider Down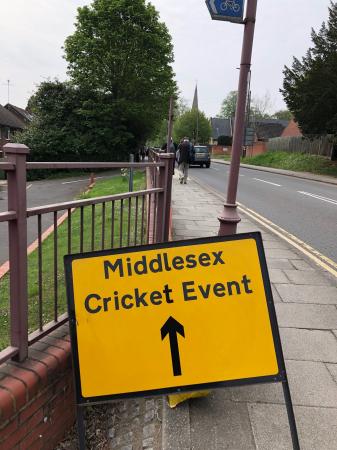 Sign of the times
By Dasher Denning
May 2 2019
We have a Zummerset perspective of a disappointing day for them on the pitch at the pub opposite. We also hear observations of, Police 5, no cider and birds of prey . This is a compelling read. Thanks Dasher.
The last time I came to Radlett it was an utter nerd fest. A search of Google tells me that it was as long ago as May 2013, a YB40 game between Middlesex and Yorkshire that was Radlett's maiden first class game. As you'd expect of such an occasion, every county cricket ticker and autograph hunter from across the land was in attendance. In fact, the only one of the 18 counties we didn't see represented was Northants. As a result, it was massively busy and I think we were only able to sneak into the pavilion to meet the MTWD crew after the game had finished.
This time, I thought, it'll be nice to be able to have a wander round the ground as it's not going to be as busy as it was then for a 50 over group game on a Wednesday. Or so I thought. As we got off at Radlett station at 10.15 there was a steady flow of people strolling up to the ground and when we got there all of the boundary fence chairs had already gone. It kept filling up and an impressive crowd was in attendance right from the off. I would say the ECB should take note that this is a popular competition but we all know that they don't give a flying hoot about these things so I won't waste my breath.
Myself, birthday boy Mr Nigel and Watford Phil found a good spot on a nice little mound (the Mound Stand?) directly opposite the pavilion. Somerset won the toss and decided to field. It proved to be as good a decision as when we opted not to contest the toss at Guildford in the County Championship last season.
Radlett Mound
The umpires strolled out. Paul Baldwin was a new one on me. A mere 45 years old. They get younger every year as they say.
I've got to be honest, I was quite confident at the start. We had an unchanged team and most of Middlesex's best batsmen (or so we thought) seemed to be Malahide bound. But that soon dissipated as openers Robson and Holden put together a really good partnership without really taking any risks. It's got to be said that they were helped by some sloppy Somerset fielding. At the time we wondered whether the outground outfield was a bit bumpy but Middlesex proved in the second innings that that simply wasn't the case.
What also became quickly apparent was that Somerset had misread the pitch with their team selection. The seamers beat the bat a couple of times but looked ineffective. Van der Merwe's first couple of tidy overs and the introduction of part time spinner Azhar Ali only served to back up that theory. In fact, it was Ali who broke the opening partnership when he had Holden caught on the boundary by Davey for 45. 138-1. A few overs later Robson went to his century, picking up an extra run off a misfield which sort of summed Somerset's fielding up.
Play it again Sam
While all of this was going on, we tried to celebrate Mr. Nigel's birthday, Watford Phil getting things going by fishing a bottle of white wine out of his bag on the stroke of noon.
Craig Overton came back on in the 32nd over and got the centurion Robson caught at mid wicket. 189-2. That brought in Ross Taylor. Some bloke next to us thought he'd presented Police 5 back in the day. If only it had been Shaw Taylor coming in rather than the 35 year old Kiwi international.
With runs steadily accumulating on the pitch and not much in the way of action, the most noteworthy part of the rest of the Middlesex innings was a row between some twitchers in the crowd about exactly what type of bird of prey was hovering above us. "Of course it's a red kite" said one annoyed gentleman to another one who'd questioned his ornithology skills. Anyway, Ross Taylor almost hit said bird as he skied a catch to Craig Overton on double nelson.
The Middlesex innings then proceeded to rattle along to such an extent that come the start of the last over we thought that it could have been worse than the 350 that was on the scoreboard. Mr Nigel said it could easily have been 375, which it almost was after a woeful last over that included a clubbed six off a free hit.
At the break we wandered over to the Cat & Fiddle. When we'd walked up to the ground earlier we saw what we thought was a lovely old country pub advertising real ales. When we got there I really did wonder what went through the landlord's head. It's a Wednesday and you've got a couple of thousand people across the road enjoying a day at the cricket and having a few drinks. So what do you do to try and capitalise on this excellent opportunity? What you certainly don't do is have just one person serving and two of your five keg lines not working (including the cider). A major disappointment, on a par with the stall that was in the ground in 2013 selling lovely potato latkes not being there this time.
What no Cider?
The talk in the Cat & Fiddle was that the Somerset innings would go one of two ways. If we lost a couple of early wickets then it would be game over, but equally if we got to 80 or 90 without loss off the first ten at a small outground then it could be game on. It was obviously the former.
The first wicket went down on 10 after Tom Banton chased a wide one. I'd been happily telling people all morning that in a Second XI Trophy game here as recently as April young Tom had hit 150 from 92 balls. So much for a repeat of that.
I managed to get into the Pavilion briefly and was writing some notes on how well Tom Helm was bowling. Maybe it was watching from a different vantage point (the slopes on the ground are huge, making the toilet at the bottom end of the pitch by the railway line a very hairy experience as it was on such an angle that you thought the whole unit was going to topple over) but he seemed to make full use of his height and both him and Roland-Jones seemed to extract far more dangerous bounce than any of the Somerset bowlers. Anyway, as I was typing those notes into my phone the second wicket went down so I have no idea how Treeeeee-go was out. Caught by Robson at short mid-wicket according to Twitter. 36-2.
Birthday boy Nigel was of the opinion that this was a pitch made for James Hildreth given his ability to accumulate runs without taking risks (as the Middlesex top order had done so well). Shortly after this view was shared Mr. Hildreth decided to chop the ball onto his stumps via an awful swipe across the line. "That wasn't the time for tennis shots" said Watford Phil wisely.
The procession of wickets continued, and you know it's not your day when you get out like Tom Abell did, the ball cannoning off a bowler who was taking evasive action and running the Somerset captain out at the non-striker's end.
After that it was a case of Operation Try And Save The Net Run Rate for Somerset and at least the lower order frustrated both the Middlesex bowlers and the Middlesex fans who were getting chilly as the wind got up. There was nice cameo from Roelof van der Merwe (or van der Mer-wy as one Middlesex fan called him) and a six out of the ground did at least give one of the Somerset fans a chance to shout "pick 'e out the stingers".
But overall it was an awful day for Somerset and a very good one for Middlesex, who outdid us in all forms of the game.
View a Printer Friendly version of this Story.
Rad Let the Cider Down
Discussion started by Middlesex till we die , 02/05/2019 10:45
Middlesex till we die
02/05/2019 10:45
What do you think? You can have your say by posting below.
If you do not already have an account
Click here to Register
.
Edited 1 time(s). Last edit at 2019:05:06:09:47:00 by BarmierKev.
BeefyRoberts
02/05/2019 11:20
Entertaining read from the opposition and,covers the game perfectly.
Didn't visit Cat & Fiddle,but,last time there were plenty of staff,and decent ales on offer...maybe changed owners.
Good pics to accompany report as well.
Thank you, Dasher.

Great report.

Is it Farmer White from Grockles, who I recall managing to write with great atmospheric references about some of your home games? What with you and he, they appear spoiled for Arlott-esque reporters.

It's a shame there isn't much at Radlett for you to rhapsodise about, like mist over the Quantock Hills, or even a steam train on the Thameslink viaduct (in my dreams), but thank goodness for the birdlife. It might have been a Lesser Spotted Kev's Round, but we know they are an endangered species.
Yes, van der Merwy was the Ritchie Benaud pronunciation. He always called the onetime SA captain this, despite the fact that all his commentary colleagues pronounced it correctly.
Rocks&Boulders
02/05/2019 12:22
Bet the Wurzels were not best pleased.
adelaide
02/05/2019 12:28
Great report; it does seem to be in the Somerset blood.

My impression from the feed was that Scott's deflection onto the stumps was a deliberate attempt to get the run out, not simply taking evasive action. Bowlers try it quite a bit. It is still unlucky for the batsman when it comes off.


Adelaide
Haringey Racer
02/05/2019 15:27
On the ornithological front I spotted both Red Kite and Buzzard at different times, both of which I've seen on previous visits. But the Little Egret that flew across during the Somerset innings was a new one for me at Radlett. And I can't remember the last time I didn't see a Pied Wagtail at cricket anywhere.

Agree with Adelaide that the run out looked like a deliberate deflection that for once hit the stumps and caught the batsman out of his ground.
Sorry, only registered users may post in this forum.
More Middlesex CCC headlines