Watch Out There's A Hemphrey About, As Middx Milk Victory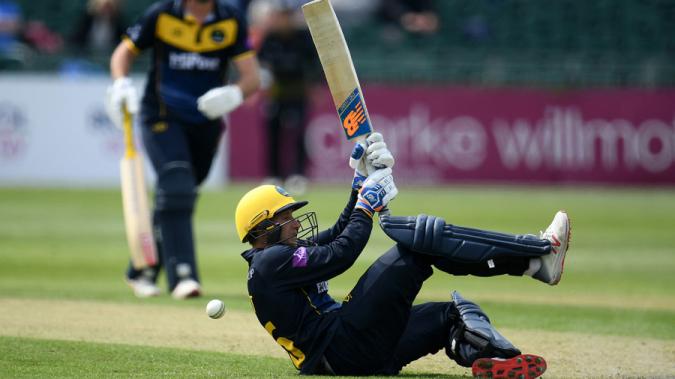 Glamorgan collapse
By Primrose Hillbilly
May 6 2019
Primrose Hillbilly in his own unique style, as penance, gives his take on our victory against Glamorgan. Please PM him if you need a glossary of pseudonyms. The man we were warned about was Hemphrey. Readers under 40 Google milk adverts from the 70's.
My Moderator called.
"Your position is akin to that of Alex Hales. Maybe worse".
"Oh, great, you want me to launch things extravagantly, play big shots, hold the pose at the end and have a big follow through"
"No. Your future hangs in the balance, and you don't even have a half clever agent in your corner. You upset X at the end of last season, your feud with Y has not ended, the PM's you sent Z were not taken in the spirit you intended, and he reported you, the joke you told at the forum upset a lot of people who misheard the punchline, and finally, you failed to make it sufficiently clear that I had nothing to do with Simmo's No. 2 – "smart casual" uniform shoes and trousers getting soaked. I wasn't even that close to him when it happened."
"OK. What do you want me to write about?"
"How about .................................some cricket? Is that too much to ask?"
So, under leaden skies with a heavy heart, weighed down by the responsibility of the load that I had to bear (that's enough with the metaphor – Ed.), I took my place in the Upper Ed0,alongside Strange Colin, Posh Margaret, and an overall good crowd featuring a large family based party from the Thame area, who clearly had not read that small children needed a simpler version of the game.
It was cold. At times, all available hoods were being worn, as well as a travel rug. We had sun on us for about 25 minutes in total. Rogers and Out still had his jacket fully buttoned at 9 PM as he tried to thaw out, and he watched some of the game from indoors!
We won the toss, and decided we would chase. Toby and Tom opened up, and Toby got the first , driving uppishly and loosely to the Rabbit in the burrow at Gulley in the third over to leave Glam0rg0ne 17 – 1.
To employ SeaxeMan's structure, by the end of PowerPlay 1, first 10 overs, Glamorgan were a rather underwhelming 50 -1. Toby has definitely improved as the tournament has progressed. He was driven a couple of times up the hill to those sheltering in the Allen, but those were exceptions. I joined the first innings total sweep belatedly, and went for 183 all out, choosing to go down guns blazing in a Hales – like death or glory onslaught from our bowlers, as – I believed – Brears would do (the philosopher savant Captain we once had; that is). I think the current Mrs Strange Colin won the sweep, although i am not sure she managed to extract 50p from her husband.
When Pinch Hitter George (PHG) came on for Tom at the Nursery, I wondered if we were short of two good occasional spinners, and would miss the overs that Stirlo and Mala craftily get through without too much carnage. To back this up, Max;s sole over of orthodox off spin went for 9 and opened Extra's account with two wides. Harry had replaced Toby after three in the PowerPlay.
After PHG had replaced Max, he in turn was replaced by Sam. This was greeted by the raucous disbelief of some unwashed creature behind me. "He can't bowl. He's an opener!". Off a minimal run up, Sam's first two balls turned from leg to off, as his action suggested they should, and the third, a top spinner, trimmed the bails of the man announced as Lar Boo Skag Knee as he attempted a cut. Nice trick to pull out of the hat.
We followed that with Toby's return, whose first ball got the accumulative Cooke mistiming one to the Emperor Roscoe at midwicket and a wicket maiden.
Roooooooooooooooooooo 'ts brother Billy came in, and a game of cat and mouse with the Rabbitt commenced, as Billy bats left handed but plays a very effective reverse sweep, which sent Nathan's bowling down to the Fine Leg ........... err ..............no .Third Man............. Roy will know , err ...........well you know what I mean ...........boundary three times.
We had a gang of crows (actually the collective noun is a "Murder of Crows" – did you know) chasing a heron over the skies of Lord's, and for a brief time we had the lesser spotted Ollie Rayner on as sub. Our crafty Rabbit then switched ends to tease his mouse into a rash drive and that was the end of that as Nathan took the caught and bowled. Glamorgan 196 – 5 after 36 overs.
We were still debating if you lengthened the first syllable of Douthwaite's name to Doothwaite when one of the Rabbit's flighted teasers drew him forward and Simmo's hands moved like lightning to remove him. He wasn't happy with the decision, but the square leg umpire's finger went up instantly.
The man about whom we were warned did not really milk the bowling at all. He put bat to ball in a very forthright manner, and smashed one into the Mound. If it hadn't been for him, and Wagg keeping him company, and the tail, comprised of a Sydney born guy qualified to play for the Netherlands, a bloke whose place of birth now enables me to write "Limpopo" in a cricket report, and a genuine Welshman, there really would not be much to write about.
.........Apart from an attempt at one of those catch it mid air and throw it back, or knock it up and then get back under it once you're back on the field of play catches, that the Emperor attempted to pull off by the Tavern. He seemed to lose his bearings and not know where he was exactly, but it was still stunning to watch.
To revert to the structure agreed with my Moderator, as well as a prolonged period of good behaviour and not questioning the mental processes of anyone, leading to eventual rehabilitation, by the 40th Over, Glamorgan (not me) were 218 – 6, so go figure about how good the last PowerPlay was.
I feel that Harry wasn't at his best, nor was Tom, but it is hard to bowl the overs when you can be milked for runs, especially when you are on a good true pitch, which this one was. The Rabbit got the tailman trying to scoop a straight one off the stumps, and the run rate stayed pretty much at 5.7 an over throughout the time when you want to press the accelerator, with the other members of the tail holing out in the deep to Sam, and the Rabbit, with Harry getting the last Welshman in the team holing out in the deep.
Toby : 10 -1 – 46 – 3.
Nathan : 10 – 0- 58 -4
So, they've got'em, we've gotta get 'em.
Our Run Chase
The last bloke I saw who got so much out of his body action, for whom a run up seems superfluous was Vintcent van der Bijl. In the case of our Limpopo native, a few self important twitchng steps, break into a trot, arrive at the crease, and by then that's about 19 stone of prime blindside flanker material travelling, so all you have to do is rock over from back foot to front foot and burly momentum does the trick. Muscular endeavour sums it up, and his effort was rewarded by a really poor shot from Max; so poor that I don't think he nicked it at all, although the umpire is always right.
So, we had our real openers together, and what a pleasure it as to see Sam exuding steely intent and ruthlessness. Three times in the innings, Gubbo went large on one ball and then did the same to the next. The first pair was a duo of pulled fours to the Tavern, and by then, Sam was flowing. There was one extra cover drive to the Mound that was a thing of clinical precise beauty, which raced to the fence. Sam Robson 50 off 51 balls. As my lately arrived Moderator said, "only a red ball cricketer. Can't play the white ball" Sam and Nick put on 101 off 95 balls.
I was starting to dream of them seeing us home, when Sam was stumped – 76 off 91. One hook for 6 off de Gugten went 10 rows back into the Mound.
At this point we started to dare to dream of having to take a Friday off, as Gloucester were putting Sussex to the sword, which made things interesting for us. Only in such situations can the question "What's the difference between second and third?" have attracted such fevered delving into bags for Playfair Annuals, mobile phones and general laughter at the question. Fortunately, Strange Colin rose to the situation magnificently, and later on we were taken to one side by the current Mrs S. C. and asked please not to encourage him because he revels in such situations of potential controversy, (as I now know to my cost due to our running debate about the way that the 2016 season was settled). Simply put (bearing in mind who was writing the report) we needed to win this game, which my Moderator and I just about grasped, and then go to Kent, and win there, avoiding the Dartford tunnel
Take a look at the scoreboard, and add two wickets is the mantra from someone who should know, so Middlesex did, with the Emperor fiddling one the wicketkeeper, Captain and No 3 batter, Cooke, soon thereafter.
Another favourite, the bustling punchy Simmo was soon into his stride, and Gubbo was still creaming it around and running those slightly risky singles and second runs for the throw that he was brought in to do, closing in, I hoped. I was getting ready to get emotional for him when he holed out as he had once before threatened to so, to deep mid on, and Simmo followed his example after a bustling knock. How does someone so slight put so much power on the ball?
However, Skipper for the day, Eski was at the other end, busily running his two's, mowing it through the covers and hammering it over the top. We bat deep these days, and just as you think you're getting through to the tail, in comes PHG to warm your hands up. His open stance is a fairly unsubtle hint – I'm here to give you a lot of hammer, and he did. Yet, it is clean striking of the ball, nothing agricultural.
By the 47th over, we were 270 for 5, and Glamorgan needed snookers. How great it is to be able to write that about someone else. Eski and George saw us home with the minimum of fuss. I would have liked Sam and Gubbo to have done this, but they perished playing positively, as did Simmo.
About the emergence of our "only a redball player", a wise man later said to me, in typically gloriously uncomplicated fashion, "Your best players are your best players, Mite. See you Friday"
View a Printer Friendly version of this Story.
Watch Out,There�s A Hemphrey About,as Middlx Milk Victory
Discussion started by Middlesex till we die , 06/05/2019 18:39
Middlesex till we die
06/05/2019 18:39
What do you think? You can have your say by posting below.
If you do not already have an account
Click here to Register
.
Edited 1 time(s). Last edit at 2019:05:08:12:00:46 by BarmierKev.
chunkyinargyll
06/05/2019 18:52
... but you've never kicked a man whilst he's on the ground PH.

Also I understand the powers that be are investigating your 'What's up' app, or whatever it is called for lewd exchanges with Seaxe_Man.

Worst trouble I got in to was when I went up to a bloke I thought might be you, and asked him if he was Primrose.

That nearly ended badly,

Oh, and good report by the way.
BeefyRoberts
06/05/2019 19:39
Humourous and factual,great read PH.
And,good chat via an ale or 3,4 (?) last night after the victory.
I think you are worthy of another report soon đŸ˜‰
Never kick a man when he's down, Chunky. He might get up!

Today being Tuesday, I will be unable to join the convoy of cars heading down to Canterbury,as I have a prior engagement.

I will be seeing my clinical psychiatrist, Dr. Vortex, at 3.30. He insists upon punctuality as part of the boundary setting process and does not rearrange under any circumstances.

I will enter his already darkened consulting room. I will settle on the couch, and the process will begin.

"Now, tell me about your father. How did he behave towards you when he came home from work? Did he acknowledge you? Did he play with you?"


"Hmm .... Yes, Yes .... I see. That's worrying."

"So, how did he chastise you when you were naughty?"

"And, when you expressed an opinion, how did he react? Can you remember where you were? Did he give you validation?"

"Yes, ........... yes, I see. ........We're doing some good work here"

"Come back again next week at the same time. Pay Nurse Bindweed on the way out."
Sorry, only registered users may post in this forum.