Thanks a Maxi Million as Middle Holden.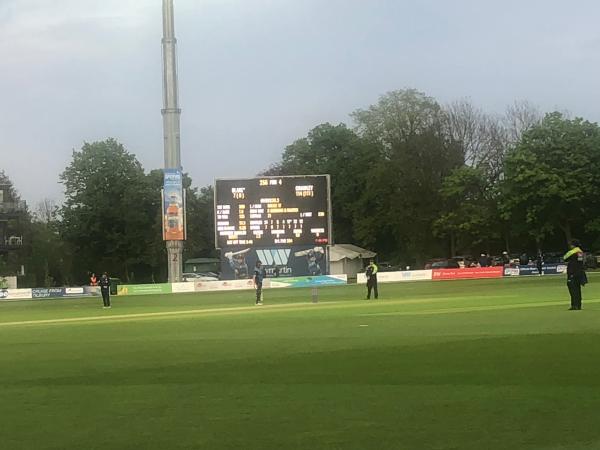 Blake 7
By Barmy Kev
May 8 2019
Barmy Kev reports on day of records broken , some nervy moments of an incredible win and days cricket.
As approaching Canterbury West Station Rogers and Out advised we have won toss and batting. I was relieved as last time I was at Canterbury we were batting under lights, which bought back painful memories.
I arrived at ground with Rogers and Out by taxi having got off saw Kent players celebrating a wicket, which happened to be Robbo in 2ndover. We swiftly headed for Sainsbury's bought some refreshment experienced the most friendly bag search ever worrying about our fate in the competition.
Having taking our seats scores from around the southern half of the country were looked at. The second wicket partnership made us feel hang on forget other scores we should win this. Gubbo approaching half century good shot was the shout as looked like 6 but instead caught in the deep
Ross (The Emperor) and Maxi Holden built a patient partnership about a run a ball. In short space 4 landmarks 100 partnership, 200 up, The Emperor's 50 and Holden's maiden List A century off 102 deliveries. There was talk with 8 wickets in hand of going berserk and aiming for the 367 record we have twice just missed out on this year. The acceleration started with our old boy Podmore suffering the most. The Emperor caught in the deep trying to bring up his century with one shot. Thought we can forget about any records
However, Eski , Scott and Simmo continued the acceleration with some brutal hitting and in no time 367 was eclipsed. There was ecstatic applause for this and more when Maxi overtook Strauss record for us of 166. Whether the players knew why was applause at this stage I have no idea.
Last over Maxi out going for bye in non-strikers end. I was pleased as this caused a standing ovation including Kent fans and some of their players went over to shake his hand., This would not have happened at Essex. 380 was this enough, no one was convinced?
During break we returned to Sainsbury's for more reinforcements without any stewards questioning us on return. I love coming to Canterbury and although ground has lost some of its character I enjoy the backdrop of flats and grassy areas. My friend Rob the Punk is very poorly and would have normally meet him here. I was reminded by him electronically his views "This deserves to be played on a beautiful ground such as Canterb....oh, hang about...."
Kent's started badly with early dismissal of Bell-Drummond. Maxi was fielding by the Middlesex faithful and was applauded every time he walked in our direction.
We were thinking of Lanky at home Friday and how to get to Rose Bowel Sunday. An observation made life was much easier when we were shit.
Kent rebuilt through a second-wicket stand and we were starting to check phones for other scores. Renshaw looked dangerous and was relieved when he was caught from a paddleboat shot.
Crawley continued to flourish. With 180 needed of 20 and Kent score higher than ours at same stage this game was in the balance. The wickets of Kuhn and Rouse both nerve tangling catches put us in the ascendancy. Harry got a 4fer.
Blake did not get 7 in fact he was the danger man. With centurion Crawley there till hope for Kent. With 10 overs to go 110 required with comparative scores close. Shortly after the Rabbit bowled Crawley. After that the Rabbit put a block on big hitting and victory was assured.
I led some Middle Middle chants as we closed in at the end a comfortable 33 run victory.
We caught train from Canterbury West just in time having been behind the run rate. A, lively journey reflecting on our campaign. We heard of the miracle of Liverpool win. Adding perspective I wish for one more miracle my friend Rob The Punk makes a recovery.
View a Printer Friendly version of this Story.
Holden out for a Hero.
Discussion started by Middlesex till we die , 08/05/2019 08:39
Middlesex till we die
08/05/2019 08:39
What do you think? You can have your say by posting below.
If you do not already have an account
Click here to Register
.
Edited 2 time(s). Last edit at 2019:05:11:19:16:48 by BarmierKev.
BeefyRoberts
08/05/2019 09:51
Yep,a great win and summed up perfectly Kev.
Max enjoyed his day breaking Andrew Strauss record,all made to be broken.
And,giving Max a few applause from the Middle stand whilst fielding near us.
Great treatment by Kent CCC,and reasonably priced refreshments.
Could of been warmer!

Every game is important,but the health of your friend comes first.
Seaxe Boy
16/05/2019 06:25
Another good team effort which included an impressive stand from Holden and Taylor.

Congratulations to Holden upon his maiden List A century, as well as setting a new club record.
Sorry, only registered users may post in this forum.
More Middlesex CCC headlines