It's the small things that matter.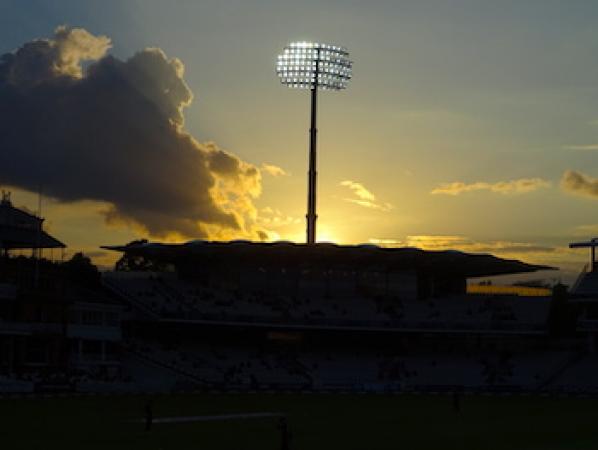 Sunset on the RLC cup
By London Leprechaun
May 11 2019
London Leprechaun's report on the RLC loss to Lancashire where it was the small things that mattered in the end.
It all started so well. A smooth journey in (a 1pm start helped of course) meant that Iwas at the ground in time for the start and to see George Scott's stunning catch in the second over. Then there was a good period of mainly tight bowling and smart fielding which kept the run rate down. There were plenty of near misses, tight calls but unfortunately no wickets. Jennings looked more solid then he often has in tests and Lancashire rebuilt to the point where they should have accelerated to a score beyond reach. Though 300 was a bit more then we should have let them have. Small things contributed. Things like: inside edges that might have gone to a slip fielder, who was maybe removed a bit early; a miss behind the stumps that became four byes; a fumble on the line that turned a two into a boundary; a speculative throw that hit the stumps and led to an overthrow; a couple of unnecessary bouncers called as wides, a few too many balls down the leg side: you get the picture. But in spite of that with only four wickets down you would think Lancashire would have felt they wanted more than just nudging over 300.
You can't say our innings started well. A huge misjudgement from Max Holden to run himself out, a few too many nervy shots and some classy bowling and slip catching led to reaching for record books on our lowest scores. But the fight back was great to watch: James Harris looking every inch a proper, classy batsman and Simmo, in good positive form inched us past lowest scores and into territory where you felt something unexpected might happen. But the close stumping of Harris followed by the immediate and second unnecessary run out put the brakes on. TRJ could not get his usual timing on the ball and when George Scott was out to what was later shown as a dodgy decision it all fizzled out. And we were left to reflect on whether it was more disappointing to lose, in the end, relatively closely or what could have been a huge margin. And to think about those small things that make a difference including when we batted, not noticing that Anderson was the fielder on tight runs, and once or twice not making ones into twos.
And one other point that always seems wrong in televised matches. Harris and Simmo were both given out after umpire reviews. Not saying they were not out in both cases but there was no TV in the other match at Worcester – where there were close calls as well there? Shouldn't it be a level playing field for both matches. And if you have TV reviews should there not be DRS as well? And we could have reviewed Scott's dismissal. It must be one for all or not at all to make the playing conditions fair all round.
Anyway back to the CC hopefully with a bit of confidence from what was in the end a pretty good One Day Cup season.
View a Printer Friendly version of this Story.
It's the small things that matter.
Discussion started by Middlesex till we die , 11/05/2019 11:29
Middlesex till we die
11/05/2019 11:29
What do you think? You can have your say by posting below.
If you do not already have an account
Click here to Register
.
Edited 1 time(s). Last edit at 2019:05:16:07:20:14 by BarmierKev.
BarmierKev
11/05/2019 19:12
I must admit I was confused by what was a referral and what wasn't. I agree it should be all or nothing and consistent for both games.
We did not get the rub of the green in this respect

Then again some matters totally in our hands we failed miserably with. Defeat gracefully accepted.


---

Barmy Kev
I'm only here for the tele
adelaide
11/05/2019 21:31
I don't think it matters that much if the third umpire position differs between matches as long as it is the same for both sides in a match. It has been the cause in T20 for some years and nobody has complained about that.

I think there is some unnecessary confusion about reviews and referrals. Umpires never ask for advice on lbw decisions, whether the ball has taken the edge. TV only comes into play if there if teams have the right to request reviews. In domestic matches there is no such right of review.

For stumpings, run outs, marginal sixes and "was the catch taken cleanly" umpires can request TV assistance where it is available before they make the decision. But it is at their discretion, not because players (or the crowd) agitate for it.

For what it is worth, I think both Harris and Simpson would have been given out even if there had been no TV option as they were fairly clear but why not make sure?

The more surprising one was a six that took an age to be given even though it was obvious on the first replay (and to the naked eye from the Edrich).


Adelaide
Sorry, only registered users may post in this forum.
More Middlesex CCC headlines