We are feeling Ackermanned off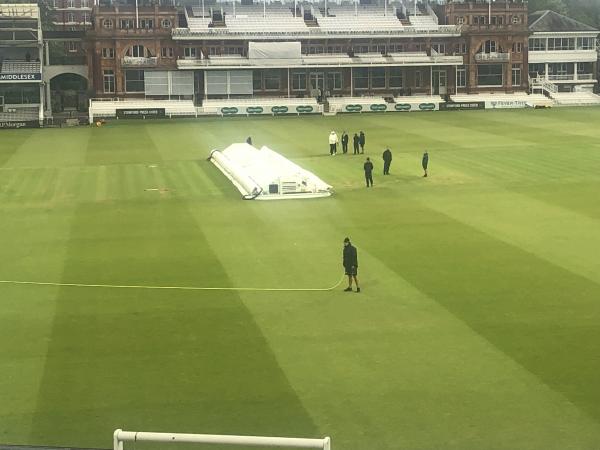 Draw to a conclusion
By Haringey Racer
May 17 2019
I awoke on Friday morning to find a text Kev sent the previous evening (I'm one of those who isn't welded to his phone 24/7) from Kev asking if I would do the day 4 report. As the alternative was almost certainly more of Kev's ramblings, I took the view that two days of him out of four would be unfair on the readership and said 'yes'.
Given a full day's play it seemed certain that a result would be achieved. Kev, in his text, put it at 50:50, my pessimistic nature put Leicestershire ahead as I didn't think the pitch was as difficult as our middle order made it look on day 3 and the target was only another 270 runs with ten wickets and 96 overs available.
The day started with heavy cloud and the floodlights casting very heavy shadows. Helm opened from the Nursery End and beat Horton's outside edge twices in his first two overs. Bamber opened at the Pavilion End but barely threatened the stumps, bowling consistently wide of off stump although that didn't stop Horton almost dragging one on and missing a wild slash at another.
At this point the umpires decided, to no real surprise, that the shadows had become too heavy and took the players off for bad light. Bamber took advantage of the break to stay at the start of his run up with one of the coaches and discuss his angle of approach. At this point Kev arrived. Play resumed after a loss of 15 minutes (4 overs) but Leicestershire won't have been too worried about the effect on their task.
After the resumption Helm had a big appeal against Horton for a legside catch declined. Harris replaced Bamber and began with what can only be described as a 'mixed' over. First ball was a little bit wide and slashed wildly by Horton to third man to bring up the 50. Next ball was a wide that missed the cut strip by some margin but he followed that up with an absolute peach that trapped Javid lbw. Probably from sheer surprise at getting a straight one. Finally, he bowled an even bigger wide than the first, this time to the left-handed Azad, which gave Simpson that little bit more ground to cover and went to the boundary.
Helm finished his next over by switching round the wicket to the right-handed Horton with a mini-Bodyline field of a forward short leg, leg gully and a fine leg for the hook. The ball was fended by Horton between the two close fielders, not entirely comfortably. I was looking forward to a continuation of the ploy but instead Helm was replaced by Bamber who immediately had Horton lbw shuffling across his stumps and missing an attempted work to leg. That was 66-2 and brought Cosgrove to the crease. His first ball kept low, cut back and he did well to keep it out. Next over, however, two fours off Harris certainly settled any nerves he may have had. Around this point the over rate had dropped to a red zero and soon afterwards it fell further to -1.
A big inswinger to Azad from Harris, round the wicket, looked to me to miss the bat comfortably but pass very close to the top off stump. It was collected down the leg side by Simpson and there was a very confident appeal for a catch. The fielders had clearly heard something and I wondered if it was one of those that flicks the bail without dislodging it. In the same over he had an lbw against the same batsman turned down and while that was going on Scott threw down the stumps from point, but Azad hadn't left his ground.
Around this time things started to go wrong for Middlesex. First Azad edged Harris straight to first slip where Robson dropped as regulation a catch as one could wish for. Naturally he then rubbed salt into the wounds by hitting the next two balls for four. Things got worse next over when he drove straight to Gubbins, placed at short cover for exactly that shot, who dropped a chance every bit as easy as Robson's. Holden bowled the final over before lunch, although it only became the final over because he bowled two horrible wides to extend the over past 1pm. Lunch was taken at 97-2 from 39 overs, Cosgrove 19, Azad 15. The target was then 208 off 68 overs and Leicestershire would have felt they were in a strong position
Play resumed in light drizzle but that soon eased. Bowling round the wicket, Ollie Rayner was having trouble getting past umpire Ian Blackwell in his run up – there was a definite kink that isn't in his normal approach. It didn't seem to affect things once he got to the crease, however. Cosgrove survived a big lbw appeal about which Ollie was so confident that he appealed twice. Umpire Blackwell wasn't impressed by either appeal. But, next ball, Ollie adjusted his line sufficiently to satisfy Blackwell and Cosgrove became the 3rdlbw of the innings and the 12thof the match. 104-3.
That brought in Ackermann and he clearly felt the chase was still on as he started by driving Helm straight for four then playing the KP 'flamingo' shot past square leg for another. By now the light was worsening. Whether that had any influence on the pull from Ackermann off Rayner that hit Lace at short leg on the arm as he tried to take evasive action is debatable, but while Lace was receiving attention the umpires took a light reading and decided it was too dark to continue.
The break was brief, with only three more overs lost, and after the resumption Rayner turned one past Azad then saw Ackermann top edge a reverse sweep over slip. By now the clouds were getting heavier and another brief spell of bad light cost a further 2 overs.
Harris then produced the fourth (and, as it proved, final) lbw of the innings when he trapped Azad with one that kept low, just after completion of the 50 partnership (154-4). The new batsman, Dearden, had a narrow escape against Rayner, the ball appeared headed for the pads plumb in front until he brought the bat down very late, getting a leading edge but safely.
At 3.10 pm exactly (when any interruption would have meant an early tea) umpire Blackwell appeared to suggest to his colleague that the light had deteriorated sufficiently to allow him an early cake or two. Martin Saggers wasn't having that though and the teams stayed out. Soon afterwards Dearden sliced a lofted drive off Rayner and the ball swirled between short cover, cover and mid-off who all started for the catch. After a bit of hesitation, Bamber, from mid-off was the one who eventually went for it but although he got to the ball he couldn't hold on. A harder chance than the two previous ones, but he really should have held on.
Steve Eskinazi is clearly a sympathetic captain. Rather than leaving Bamber to fret in the outfield he was brought on to bowl the next over and immediately produced a sharp lifter that caused Ackermann to remove his hand from the bat quickly, then produced an inside edge just past the stumps. Dearden then appeared to top edge a sweep off Rayner but the ball still carried for 6. Another Rayner delivery spun through Dearden's gate, just clearing the stumps and beating Simpson for four byes. Tea was taken at 182-4, leaving 123 needed off 33 overs. Ackermann was well set on 43 and Dearden (11) was also looking dangerous. Advantage definitely with the visitors.
A mixture of rain and bad light delayed the resumption for almost half an hour with the loss of a further 7 overs, so that 123 off 33 had become 123 off 26. Ackermann reached his 50 with a four through midwicket followed by a single through point as Helm's direction faltered slightly. He then saw an attempted reverse sweep off Rayner fly over Simpson's head via the top edge for 4.
The left-handed Dearden pulled a legside delivery from Helm for four but was bowled next ball as Helm switched round the wicket with immediate effect. That was 206-5. The target was reduced to 79 off 18 overs when the final interruption came just after 5pm and, with the rain getting heavier, play was eventually abandoned at around 5.50.
View a Printer Friendly version of this Story.
We are feeling Ackermanned off
Discussion started by Middlesex till we die , 17/05/2019 22:03
Middlesex till we die
17/05/2019 22:03
What do you think? You can have your say by posting below.
If you do not already have an account
Click here to Register
.
Edited 1 time(s). Last edit at 2019:05:20:21:39:56 by London Leprechaun.
BarmierKev
17/05/2019 22:12
Thank you HR for report. Who knows what would have happened if the elements did not intervene.

Good idea checking with me choice of words for Harry's first wicket. Mixed bowling better decision than @#$%&.

Also nice to have a reminder from Max Holden that my bowling is not that bad.


---

Barmy Kev
I'm only here for the tele



Edited 2 time(s). Last edit at 2019:05:17:22:16:48 by BarmierKev.
Seaxe_man1
17/05/2019 23:05
Detailed report HR. It looked as though the weather did us a bigger favour than Leicestershire. Ackerman posed a threat.
chunkyinargyll
18/05/2019 06:55
A good and thorough report, HR.

Interesting those present seem to be in agreement the bad light delays were fair enough.

Kevin Hand (certainly for the first couple) gave the impression we could, and should have stayed on.
Sorry, only registered users may post in this forum.