This Heat is a real Payne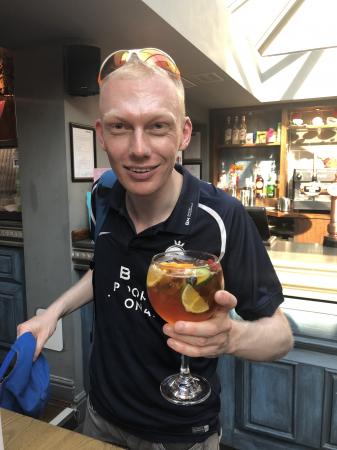 Middx toasting Glous win
By Way OUt West
July 26 2019
My long planned and awaited trip to Cheltenham was preceded by some rather contradictory weather forecasts. The initial threat of a washout suddenly changed to hot, hot and a bit more heat. Come 9am on the day of the match it was already boiling hot and an early drinks break had to be taken in Newbury before boarding the train.
Once changed at Reading we sat next to a South African chap who was loudly telling the whole carriage via Mobile phone that he was going to cricket. He said he had no idea about the game but had been invited on a corporate jolly and was looking forward to an air conditioned box with a balcony. Oh dear, should I tell him he's going to the College Ground not Lords?
The walk from the station to the ground is a bit of a long one but the scenery and architecture is very pleasing to the eye. Add in a couple of decent pubs and reminiscences of our last visit, The Higgins Tie, and all was well with the world.
We entered the sold out ground to the news that Middlesex would be batting first and AB would be missing, uh oh. Eski and AC got us off to a flying start and then Lincoln played with a combination of understandable nerves and some powerful hitting. Given time and some faith he can score some good runs for us in all formats in my opinion.
The crowd was pretty quiet bar a few half drunk day trippers from Berkshire, cough, but that man Higgins sparked a collapse and nobody really supported Simmo. Our tail looks very long in this format, anybody know where we can get a decent all rounder from? The locals became more confident and we less so, initial thoughts of 180 were long gone. 148/9 never really felt like it would be enough.
A short break and a very long beer tent queue and we were up and running again for the Gloucestershire reply. Helm bowled well up front and the Gloucester batsmen were finding scoring tricky......well, all bar Hammond who scored with ease and looked a very decent player. When he finally departed for 63 with the score 84/5 I thought the tide had turned in our favour.
Benny Howell and Jack Taylor had other ideas and a combination of savvy running and the occasional boundary had the home side cruising to success. Finny produced a really good late spell to have us dreaming of more Cheltenham drama but ultimately we were just too many runs short.
I can't quite shake the feeling that we are very reliant on Malan and the missing AB batting wise. However, this side is likely to win more games than it loses and with a bit of luck, who knows, we could make it to Finals day. Despite the result and a never-ending train journey home, a great day out in the very hot sun.
View a Printer Friendly version of this Story.
This Heat is a real Payne
Discussion started by Middlesex till we die , 26/07/2019 08:09
Middlesex till we die
26/07/2019 08:09
What do you think? You can have your say by posting below.
If you do not already have an account
Click here to Register
.
Edited 1 time(s). Last edit at 2019:07:28:21:42:40 by BarmierKev.
chunkyinargyll
26/07/2019 08:26
Good report WOW.

You ask 'Anybody know where we can get a decent all rounder from?'

James Harris.

Even though Steve Finn did alright this game Harris would bolster the batting.

Even if he had only made 20 coming in at 6,7 or 8 that might have been the difference.
WayOutWest
26/07/2019 08:29
Chunky, totally agree re Harris.
BarmierKev
26/07/2019 08:53
Good report. As an all rounder Harry's bowling bothers me.


---

Barmy Kev
I'm only here for the tele
Seaxe_man1
26/07/2019 10:11
Longish tail WOW spot on. Mala. Esky. Simmo were our only experienced T20 batters two of whom contributed. Mala and Esky we needed to bat minimum of the powerplay and hopefully say for ten overs. Instead a wicket lost in over two after a six and attempted repeat when maybe pushing ones and twos for the remainder of the over a better bet. Esky did well until chasing a wide one. He was described when I asked the old hierarchy over his omission a couple of years ago ' he can't hit the ball'. I think he along with several other proclamations made about Mx players past and present have proved too be well wide of the mark.
Rogers and Out
26/07/2019 10:27
Quote:

BarmierKev
Good report. As an all rounder Harry's bowling bothers me.
I saw Jimmy bowling in the second of the Second XI T20 matches at Bristol CC on Wednesday and I'm afraid it wasn't one of his better days with the ball, which I'm sure led to the retention of Finny at Cheltenham.
Apart from his first over, Finny acquitted himself well with the ball, no doubt fired up by being demoted to number eleven in the batting line up behind Mujeeb.
Gubbo is totally out of form with the bat at present and if AB is not fit for Glamorgan, I'd bring in Sam Robson. Dan Lincoln deserves to keep his place after his efforts at Cheltenham.
Sorry, only registered users may post in this forum.