A Trent Bridge too far as Middlesex tied up in kNotts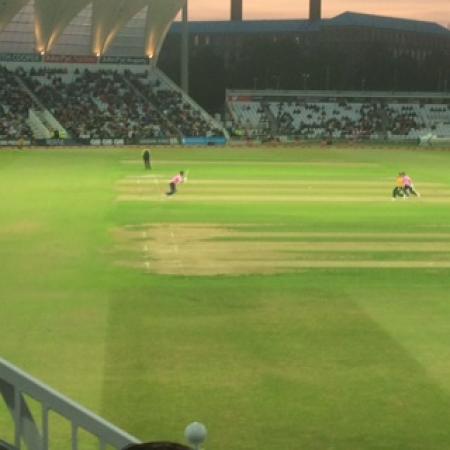 Not enough runs
By Rogers and Out
September 6 2019
Rogers and Out reports on the match that saw the sun set over Middlesex's white ball season with a resounding loss at Trent Bridge. There is an MTWD health warning attached to this report along with thanks to our reporter for braving the match and reporting on it.
A Middlesex born batsman crunched 83 runs from 47 balls to ensure his side a comfortable victory at Trent Bridge on Thursday night. Sadly that man was Alex Hales whose fine batsmanship along with that of Chris Nash ensured a very easy victory for Nottinghamshire by ten wickets.
Once again, our bowling and fielding were not up to scratch and despite a half century from Eoin Morgan, our total of 160/8 did not trouble our hosts in the slightest.
We made two changes to the line up from the previous Friday at Taunton. The returning Mujeeb came in for the departing Hafeez and Eskinazi replaced Scott. Notts won the toss and opted to insert us. Although Stirlo hit a couple of early boundaries, disaster struck in the fourth over when Matt Carter dismissed our departing Ulsterman then re-arranged Mala's stumps.
19/2 was definitely not the start we were hoping for, but Eski and AB looked to repair the early damage. Our hopes nosedived further in the seventh over when AB found the capable hands of Ben Duckett on the square leg boundary off the bowling of Wasim. Eski then played an injudicious shot off the very next delivery and was smartly caught by 'keeper Moores. Simmo denied Wasim a hat trick but we were reeling on 43/4, requiring another innings of brilliance from Captain Morgan to give us any chance at all. Both he and Simmo kept the scoreboard ticking along, taking a liking to the bowling of both Gurney and Patel who were the least economical of the Nottinghamshire bowlers. However these two bowlers had the last laugh, with Patel dismissing Simpson who holed out to long on then Morgan's fine innings came to an end when he sliced Gurney to short third man.
Moggie's dismissal with two overs remaining left us with too much to do in order to set a challenging total. Toby did well with several lusty blows in his 26 runs from 19 balls but 160/8 seemed around 20-30 runs light.
We needed to make a good start with the ball and in the field when Hales and Nash came in to open for the East Midlanders. Sadly we failed on both fronts. The usually economical Mujeeb was smashed around the park by both batsmen with the Afghani going for 31 runs in his first two overs.
Our inconsistent pace duo of Helm and Finn once again failed to deliver but it was our fielding that really assisted Notts in their victory stroll. Three relatively simple catches went down as well as shoddy fielding on the boundary. It was an embarrassing to watch although the friendly Notts fans were enjoying it immensely. Morgan was one of the few of our fielders who acquitted himself well and he was shaking his head in dismay at the ineptitude of his colleagues.
We were put out of our misery with 22 balls remaining and Nottinghamshire joined Essex at Finals Day at Edgbaston on 21 September.
Whilst our white ball cricket has improved this season with qualification for the latter stages of both competitions achieved, we are lacking in too many areas.
The great win at Taunton, as good as it was, papers over many cracks. I could write a book about our 'issues', but here are a few.
Tim Murtagh is our best bowler by a country mile. Could he not have played at Trent Bridge? I'm sure he could have managed four overs and his fielding and batting could not have been worse than several others. Instead, we get the usual suspects going for ten plus runs every over.
Dawid Malan is a very fine batsman, but similar to Joe Root, his captaincy is not of the same standard. The debacle at Hove opting for a toss and consequently being bowled out for 75 is one recent example. As with England, however, there is no obvious alternative candidate for captaincy. James Harris is a great team man, but his bowling has gone into decline to such a degree that he is no longer sure of a place in the team.
Perhaps we will have to look outside to get a player of experience who can nurture our young talent. I would love to have AB in for all formats but finance would almost certainly prevent that from happening.
Finally, an old chestnut but one cannot help repeating it. How is it that several players have left our club to thrive elsewhere? Rossington, Podmore and Higgins all deemed surplus to requirements, but even more worrying is the decline of too many players this season alone.
Nick Gubbins who could barely score any runs at Denby this week against a weak Derbyshire Second XI. Max Holden, despite his 160 odd against the same opposition. James Harris's bowling. Steven Finn, Tom Helm and even Paul Stirling has not been up to his usual T20 standard.
I am at a loss to explain this. Stuart Law has now had virtually a whole season to assess the squad and I sincerely hope he is given the remit to rectify the situation.
A top class overseas player to come in as captain to oversee and encourage our young players. Tom Lace to return from Derby and I would also like the young spinners Walallawita and Holman given contracts, as we are sadly lacking in that area.
Three games left in the County Championship. Whilst promotion is almost certainly beyond us, let's hope we can show our mettle and finish on a high in this roller coaster of a season.
Has the sun set on our season?
View a Printer Friendly version of this Story.
A Trent Bridge too far as Middlesex tied up in kNotts
Discussion started by Middlesex till we die , 06/09/2019 15:52
Middlesex till we die
06/09/2019 15:52
What do you think? You can have your say by posting below.
If you do not already have an account
Click here to Register
.
Edited 1 time(s). Last edit at 2019:09:11:23:29:59 by London Leprechaun.
BeefyRoberts
06/09/2019 16:05
Painful to write,painful to post and painful to read.
And,the report tells the whole sorry tale.
All well put.
Some very interesting points raised.
Regarding the captaincy, I am sure we would all be delighted if De Villiers was brought in, but even if he wanted to, we would have to empty the coffers to afford him. Harking back to Brearley, it took him 4 years to turn round our very poor team in 1971 and it was necessary to clear out the entrenched old guard (Titmus Parfitt Russell Murray et alia). Is there anybody out there who is affordable and would be willing and capable? Nobody springs to mind.
Well, Freddie, if there was a magic wand, Stuart would have waved it by now, and if there was an equally fast other fix, he'd have employed it (as would others before him in other counties).

Thanks for the report, Mick. It took a lot of grit to write about something so tragically one sided.

I am going to take solace from this drubbing by remembering that if it wasn't for a mutual love of the Middle, I would not have met Beefy, Rogers, Seaxe Man, Fozzie, QPR Chris, hdo, Talliman and that bloke who deletes my more humorous remarks.

We go on because we love what the good times give us,and when they aren't so great, there's always each other's company.

Grim isn't it, - losing?

Trying to talk myself off my ledge, I am going to remind myself that we were outplayed by Kent, Sussex ..........and Hampshire, (thanks, Phil Polecat). We were definitely one of the less good teams to qualify for the knock out stages, so to come up against someone whose form had earned them a home game was asking a bit too much of us.

Yet, (1) before Mascherenas turned up, we had reached a quarter final of the RLG, (2) we were better than last year at T20, (3) we have been given a glimpse of what it takes to be able to compete at the next level in both tournaments - fewer extras, better shot selection, and heaps better fielding, even though we improved on that year on year, and perhaps a bit more self belief.

Look, .... to the "Braaaaaaaghhh!!!!!!! Sackthelottathem Brigade", - if you do that, you leave no foundations at all.

We have to try to build.

We have the Lawman for another three years, and we have to trust that he will react to what's gone on to date. That he reported that the lower order batsmen were starting to chirp at the top order after the Sussex CC match was significant - He is prepared to break stage door confidentiality. So, he's happy that the players are starting to get antsy. He's saying to them - sort it out yourselves ..............while you still can.

We may recruit, we may let some contracted players know that they are not going to feature in plans for the future,- been done before. I agree with those who thought a chipper Aussie batsmen capable of scoring a lot of runs in the top order the way Buck did, would go amiss.

However, we are where we are, and in the more immediate future, we have three CC matches to win now, and let's see how things look once we know the results of those.
Glad Im not the only one who thinks Murts should have played last night, the tall bowlers are very hittable, wouldnt have lost anything in the field ither, he may have caught one.
Looking at the whole campaign, the over reliance of the top 6 was always risky and if it wasnt for Morgans wonder knock last week, we would have failed to qualify and would have been spared last nights humilation.
Seaxe_man1
07/09/2019 21:04
Met Paul Foster on the way to Wembley. He went to TB. Confirmed all what Mick says in his report. Said only Morgan showed up. Fielding and bowling deplorable was his view.
Derbyshire qualifying for Finals Day, on the tiniest of tiniest of budgets. Just shows you how much we are underacheiving.
There can be no excuse for dire fielding.
adelaide
09/09/2019 11:43
Quote:

BREARS
Glad Im not the only one who thinks Murts should have played last night, the tall bowlers are very hittable, wouldnt have lost anything in the field ither, he may have caught one.
Looking at the whole campaign, the over reliance of the top 6 was always risky and if it wasnt for Morgans wonder knock last week, we would have failed to qualify and would have been spared last nights humilation.
If Murts had played and put himself out of the CC by straining something in the field (which at his age in a T20 is quite likely) we would all have been asking why on earth he had been brought in! On balance I'm quite glad he didn't play.
Three of the four matches were won easily, including Sussex's match. The only qualifier from the south is Essex, who only just scraped in and were a worse side than both Sussex and Glos, in my opinion. T20 generates flukish results sometimes, and also very one-sided encounters to counterbalance the last ball finishes. Best to look at the whole campaign rather than individual matches and I suppose the conclusion has to be that we were just about where we deserved to be, or perhaps slightly overachieving. The thing that stands out to me is how all the seamers got tonked at several stages and seemed to find it difficult to vary what they were doing to outthink the batsmen. Helm is supposed to the best of the three at that but it seemed to slip away from him as the campaign wore on. They must have practised all this but it didn't seem to be evident in action. Having said that, even a well executed and thought out over can go for 20 if the batsman guesses right.
The deterioration in the fielding as the campaign worse on was also quite striking. Surrey supporters noted how much sharper Middlesex seemed against them in the field (and probably everything, some to think about it) but by the end people seemed to be expecting to drop catches.
Adelaide
With hindsight of course Tim Murtagh might have improved our woeful bowling performance in the QF. However, he last played regularly in our T20 side back in 2011, when in 9 matches he took just 2 wickets for 267, at an economy rate of over 10. By contrast, in the Championship that season he took 80 wickets at 21 each, so clearly he was in fine form. Strengths with the red ball do not necessarily translate into the shortest form of the game.
chunkyinargyll
09/09/2019 16:27
Exactly, Fozzie.

I reckon Tim Murtagh would get belted all over the place in T20. It might even adversely affect his red ball form.

In T20 he would need to be willing to change the habit of a life time, and swap his accurate line and length and mix it up a bit. It's often said bad balls get wickets in T20, and Murts doesn't bowl enough bad balls. Just put it in the same place each time, with metronomic accuracy and you'll get belted all over the place.

Three different coaches have left him out of our T20 team for good reason.
Rogers and Out
09/09/2019 17:28
Tim Murtagh may well have been smashed around the park at Trent Bridge had he played, but after having expended a lot of time and effort watching our dreadful pace bowling (with a couple of exceptions) at Southampton and Taunton then Nottingham, the thought occurred to me that surely Lambeth's finest could not have done worse.

I take the points that his last regular season in T20 was not good with the ball and that his metronomic bowling might not translate well into the short format.

However, in such a big game (in my view) for us, I reckon his experience might have proved a factor and I'm sure he would have been wily enough to mix it up at Trent Bridge.

I remember his 6/24 for Surrey against us in 2005. A long time ago admittedly, but his overall domestic T20 stats are 106 wickets in 102 games. An average of 25.72 and a run rate of 8.24.

We can only hope that Steven Finn and Tom Helm recover their form. They can do it - Finny bowled superbly against Surrey at Lord's this season and Helmo produced a sensational last over a couple of seasons ago to deny Sussex what seemed a certain victory.
Sorry, only registered users may post in this forum.