You've lost that loving Ealing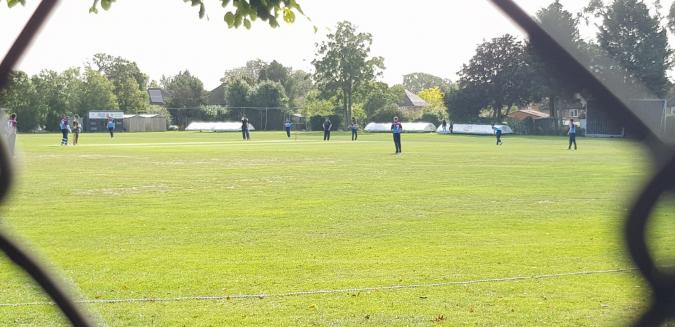 Lovely backdrop
By Barmy Kev
September 27 2020
My final cricket day of the 2020 season Ealing v Shepherds Bush. For Ealing to win Middlesex League championship they needed to beat Shepherds Bush and Teddington lose to lowly Finchley
I arrived just as Shepherds Bush innings scored 265 from their 50 overs. We hear Teddington with Sam Robson and Nick Gubbins not playing at Lord's for Middlesex in their team have scored heavily for them making 300+. Finchley have had a James Harris for their first game but was not selected despite being dropped by the Middle.
First ball of Ealing's response was ex Middle Ollie Watkin's wicket. A massive cheer from the vociferous Shepherds Bush following, which included me. Five early wickets this game looked like finishing early. I was enjoying my last game of the season and wanted game to last despite being an adopted Bush fan
There was a healthy 5th wicket stand at the same time Hampshire were recovering catching what looked like an under par Middlesex score.
I witnessed a painful moment on the boundary edge. On an uneven surface the Bush fielder trying to make a stop stooped low down it bobbles and hits him in his unmentionables. He was in clear distress. The next ball came to him and biggest cheer of day he fields with his hands. A few unrepeatable comments made but to summarise the fielder made it clear he preferred that to the previous ball.
This 5th wicket stand was progressing and The Bush regulars were commenting on how they have the habit of losing from winning positions, which I recall from Brondesbury a couple of weeks back. Then the turning point a brilliant pick up and throw from the covers hitting the stumps. This has happened before batsman given out based on fielding even though the batsman looked in
At the same time we found out Middlesex and QPR the team of Acton Les discovered had both won and top of league after one game. With wickets going in clusters at Ealing a treble celebration going on.
Shepherds Bush cruised to victory. They did a lap of pitch receiving applause from all sides of the pitch then ordering vast quantities of beer. Meanwhile in the pitch Ealing players were having a long post mortem looking very grim. What came across both teams take this very seriously?
Meanwhile Teddington won the championship having thrashed Finchley. Shepherd Bush having been promoted the pervious year finished a creditable 3rd.
I have enjoyed my afternoons out following this form of cricket. Here's hoping next season we are back to the normal "normal". Meanwhile, watching the Middlesex League is an option regardless. I am grateful to have witnessed cricket and catch up with some of our regulars.
Winter well and stay safe everyone
View a Printer Friendly version of this Story.
You've lost that loving Ealing
Discussion started by Middlesex till we die , 27/09/2020 15:15
Middlesex till we die
27/09/2020 15:15
What do you think? You can have your say by posting below.
If you do not already have an account
Click here to Register
.
Edited 1 time(s). Last edit at 2020:10:01:10:10:50 by BarmierKev.
BeefyRoberts
27/09/2020 15:51
Always a big rivalry in the Central Line Derby. ( Both clubs nearest station is on Central Line!)
Thanks for report Kev, sadly l was missing from this win, and I know it meant a lot to the Bush, finishing 3rd in the truncated season is a damn good effort.
No doubt a certain Mr Shelley wouldnt of liked the result, being an Ealing follower of many years.
As you say, let's hope we return to how things were, having a choice of watching Middlesex, and, if unable to, watching Shepherds Bush is good to have.
Club cricket has appreciated the new following this year, only been a couple of years myself, and enjoyed it.
No doubt there will be end of season, behind closed doors, club award nights.

Winter well all, and, as Kev says...stay safe.
Teddington 1st's, Second XI, Third XI and all the way through the divisions for the respective team in the Middlesex League executed a clean sweep, winning every division.

It is believed to be the first time this ahs ever been done in the Middlesex Cricket League.
Sorry, only registered users may post in this forum.