Batting Ka Pujara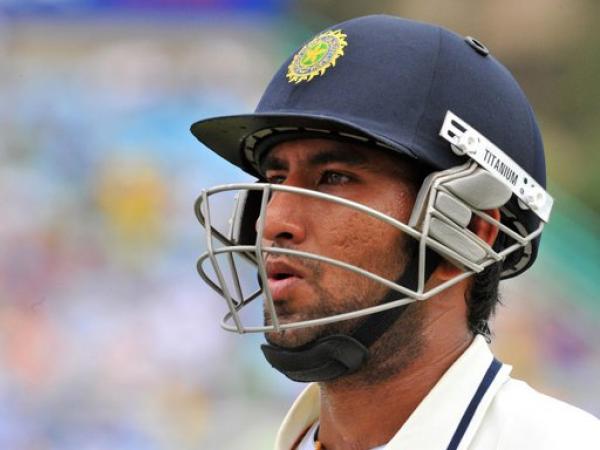 By Gaurang
March 6 2013
Cheteshwar Pujara, India's new batting sensation, is a devotee of the art of Test match batting. He is already following in the footsteps of a past Master, Sunil Gavaskar, whom he equalled when he scored his 1000th Test run in only his 11th Test match, the fastest in terms of Tests played by an Indian, and he looks set for the long haul.
The first thing you notice about Cheteshwar Pujara at the crease is his relaxed upright stance, classically orthodox, and pleasing to the eye. What follows when the ball is delivered is more of the same, copy book technique, in both defense and offense with impeccable footwork. The next thing you notice is that he plays with a very straight bat when the ball is full and if it is short he uses the horizontal bat to both cut and hook/pull in a very traditional manner. The latter stroke has resulted in his downfall a couple of times, but he should not put it away, just hone it as to when to use it. He is the complete package as far as stroke making ability is concerned.
Another aspect of his batting that thrills the tradionalist is that without appearing to belabor the ball or give it an almighty whack, he seems to find the fence quite regularly. The great VVS Laxman in the commentary box was gushing about the way most of his forceful shots seemed to find the gaps. Something that VVS modestly didn't say was that it reminded him of himself, but the implication was clear, here was a true Test match batsman who knows what it is to conceive, organize and go about building Test match innings. And he has had lots of practice for that role. It is a very interesting bit of trivia that he has scored triple hundreds at all levels of the longer game, from U-14, to U-19 to U-22 to First Class levels. The only remaining level where this milestone has not yet been reached is the Test match level. With two double centuries in his first 11 Test matches, he has clearly shown that he will not lack for opportunities to do just that in the future.
It is amazing how quickly talent spots talent. Back in 2008 or so, Sunil Gavaskar was already raving about Pujara, calling him a "Lambi Race Ka Ghoda", i.e. one who looks to be good for the long run. And how true Sunny has proven. The next challenge for Pujara will be to succeed overseas. His runs have all come at home, but looking at the way he seems unpeturbed by pace or bounce, except for that impetuous tendency to hook sometimes, he should be able to rise to that challenge as well. If he does, India will truly have unearthed a worthy replacement for the legendary Rahul Dravid, and the No. 3 spot in the batting line up looks safe for many years to come, in the a hands of a true batting ka Pujara.