Ashwin on Verge of World Record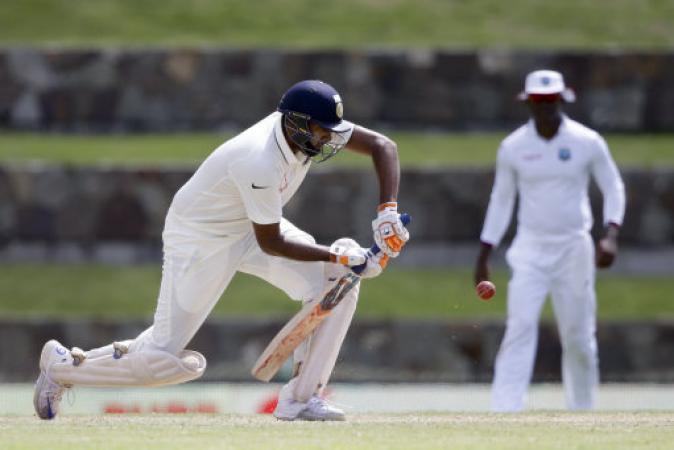 By Gaurang
July 27 2016
He doesn't look the part, at least off the field. Even on the field he is not naturally athletic, with a tall but thickset frame and somewhat ponderous movements he seems more like your average weekend athlete rather than a world class Test all-rounder who is on the verge of a stunning World Record.
Ashwin needs 17 wickets from the next two matches to break Australian leg-spinner Clarrie Grimmett's World Record of the fastest to 200 Test wickets which Grimmett reached in 36 Tests. If perchance Ashwin doesn't do it in the next two Tests he still can tie Grimmett by taking 17 more during the next three Test matches.
Grimmett's record stood for about 80 years, and is one of the most difficult ones to break. The next three on the list are a pace bowling trio that is certain to have haunted many a batsman's nightmare. Dennis Lillee and Waqar Younis reached 200 wickets in their 38th Test, while Dale Steyn took 39 Tests to reach his 200th wicket.
What is doubly amazing is that not only is Ashwin about to reach a milestone that a pure bowler, which the other four are, would be mighty proud of, he is doing so while also racking up batting statistics that place him in the company of the mightiest all-rounders in the history of the game.
I looked at all players who achieved the all rounders double double of 2000 runs and 200 wickets. Among those some such as Sir Garfiled Sobers and Jacques Kallis were ahead of him in terms of runs, but way behind him in terms of wickets at the 33 Test stage. Others were close to him in terms of wickets such as Wasim Akram and Harbhajan Singh but were way behind him in terms of runs at the 33 Test stage.
In 33 Tests to date Ashwin has 1317 runs at 33.76 and 183 wickets at 25.11. The corresponding figures at 33 Tests for the five others who have comparable figure to him are: Imran Khan 1183 runs at 24.64 and 128 wickets at 29.44, Sir Richard Hadlee 1147 runs at 27.05 and 154 wickets at 26.77, Sir Ian Botham 1548 runs at 32.93 and 162 wickets at 20.88, Kapil Dev 1234 runs at 27.42 and 131 wickets at 26.29, and Shaun Pollock 1255 at 32.17 and 133 wickets at 21.60.
Ashwin obviously has the most wickets at the 33 Test mark among the elite all-rounders, but surprisingly he also has the highest batting average. Ian Botham has more runs than he does, but one must remember that Botham batted at No. 6 for most of that time, while the Test in Antigua was the first time that Ashwin got to bat that high in the batting order.
There is no doubt that Ashwin is on his way to becoming an All-Time great. I know, some may find this a bit startling, but numbers don't lie. As a spinner his bowling peak is later than that of a pace bowler, so he can reasonably be expected to take over 400 wickets in his career, if he stays healthy. It would also not be out of the question that he scores over 4000 Test runs, especially if he continues to get the chance to bat at No. 6 or 7 in the batting order. His correct technique, easy timing of the ball, long reach, and languid stroke play reminds one of the great VVS Laxman. This indicates that he has the batting ability for that high a spot in the batting order. One could even argue that he has a fifty-fifty chance to become the ONLY player in the history of Test cricket to take 500 Test wickets and score 5000 Test runs. A peak that no other man has ever scaled in Test cricket.
But that would be a long ways away. In the meantime let's enjoy the very special skills of Ravichandran Ashwin.