Umesh Yadav: Right Arm Fast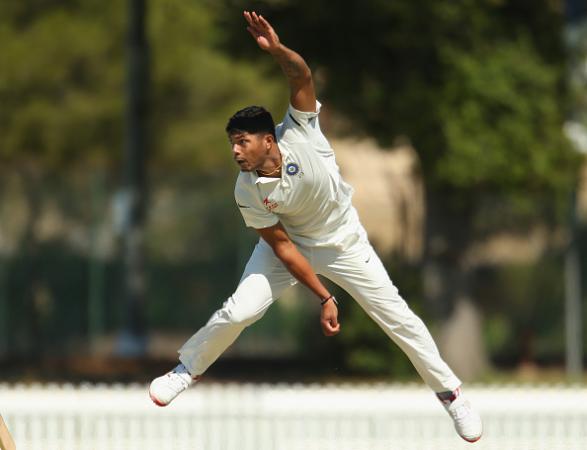 By Gaurang
February 21 2017
The upcoming Border Gavaskar Trophy is being viewed as a battle between Indian spinners and Australian batsmen, but there may be another bowler that the Australian batsmen need to be wary of.
Consistently bowling in the mid 140 kmph with ocassional bursts touching 150 kmph i.e. the high 80 mph to low 90 mph qualifies most bowlers as Fast. However, the ingrained bias against Indian fast bowlers, which has consistently been exhibited by the Western media and even India's own commentators means that Umesh Yadav is classifed as RFM or Right arm fast-medium by cricinfo. Similarly, Javagal Srinath never got his due as one of the fastest bowlers of his generation. In head to head bowling comparisons where they were playing in the same match he outpaced Allan Donald, Waqar Younis, etc., but he was routinely called a medium pacer even by Indian commentators. In fact, except for Sunny Gavaskar and Laxman Sivaramakrishnan, most Indian TV commentators use "medium pacer" to describe the Indian quicks. Anyone who has faced the Vidharbha lad will attest that this is a misnomer. He is seriously quick, and what is even more impressive, is his stamina, so his last spell of the day is likely to be as quick as his first.
Back in 1979 the Illustrated Weekly of India did a piece on the then top fast bowlers in the world. The names were all familiar, with the top one being Jeff Thomson, followed by Michael Holding, Imran Khan, Colin Croft, Andy Roberts, Dennis Lillee, Bob Willis...etc. The interesting part though is not the names, but the speeds associated with the bowlers. Only Thommo topped 90 mph, All the rest were in the high to mid 80s, while Hadlee and Sarfraz were in the low 80s. The methodology used was a high speed camera whose results were fed into a computer. Not quite the radar guns used today.
Even if we add 5 mph to the speeds measured due to the difference in methods, what this means is that India's current fast bowling group of Umesh Yadav, Ishant Sharma, Mohammad Shami, Bhuvneshwar Kumar, etc. is easily fit to compare with those legendary bowlers in terms of speed. What was different about those bowlers, was not just their speed, but their movement and control over line and direction. Under the watchful eyes of Indian team coach, Anil Kumble, who himself was a wannabe quick, who decided to become a quickish leggie, India's fast bowlers have improved their fitness and especially their skills to go with their pace. In an interesting conversation with Sunil Gavaskar, Imran Khan admitted on Sunil's TV show, that during the 1978-79 series in Pakistan though he was much faster than Sarfraz Nawaz who bowled in the high 70 mph range compared to Imran's high 80s low 90s, it was Sarfraz who was getting the wickets. Top Test batsmen are not phased by pace alone, there needs to be movement, and late movement at that, to trouble them. Once Imran mastered reverse swing he became a devastating bowler, which was demonstrated amply in the next series in Pakistan in 1982.
In the recent match against Bangladesh on a shirt front wicket in Hyderabad, the Indian pace trio of Yadav, Sharma and Kumar showed the ability to not only bowl quick, but also to use regular and reverse swing as well as the yorker and the short-pitched ball to great effect. An additional factor in the recent rise of the Indian quicks is the positive support they have received from captain Virat Kohli, who sees them as more than new ball threats who revert to containment mode once the ball is old and begins to spin.
The home season has seen all the Indian quicks taking key wickets at key moments and this is likely to continue in the Border-Gavaskar trophy series. However, the true value of the fast bowling unit will be evident when India next play non-subcontinental teams in overseas conditions. It would fulfill many an Indian fans fondest fantasies if India were to have a fast bowling unit that mowed down opponents in fast bowling friendly conditions. The one missing piece is a left arm quick to succeed Zaheer Khan. If Kohli and Kumble can find one to fill Zakky's immense boots that would be a nice bonus. But with the varied talents and temperaments of the current unit, they each pose different challenges to batsmen sufficient to make Virat's ambition of having his team go down in history in the same breath as Bradman's invincibles of 1948, the Great Windies team of the late 70s to early 90s, or the Steve Waugh/Ricky Ponting era Australians a reality.