India Retain No. 1 Test Ranking for 2nd Year in a Row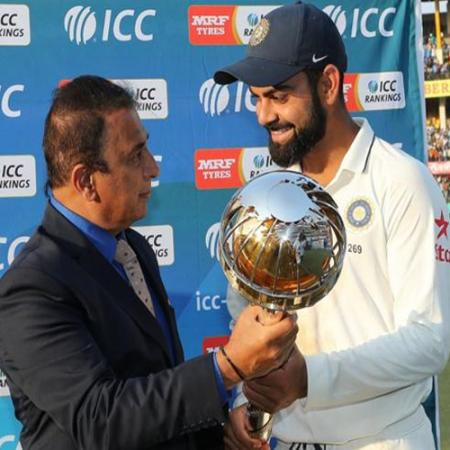 By Indian Cricket Fever
January 27 2018
India retain their No. 1 Test ranking for a second year in a row after their magnificent win on a trechearous Johannesburg wicket, where first they gutsed it out with the bat and then blew away the home team with their fiery fast bowling.
India continue their domination at the top of the ICC Test rankings. They grabbed back the the No. 1 spot late last year and with their record breaking home season e they consolidated their grip on No. 1. with 10 wins one loss and two draws (3-0 v. NZ, 4-0-1 v. England 1-0 v. Bangladesh and 2-1-1 v. Aus) in 13 Tests played.
Now with their come from behind win at the New Wanderers on a "spicy" track, they have ensured that they will remain No. 1 at the April cut off date, even if South Africa happen to sweep the Aussies 4-0 in their upcoming home series. India will thus hold on to the ICC Test Champion's mace which Kohli received from the legendary Sunil Gavaskar in 2017 following their series win in the West Indies. They will also once again get the prize money of $1 MILLION for a second year in a row.
India will now look forward to the rest of a challenging 15 months where they will visit England, Australia and New Zealand with quiet confidence that they can beat any team anywhere with the superb balance in their Test squad.
View a Printer Friendly version of this Story.
India Retain No. 1 Test Ranking for 2nd Year in a Row
Discussion started by Indian Cricket Fever (IP Logged), 27/01/2018 18:11
Indian Cricket Fever
27/01/2018 18:11
What do you think? You can have your say by posting below.
If you do not already have an account
Click here to Register
.
Edited 1 time(s). Last edit at 2019:09:07:23:44:13 by Birbal.
Birbal
27/01/2018 18:30
India are No. 1 in Tests and Joint No. 1 in ODIs...and No. 3 in T20Is. Depending on how they do in the upcoming ODI series and T20I series and how other teams do.. there is a chance they can be No. 1 IN EVERY format by the end of their South Africa tour...

If that were to happen it will indeed be one of the GREATEST achievements not just in cricket but in any sport.
Birbal
01/05/2018 15:46
After the table has been reset on May 1st (another legacy of England biased system) India are now WAY ahead of South Africa the No. 2 ranked team... at 125 points...to 112... Meanwhile Bangladesh move to 8 West Indies sadly drop to 9 and Pakistan languish at 7...
Birbal
22/08/2018 16:58
India Confirm their No. 1 Status... Lord's was a combination of extreme conditions, poor team selection, bad luck and poor batting skills... in that order...

England got the two best days to bowl..and the Best day to bat...

the way India bounced back in Trent Bridge was amazing...

I fear a combination of flat tracks and inclement weather may deny India the chance to come back and win 3-2
Birbal
13/09/2018 00:18
Even after losing 1-4 in England.. India retain No. 1 rank...that is how far ahead they were before the series... but their lead has been reduced a lot.
Max
06/12/2018 11:54
India need to win this series in Australia for their No.1 ranking to be credible.
Birbal
15/12/2018 04:34
With the win in Adelaide even a 1-3 loss will mean they retain No. 1... though it will be tarnished... for sure...
Birbal
01/01/2019 17:52
Border Gavaskar Trophy in the bag India's reign as the top team in the top format continues
Birbal
21/01/2019 00:21
After the World Cup the icc finally will initiate a test cricket world championship. It's not as well plannrd as has been suggested here by yours truly about a decade ago. But it's a start. India under Kohli will look to win the first edition.
Akbar
27/01/2019 04:00
India are going to hold on to their ranking for a long time now. Even if all other countries are at full strength, India will still hold sway. Reason is BCCI has invested at grass root level and as a result of that ,there is a huge pool of talent available. I don't see that changing anytime soon.
Sorry, only registered users may post in this forum.