Aussie Cheats Caught Red-Handed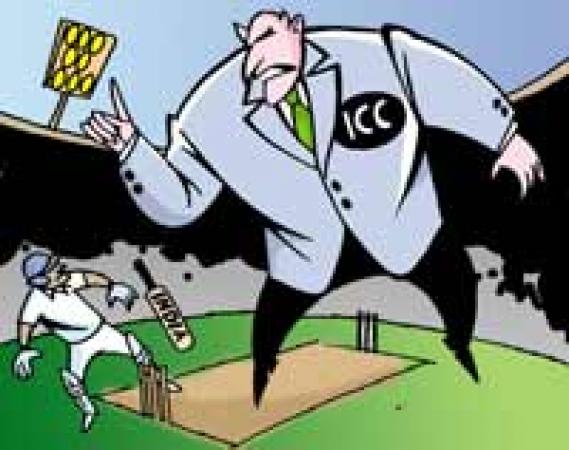 By Indian cricket fever
March 26 2018
Last year Steve Smith and the Australian management were caught cheating on DRS reviews but by a combination of bluster and obfuscation they escaped punishment. Now they have been caught again and this time the evidence is pretty damning.
The video evidence of ball tampering by Cameron Bancroft using a foreign object was pretty damning but the coverup by placing the offending object in his crotch was overwhelmingly indicative of malice afore thought. This was further compounded when Bancroft presented the infield umpires with a black hanky as ruse to misdirect their inquiry. Even the normally self protective Cricket Australia administration could not duck this time and were forced to act against the moral vacuum that the Australian captain and vice captain as well as coach and management were shown to be. It also brings into question how come the Australian bowlers were able to achieve regular and reverse swing much more readily than England in the recently concluded Ashes. There is something rotten at the core of Australian cricket that encourages such unethical behavior. Until that is identified and excised. Australian cricket will be rightly looked on with great suspeccion and not a little bit of scorn.
View a Printer Friendly version of this Story.
Aussie Cheats Caught Red-Handed
Discussion started by Indian Cricket Fever (IP Logged), 26/03/2018 04:34
Indian Cricket Fever
26/03/2018 04:34
What do you think? You can have your say by posting below.
If you do not already have an account
Click here to Register
.
Edited 1 time(s). Last edit at 2018:09:13:05:40:46 by Birbal.
Akbar
27/03/2018 08:45
This has shocked people all over the world. Now all Australian victories will be under scrutiny.
Birbal
01/04/2018 06:35
Aussies have always played "dirty"... from Greg Chappell and the underarm incident... to... Justin Langer flicking off bails and appealing.. to Steve Smith last year getting help from dressing room to decide on whether to go for DRS...reviews...

If Aussie fans are shocked they are either naïve or more likely pretending to be... the rest of the cricket world was/is under no such illusion about the Aussies playing cricket in a "gentlemanly" way
Birbal
01/05/2018 15:54
Now England are suggesting that Aussies were cheating when they won the Ashes....
both Aussies cheating and England whinning are so predictable...
Birbal
04/08/2019 01:14
Irony is that Lehmann was replaced as coach by bail-flicker Langer...
Sorry, only registered users may post in this forum.