India versus Pakistan Test Pace Attacks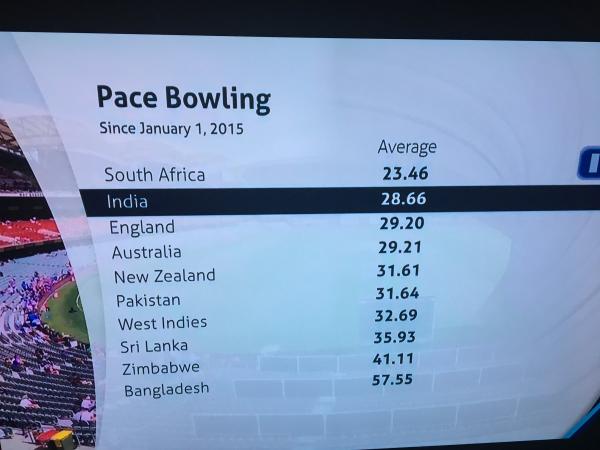 Pacers
By Gaurang
September 29 2018
Pakistani fans and media naturally think their fast bowling is better than India's, but what is surprising is that even Indian media seem to think that is the case. But is that really so? In this piece I do a comparison and reach the conclusion that this is a myth colored by the historic imbalance between the pace attacks of the two sides, but not based on current statistics and performance.
Here are the Raw numbers in Tests:
Pakistan Pacers:
Hasan Ali: 12 wickets @ 30 SR of 63
Junaid Khan 71 wickets @ 32 SR of 65
Mohd. Abbas 42 wickets @ 18 SR of 43
Mohd. Aamir 107 wickets @ 31 SR of 65
Rahat Ali 58 wickets @ 39 SR of 73
Wahab Riaz 83 wickets @ 34 SR of 59
Indian Pacers:
J. Bumrah 28 wickets @ 26 SR of 53
B. Kumar 63 wickets @ 26 SR of 53
Mohd. Shami 126 wickets @ 30 SR of 53
H. Pandya 17 wickets @ 31 SR of 55
I. Sharma 256 wickets @ 35 SR of 65
U. Yadav 106 wickets @ 35 SR of 58
All Indian pacers except Ishant have strike rates under 60, while all Pakistani quicks have strike rates over 60 except for Mohd. Abbas and Wahab Riaz. However, Ishant's strike rate is skewed by playing under the defensive captaincy of M.S. Dhoni. If you look at his numbers after the start of the Virat Kohli era he has 69 wickets @ 28 with a SR of 59.
The one stand out Pakistani pacer is not the much ballyhooed Mohammad Amir, but the Philanderesque Mohammad Abbas. He is not very pacy, but can move the ball both ways at a decent clip and is very accurate with line and length. Having played so many of his early Tests in seam friendly English/Irish conditions and against Zimbabwe has burnished his numbers, but he is a real gem for the Pakistanis.
However, India with a sextet of Pacers all taking wickets at under 10 overs per, currently has a Test fast bowling attack significantly superior to Pakistan's and that is one of the reasons why India is ranked No. 1 in Tests, while Pakistan is ranked 7.
What is also heartening is that India have a long list of fast bowlers waiting in the wings including two U19s, Shivam Mavi and Kamlesh Nagarkoti, who were the fastest bowlers in the recently concluded U-19 World Cup held in New Zealand. The cliche about Pakistan producing fast bowlers seemly on an assembly line, now seems to be also true for India.
View a Printer Friendly version of this Story.
India versus Pakistan Test Pace Attacks
Discussion started by Indian Cricket Fever (IP Logged), 30/09/2018 00:45
Indian Cricket Fever
30/09/2018 00:45
What do you think? You can have your say by posting below.
If you do not already have an account
Click here to Register
.
Birbal
30/09/2018 04:04
Pakistanis always BIG up Mohammad Amir... but if you look at the REAL numbers... his career strike rate of one wicket ever 65 balls is EXACTLY the same as the career strike rate of Ishant Sharma...

While Bumrah, Bhuvi, Shami and Umesh's career strike rates are much better than his
Birbal
30/09/2018 04:06
Heck even Ishant since 2015 i.e. last 3 years under Virat Kohli has strike rate of 59... way better than overhyped LF (left arm fast according to the biased Cr@pinfo website) Mohd Aamir…
Birbal
30/09/2018 20:19
In 2018 Ishant is taking wickets at under 20 runs each and at strike rate of 42 balls per. 😮
Akbar
13/10/2018 22:33
Ishant has improved a lot.

Indian pacers can win India many tests if batsmen back them up in overseas conditions. I am hopeful of a series win in Australia this time.
Birbal
14/10/2018 22:18
Yes. India also has the spin quality to work in Australia in two Ravis and Kuldeep
Birbal
20/10/2018 23:12
Even in recent series... Mohammmad Abbas has been a revelation...but Mir Hamza and Wahab Riaz the two other pacers have taken 1 wicket for 148 runs between the two of them...
Birbal
22/10/2018 22:02
So now ONLY one Pakistani bowler has strike rate under 60 ball per wicket... i.e. Mohammad Abbas.... Wahab Riaz with his 27 overs of futility for ZERO wickets...against Australia... now has over 60 ball per wicket career strike rate...
Max
07/12/2018 11:05
Indian fast bowlers have been faster and better than Pakistan's pacers for quite a while now.
Birbal
07/12/2018 14:58
And yesterday on commentary Aussie commentators grudgingly had to agree. They were gushing over Starc and Co. but stats show since 2015 India have 2nd best pace attack behind only South Africa. Ahead of Australia England New Zealand and of course Pakistan. And in spin depth India is miles ahead of South Africa. No wonder India are world No. 1. If only the batting was like in Ganguly Times India would be an all time great team.
Birbal
14/12/2018 21:15
Changed the pic... to reflect the true worth of the Indian pace attack... Pak is in the lower half of the table...
Birbal
25/08/2019 22:42
Another incredible performance by the Indian Fast Men. Blowing away West Indies in West Indies. Wow!
Sorry, only registered users may post in this forum.