Lyon King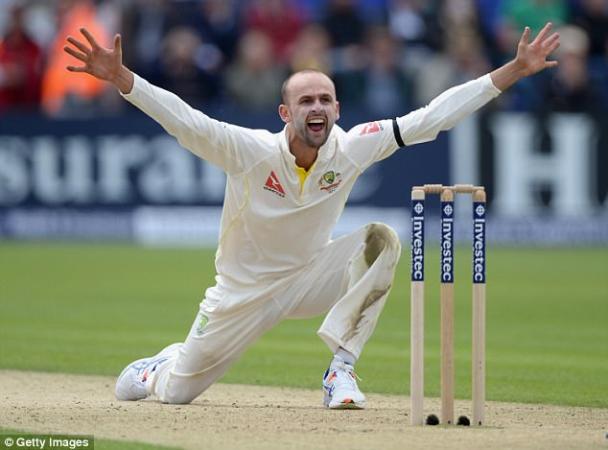 By Gaurang
December 20 2018
Virat Kohli and Ravi Shastri got snookered by the Australians in the recently concluded Test in Perth, which India lost by a hefty 146 runs. Playing on the vanity of Virat Kohli, the Australian press pushed the narrative of an extremely spicy track at the new Optus Stadium, raising the specter of a pitch similar to the one at the New Wanderers in South Africa last January, which saw the umpires seriously consider calling the game off due to physical danger to the batsmen. Kohli and Shastri promptly picked a team with a quartet of quicks and without a genuine spinner to fight fire with fire.
In the bargain they also picked a team that had four tail enders in numbers 8-11 who average a combined 31 odd with the bat and left out a specialist spinner in Jadeja who alone averages more than all four combined with the bat.
Combined with an opening pair that has managed a shocking 97 runs in eight innings and India were effectively batting with a team of 6 tail enders. This was a recipe for disaster. And predictably that's exactly what happened. In the end the pitch did have pace, bounce and bit of movement for the quicks, but nothing dangerous.
In the aftermath of the defeat, a defiant Kohli still insisted that he got the selection right in picking 4 quicks and leaving out a specialist spinner. But numbers don't lie and they expose him badly. He was right that India's main fast bowlers were brilliant, but he totally underestimated the contribution that a finger spinner like Jadeja could have made.
Here are the hard statistics that the Indian think tank needs to mull over. Over the first two Tests India's top three fast bowlers, Bumrah, Shami and Ishant have taken 30 wickets at 21 runs each outbowling the main three Australian Pacers, Starc, Hazelwood and Cummins who have taken 23 wickets at 26 runs each.
So what was the difference at Perth? It was the spin of Nathan Lyon. He took 8 wickets for a miserly 13 runs each and among his victims were Kohli, Ajinkya Rahane, and the dangerous Rishab Pant twice! The Indian spinners, Vihari and Vijay, admittedly part timers, managed a mere 2 for 94 and India's fourth quick Umesh Yadav took a measly 2 for 139.
The plan to play an extra quick and no specialist spinner was an unequivocal flop. The only rationale for playing a fourth quick instead of a specialist spinner would have been if India was afraid that one of the three main quicks would break down due to the short recovery period between Tests. But then that was the same issue the Australians faced, and they trusted Nathan Lyon to fill in the gap if necessary. And not only did he fill in the gap, he actually led the attack vindicating an old cricketing axiom that bounce and pace help spinners as much as quicks.
Another axiom is that pride comes before a fall, and in this case that cliché proved true as well. Yet, another cricketing axiom is to play your best bowlers regardless of the conditions. And Jadeja with 185 wickets in 39 Tests at about 23 runs a wicket would be a no-brainer in almost any team, especially if you add his batting average of 32 odd and his electric heeled fielding and rocket throws in the vast outfields of Australian grounds.
Kohli and Shastri have continued to make blunders based on false notions of aggression, be it the need to play attacking shots with the bat instead of grinding it out when conditions dictate, or to try and bounce out players who have been raised on bouncy pitches instead of playing to your strengths which includes two spinners who are among the Top 5 Test bowlers and all-rounders in the world.
Another axiom is that failure teaches more than success and one hopes that the Indian captain and think tank learn from their mistakes in Perth and are able to regain the momentum for the next two Tests by playing to their strengths and not get baited by the Australian media into making elementary errors. The Australians are understandably ecstatic to win their first Test since the ball tampering disgrace in Durban and once they sniff blood and on home soil they are likely to be a much more formidable side which now will be much harder to defeat.
View a Printer Friendly version of this Story.
Lyon King
Discussion started by Indian Cricket Fever (IP Logged), 20/12/2018 17:42
Indian Cricket Fever
20/12/2018 17:42
What do you think? You can have your say by posting below.
If you do not already have an account
Click here to Register
.
Edited 1 time(s). Last edit at 2019:12:30:02:18:26 by Birbal.
Birbal
20/12/2018 21:39
If he wanted to go with 4 quick he could have picked bhuvneshwar Kumar. The most successful Indian quicks in 2008 were swing kings irfan Pathan and RP Singh.
Birbal
22/12/2018 17:19
Virat doesn't have handicap of Bucknor and has help of DRS. If Ganguly had that in 2003. India would have won series.
Akbar
22/12/2018 17:34
Quote:

Birbal
Virat doesn't have handicap of Bucknor and has help of DRS. If Ganguly had that in 2003. India would have won series.
Virat and Shastri duo are messing it up. Done twice already. On the way of doing it for the third time.
Birbal
22/12/2018 17:45
Sanjay manjrekar had interesting article about who should open with Vijay. He thinks vihari not agarwal I agree. Only think Hardik should play instead of Rohit. My XI. Vijay vihari pujara Kohli Rahane Pandya pant Jadeja Shami Umesh Ishant. Or if feeling like gambling Patel or Rohit instead of Vijay



Edited 1 time(s). Last edit at 2018:12:22:17:47:18 by Birbal.
Birbal
30/12/2018 07:45
Lyon turned into MOUSE at the G...1-150 here... while much maligned Jadeja picks up 5-127.. This follows his 7 wicket haul at The Oval...so 12 wickets in last two Tests in SENA countries... who says he can't be a force outside India...?



Edited 1 time(s). Last edit at 2019:01:01:00:22:32 by Birbal.
Sorry, only registered users may post in this forum.