The fastest legal bowlers in the world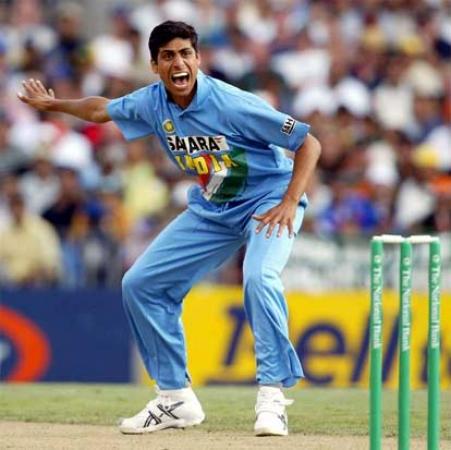 Nehra - 2nd fastest
By Anil - 11 March, 2003
March 14 2003
The pleasant surprise of the ongoing Cricket World Cup from an Indian point of view is not that Sachin Tendulkar has confirmed his status as the best batsman in the world, but that India's trio of fast bowlers is the fastest legal bowling attack in the world. During this 2003 World Cup, Shoaib Akhtar of Pakistan sent down the fastest delivery ever recorded in cricket: a 161.3 Kph or 100.2 mph thunderbolt, the second time he has broken the 100 mph barrier, standing alone as the 100 mph man of cricket, while Brett Lee of Australia followed him closely at 160.7/99.8 mph -- frustratingly close but not across the 100 mph mark.
However, both of these bowlers are widely suspected of throwing or "chucking": using an action which is illegal based on the rules of the game. Both have been reported to the ICC by umpires for improper actions, but unfortunately both have been allowed to continue bowling after a brief period of time in which they were supposed to have worked on and corrected their action. Due to a variety of political forces within the ICC, they have not been called by officials since, although it is clear to most cricket fans that their actions have become more ragged than ever in the quest for speed in the premiere 4-yearly tournament, now ongoing in South Africa, one of the best places in the world to bowl fast due to its thinner atmosphere and bouncy pitches. Both these bowlers will be past their prime (at least in terms of speed) in the next World Cup.
To those that ever harbored doubts about the legality of Shoaib's action, his delivery to dismiss Sachin Tendulkar in the game against India eliminated all such doubts, a throw shocking in its blatantness. Lee's delivery to Sri Lankan captain Sanath Jayasuriya which injured his forearm and forced him to retire from the game was a similarly obvious chuck. Jermaine Lawson of the West Indies, a young up and coming bowler who has been clocked at a high speed of 95.2 mph, is also suspected of chucking by observers and experts. The world's top spinner, rated by Wisden as the best ever bowler in Test cricket, Muthiah Muralitharan has also been accused by some of chucking, however, in his case the action does not affect the speed ratings as he is not a fast bowler.
Although the actions of all of these bowlers have been publicly questioned by many, the ICC has been reluctant to taken any action -- the sort of politically motivated inaction from the world's governing body that most cricket fans are accustomed to, and frustrated with, by now. A Sri Lankan bowler, Suresh Perera, was banned from bowling last year after an outcry over his action by English media and TV commentators, and remedial action ordered, but he has not made a re-appearance for his team since.
Here then are the fastest bowlers in the world with legal actions, based on the most current speeds recorded in the 2003 World Cup:
1. Shane Bond, New Zealand: 153.4 Kph / 95.3 mph
2. Ashish Nehra, India: 149.7 Kph / 93.0 mph
3. Makhaya Ntini, South Africa: 149.4 Kph / 92.8 mph
4. Jason Gillespie, Australia: 148.3 Kph / 92.1 mph
5. Dilhara Fernando, Sri Lanka: 147.9 Kph / 91.9 mph
6. Zaheer Khan, India: 147.4 Kph / 91.6 mph
A pleasant surprise to most Indian cricket followers is that the team with the fastest attack comprising strike bowlers with legal actions is India's pace trio Ashish Nehra, Zaheer Khan, and Javagal Srinath. And this is not counting Ajit Agarkar, on the bench for India through all the games so far, another bowler who sends down 145+ Kph zingers. Australia's Lee would be replaced by Glenn McGrath, and Pakistan's Shoaib by Mohammed Sami, neither of whom exceed the 140 Kph mark on a consistent basis.
Few had expected India to top the fast bowling averages in this Cup. However, seeing how this attack has combined to give India a lethal strike force resulting in an unprecedented string of victories in the World Cup, combined with its powerful and acknowledged best batting lineup, it would not be surprising to see India overtake or at least challenge Australia for the top spot in one-day international cricket.