Wankhede Memories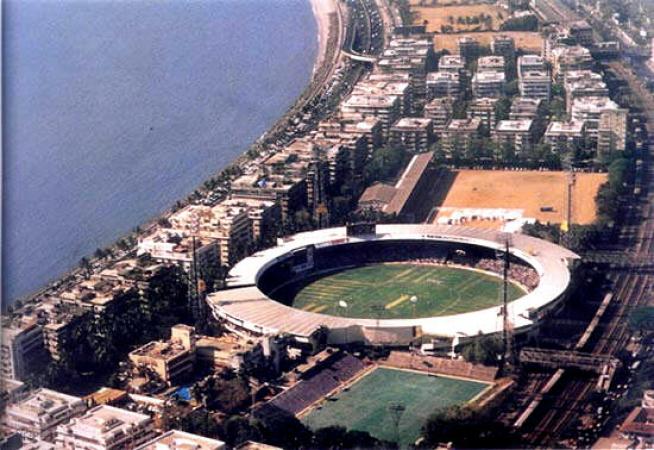 By Raul - 5 September '03
September 5 2003
Reminiscences of a fan who looks back at his experiences of the first time watching a Test match as a stadium spectator: India vs Windies at the Wankhede Stadium, Bombay. "Arre, Raul, are you going for the match, day after tomorrow?" he asked.
"India-Windies? Nahin yaar, no tickets," I said.
"Hey, you know what? I know somebody who knows somebody who works for the city, whose cousin married somebody, whose brother works at the Wankhede booking office. Lemme ask him, theek hai (Okay)?"
Next day, he called me up. "You owe me one, biradar. I organized a nice ticket. Only for the first day though."
"Wow! Really? When can I pick it up? And are you going to the match too?"
"Of course. What a stupid question. Come by after 7.30 in the evening. We'll have a drink and make plans for the commute tomorrow also. Okay, biradar?"
So I went over to his place. The door was open. He had a bottle of Old Monk rum and cola (Thums Up) opened up on his tea-table. The tickets were lying right next to the tray with the drinkies and the ice-bucket, in a white envelope. Before I could even say hello to my pal, my feet had led me straight over to the tea-table and I found myself riffling through the envelope to look at the tickets -- as if I had never seen Test Match tickets in my life.
"Ha ha ha. Tameez bhool gaye, Rahulbhai?" ("Forgot your manners, Rahulbro?")
"Sorry, yaar. Can't wait to see the match, boss," I replied without any embarrassment whatsoever. He smiled in complete understanding. It's a guy thing, my girlfriend said, especially in the subcontinent -- you could be mean, you could be rude, you could be "insensitive", you could even go stark, raving, white-clothed-men-in-an-ambulance mad -- as long as it was about cricket. One could well and truly say that cricket fever was upon us!!
"Come on, come on, step into my parlor and all that. Have a seat, pour yourself a drink. So what do you think? Will Sidhu open with Lamba or will he feign yet another injury, as usual?" my friend enquired of me.
"Yaar, that sirfira (crazy) murderer... He's good against lesser teams, but he runs scared when quality bowlers come around."
And so, as the liquid level in the Old Monk bottle gradually diminished, and empty Thums Up bottles continued to pile up on the floor (like sentinels keeping the night away), we discussed the possibilities: What should we do if we won the toss; whether Raju's loop was reminiscent of Bedi's; whether Raman Lamba was another Kris Srikkanth in the making; whether Azharuddin was a genius or another over-rated youngster… Until we realized that it was past midnight and that the rum was all but gone.
I thanked my buddy and made plans for meeting up at the Ambarnath (a suburb about 60 km from downtown Mumbai city) railway station to catch the 6.05 AM fast local to what was then called Bombay Victoria Terminus station. Of course, I had already told my college mates that I wouldn't be attending classes tomorrow (or was that today?); my friend had already taken the liberty of calling in sick at work a day earlier.
EPISODE TWO
Next morning, bright and early, with nary a sign of any hangover, my friend was eagerly waiting for me at the railway station. He had a copy of the morning papers, as well the recent issue of Sportstar, which had a preview special on the Test Match by my favorite writer R Mohan.
"Had some honey with lemon before going to bed last night, Raul. Beats the hair of the dog, any day. You look like crap, though."
"Hmm... I'll nap in the train. Wake me up in an hour at Ghatkopar."
By the time we reached Bombay V.T., the train was surprisingly packed. One would have expected all those strap-hangers to be regular commuters going to their regular jobs, but as soon as we got out of the terminus to cut across Azad Maidan and take the short cut to the Stadium, we realized that most of these folks were, like us, Wankhede-bound.
The bonhomie was infectious; the excitement and air of expectation, tangible. Some folks had brought along posters and banners. The guys with Viv Richards or Faoud Bacchus posters, or any West Indian paraphernalia, were obviously targeted. "Abey, tera Richard ko mera Kapil kha dalenga." ("Kapil's gonna eat up Richards.") "Mera Richard bhagwaan hai, maloom? Chhakke marenga, tod dalenga. Apun bolta hai na." ("Richards is God. He'll thrash some huge sixes, I tell you.")
By the time we reached the stadium entrance, it was around 8.30 AM. The match was supposed to start at 10:00 sharp, but already there was a line about three miles long stretching out from the entrance. We got into line and then I volunteered to go and get some sodas/water and "garam garam vada pav" for breakfast for the two of us. By the time I came back, the line had moved along. I had a moment of pure, unadulterated panic (Jeez!! He must've sold the ticket to someone at five times the price! What the heck?), but then I spotted his safari suit (Yeah, he loved those!) further up ahead. I self-righteously ran up to my place in the queue and said "Hello!" more out of relief than friendliness (That's what cricket fever does to you) and then got around to sharing the food and drinks. We noticed that the line was being held up for more than a few minutes. We craned our necks and discerned a cop thrashing a couple of college kids with his baton.
"Smart alec fools," my friend remarked sagely. "Even at a cricket match they have to eve-tease, bottom pinch... I noticed them earlier -- they were ogling at that Anglo girl in the yellow short skirt further up."
Finally, after much fussing about and a casual body check, we got in past the hallowed portals of Wankhede. We had some sodas, a couple of vadas and a great frigging view from right behind the sight screen -- right on top of the Garware End. I could probably shout a couple of expletives at Curtly Ambrose as he sets off to deliver a searching question to Gavaskar, I thought, as I settled into my seat. The noise was so loud that one couldn't hear the public announcements announcing the team line-ups. Because of where we were sitting, I couldn't have a clear view of the score board, until the sun had clambered further up towards its zenith. So I asked my friend, "Yaar, line-up kya hai?" ("What's the line-up, friend?") He turned around and asked me, "Toss? Anything about the toss?"
We then saw the Indian players taking a hit near the sight screen. There was a ridiculously short, waif-like school boy taking strike (with just the one pad on his right leg) to Kapil and Prabhakar. My friend nudged me in the ribs and provided this by way of information: "Watch out for that li'l fella. He's Sachin Tendulkar, a phenom, although he's only 14. I've seen him batting at Shivaji Park with my Kanjur Marg friend's son, Kambli. He's bloody good, the next Donald Bradman, I tell ya." The noise level increased exponentially with each passing minute. None of my neighbors could even comprehend my question about line-ups, let alone answer me.
All of a sudden, the crowd burst into a gigantic roar: The two umpires slowly came out to the middle, accompanied by the two skippers. The roar grew even louder as Clive Hubert Lloyd for the West Indies and Kapil Dev Nikhanj Sharma for India approached the middle. Surprisingly, as soon as the coin was taken out by Umpire Bansal, a hush settled over the crowd. One could almost hear the "ping" as Bansal tossed the coin in the air. West Indies won the toss, decided to bat.
I still didn't know the line-up and was babbling to my friend about the possible spin attack we should have and why Prabhakar (if he's picked) should bowl off-spin in the second inning. My friend, in the seat next to me, seemed to be a state of nirvana, barely nodding his head to my ridiculous rants and asking the guy next to him if he wanted a vada.
The Indian team trooped out to a deafening applause. When Haynes and Greenidge came out, the crowd continued to clap and soon settled down a wee bit. Kapil bowled a few looseners to Jimmy Amarnath at mid-on. The others crouched down into their fielding positions. I was in absolute rapture just identifying each player out there. I heard someone shouting out each fielder's name and slowly realized it was ME doing that.
Shortly after, it was all business. Kapil Dev slowly and methodically went to the top of his bowling mark. Even as he started his smooth athletic run to the crease, the crowd started a slow hand-clap and cheer (which, given the numbers, was a deafening roar). By the time Kapil Dev passed the umpire and launched into that "posterized" delivery leap, the clapping and cheering reached a crescendo. A nice first ball, pitched on off and middle and moving away late. Typical Kapil. Haynes made a movement to play at it and then changed his mind at the last microsecond, making it look to the folks in the stands as if he were beaten by the greatest medium-pace/swing bowler to grace a cricket field. The crowd sighed, "AAAAAAAAH!!" I took a sip of my Gold Spot and smiled beatifically.
Game on…
END__________________