Irfan Pathan: Face of the Future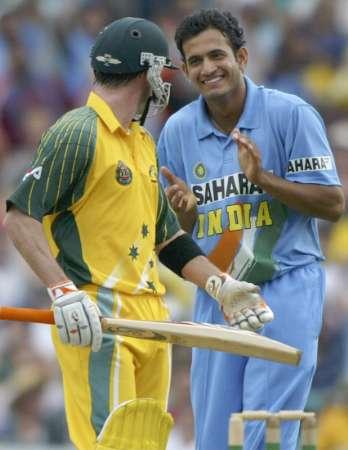 By Gaurang
June 24 2004
There is much that is heartening about the new young Indian pace bowling sensation, Irfan Pathan jr., who ended up the top wicket taker in the recently concluded VB ODI tri-series in Australia. First there is the fact that he is still a teenager. This indicates that he is just begining to learn his trade and hopefully has many fruitful years ahead. In fact he is still likely to grow an inch or two in stature, add more muscle to his already sturdy 6'-4" frame, and almost certainly add a yard or two of pace. But even now he is able to swing the ball (both the white and the red) both ways, which is an amazing asset to start your career with. He also has a very easy and relaxed action, with neither a big leap nor an awkward planting of the foot, which Zaheer and Nehra have.
Second, there is his batting. He has shown a correct technique, one that would befit many regular batsmen, including a very correct back foot and front foot defense -- quite apart from addition to his prowess as a lower order hitter. And what a hitter he is! He has shown he possesses all the strokes in the book: from the hook and the pull, to the rasping cover drive, to the square cut and the ego crushing straight drive, which he unfurled against one of the fastest bowlers in the world, Brett Lee. He also has great temperament, and is not afraid of the ball, as his easy swaying out of the way of bouncers indicated. The kid has shown signs of a batting talent that could, with proper nurturing, surpass fellow solid India left-hander Karsan Ghavri or even his idol, the mercurial Wasim Akram.
Third, he has proven to be a brilliant fielder in the deep with his great anticipation, good catching skills, and a fearlessness in sacrificing the body for the cause of the team. He already is almost in the same league in the outfield as the best fielding Indian paceman, Ajit Agarkar.
Finally and perhaps most importantly, he has shown that he loves being out there on the biggest stage, taking on the biggest opponents. His fearless, not-a-step-back response to verbal, mental and physical intimidation by one of the most intimidating batsmen of all time, Matthew Hayden, hints at an inner core of pure steel.
Irfan Pathan along with the less heralded but equally impressive Lakshmipathy Balaji, brings a breath of fresh air to the Indian fast bowling stakes. These young, talented, committed and fearless cricketers are setting a new pattern of things to come, and should serve the cause of Indian cricket for many years to come.