Age catches up… even with genius.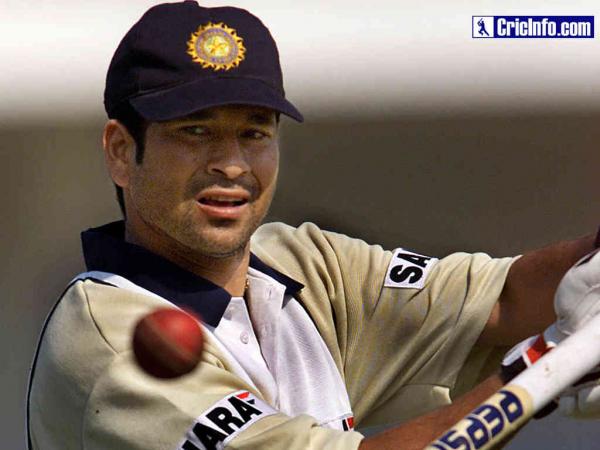 Sachin Tendulkar
By Rahul Nair
March 17 2004
The man the venerable Don from down under opined to be closest to his own style of batting. The man who inspires the war cry of "SAACCCCHHHHHHHHIIIIINNNN, SAAACCCHHHIIIINNN!!!" when India bats. The man every opposition team wants to be back in the hutch with a blob against his name. The man who can win games for India from seemingly impossible situations.

But the "SSSSSSAAAAAAAAAAACCCHHHHHHHHHHIINNNNN!!!" of old seems to have mellowed out, if not flat-out disappeared. He has picked up countless niggles, developed some bad habits, and no longer looks like the pure phenomenon he used to in his pomp. He shuffles towards outside the off stump. He shows a preponderance of leg-side flicks. And, believe it or not, has lost his astounding pull shot to the cow corner.

Some commentators were shocked when Sachin lost his form totally at the start of the Australian tour. But what they haven't taken into consideration is that this has happened several times in recent years. Along with form comes confidence and all the rest. Unfortunately, it takes the Little Master more than a while to get it back each time it goes away nowadays.

It looks like Father Time is catching up with the little genius from Shivaji Park. For the past couple of years, he hasn't been quite the same batsman - he just doesn't look the same as he did in his younger days. When he was young he never ever seemed to really lose form - if he did, it seemed to come back in a hurry fairly quickly. And, most of all, he never seemed to require any time to adjust - his adjustment level was the best among modern batsmen, Dean Jones perhaps excepted. He could go from Indian pitches to Australian pitches, from ODIs to tests, no matter what - and he would adjust and play well according to the situation right away.

All that has changed as he has gotten older. It now takes him a longer time to get going nowadays. By the time India toured New Zealand a year ago he was badly out of form – in fact, by the end of the ODIs on the pathetic "wonderbra wickets" that the NZ Board served us up, his form was gone completely. Despite a team decision to demote him to the #4 spot through the season, he started the World Cup at his customary opening slot with his skipper's backing. He kicked off the tournament batting worse than Anil Kumble, looking very scratchy and tentative out in the middle. But somehow he stitched together a 52 against Holland, and then an 81 off 92 balls against Zimbabwe - and sometime halfway through that innings against the Zimboks, he began to adjust and his form came back. For the rest of the World Cup his form was sublime (probably the best ODI form he has had, barring "Desert Storm"), and he batted beautifully. Along the way, he weaved a wonderful fifty against England - and the innings against Pakistan, of course, is the one innings he will probably be best remembered for when he is retired by most of the Indian fans.

When the current season started in India after the long layoff following the World Cup, Tendulkar was in the same mode as in New Zealand. Terrible form through the Challenger Trophy and Irani Trophy, where he showcased some futile attempts to get going but ended up seeming completely out of it. This is significant, since he did play international cricket at the start of the year. The Tests that followed against a below-par Kiwi side was not even worth incorporating into his astounding Test record, featuring only one labored fifty in two Tests. However, by the time the TVS series came around, he had been playing for a month and his form was back. He was batting beautifully in the TVS series, and despite the presence of Sehwag, Ponting, Gilchrist, Hayden and VVS Laxman, he was the best batsman of the tournament and the highest scorer by far.

The Australian tour that followed was no different, either. Apart from a warm-up game where he looked good, he didn't seem to be able to kick-start any innings. Most disconcertingly, Tendulkar seemed incapable of playing any offside shots at all – in fact, he seemed incapable of middling anything on or outside off stump in the Tests. Finally, he buckled down in the last Test and played a knock without any really good shots for the longest time - and ended up getting 241 not out. If there can be an embarrassing double ton in Test cricket (bar Anshuman Gaekwad's pathetic 201 in over 600 minutes of batting at Jalandhar against Zaheer Abbas' Pakistan in 1983), this was it. However, by the end of his knock at Sydney, Sachin was slowly beginning to flow just a little bit better.

The VB series began next, and he was still not really on song – especially for someone who had made 300 runs in the last Test he played. But then, he had done it without playing any proper offside shots at all, done it through the dint of sheer determination. However, in the abbreviated format, he has to play shots (he can't just sit back and wait for the loose balls) - and in the first match against Australia he visibly struggled trying to play those shots, but he kept trying to play them. He was uncharacteristically late on shots – in fact, he once hit the ball over the keeper's head for six, but by the end of that innings of 63, he was getting back to flowing like the Sachin of old, before Ponting held one of the best catches of the summer to get him out caught. The next match against Zimbabwe, he scored 44 off 59 balls, and the innings that followed against Australia was probably his best of the summer - he got 86, and played some very crisp drives and meaty pull shots, the best shots he played all summer long by a long way.

But during the course of that 86 he was injured, and out of the playing XI again. Following his re-instatement into the team, Sachin has looked like he's back to where he started since the start of the tour. One of the commentators opined that his innings in the VB Finals was possibly the worst he has seen. But his last innings at Perth against Zimbabwe, was even worse than the finals – simply mediocre. For instance, when Heath Streak delivered him a short ball, he ducked while raising his bat in a fending motion and it got an edge that went over slips for four. The next ball was again short, and he tried to square-cut it and was out caught behind.

Sachin Tendulkar has no form and confidence right now, and so is not willing to play the drive on the up through the offside, or the pull (this is what happened at Sydney in the last test, he had no confidence left in the drive or the pull. So, through sheer Mumbaikar bull-headedness, he chose not to play the drive on the up, and did not play any pulls at all - but ground his way to 241* without those two shots). But in ODIs he can't do that, he has to keep the board moving with strokes, whether he has confidence in them or not. However, he seems to be trying to work the ball around and run quick singles and twos, and get into some semblance of form before playing those shots - and it isn't working. At Melbourne in the first VB finals, he was being pinned on the back foot with short balls yet didn't want to try the pull - so he was sitting back and working the ball around the corner for a single if he could. But then Brett Lee bowled it fuller instead, and it also cut back a little bit - and because he was not committed on the front foot, it went right through him and he was clean bowled.

Of course, a major problem that fans tend to forget is the wear and tear that Sachin Tendulkar has accumulated over 16 years on the international circuit. He never had the luxury of taking time off like the Brian Laras and other prima donnas. Long-term fans would remember his heroic effort at Chennai on a square turner against Saqlain Mushtaq at his best with a back that was suffering sever spasms. Or his broken toe and his finger injury which he carried through last year's World Cup. Even at the preparatory camp for the historic Pakistan tour at Eden Gardens over last weekend, he was suffering severe back spasms. He didn't field in any of the practice matches and scratched around so badly at the crease that Dravid asked him to continue batting when he got out once. Even then, he scored only 4 runs in three innings.

The injuries appear to be taking their toll and seem to be seriously affecting his footwork. A close look at Sachin, through the eyes of the leading non-Indian bowlers of the world, would reveal three primary shortcomings in his batting prowess of late. The first has to do with how he has lost ascendancy over spinners. The back injury is offered as the reason for the loss of his nimble footwork against spinners. The dominating equation that he had against spinners about 3-4 years ago has reduced to a great extent by his unwillingness to come down the track both in Tests as well as in ODIs. Though he still retains a 90 odd strike rate against spinners by rotating the strike, he doesn't strike fear any more against spinners. He now favors the late cut and his version of the sweep, which is really more of a drive behind square than a sweep. He also seems to have completely lost his slog sweep over midwicket. He now prefers to put his left forward and across and use the wrists and turn the off-spinners behind square leg, as opposed to driving through the line.

Another aspect of his batting that has changed remarkably is the preponderance of on-side strokes in his chosen repertoire. Earlier in his career, he just had a back and across movement from leg to middle-and-leg and most of his shots were scattered in the square and straight of the offside. These days, his back and across movement has begun to look like a distinct shuffle (not unlike a right-handed Ganguly) from leg to offish middle and he seems to be a willfully leg-side-ish player like an Azharuddin. Whether it is a tactic to counter the packed offside that he encounters (especially against attacks like SA or Australia) or just a new facet of his game is open to debate. The shuffle, while ensuring that he plays the gaps in the leg side very well, has also resulted in a severe curtailment of his sublime straightish-offside play. For instance, in Australia, he couldn't get some straight drives and cover drives going just because he played most of them with an angled bat purportedly toward the leg side. It is also unfortunate that though his shuffling has resulted in some crisp flicks and hoicks toward the leg side, there have been few pull shots coming out of his bat.

Another worrisome aspect of his batting slump has to be the fact that, for the first time in his remarkable career, he is not sure of his off stump. Make no mistake; he has employed the shuffle towards off on numerous occasions in his career as a tactical move against specific attacks, but it was completely intentional and a very convincing one. If one had the great fortune of watching him during "Desert Storm" in Sharjah, one would verify to the veracity of that statement. In ODIs and specifically against teams who bowl wide outside off to him, he would employ this tactic to come towards off stump, closer to the line of the ball and hit through the line. This movement also enabled him to dispatch those short-of-a-length deliveries just coming in from off-and-middle, by using his wrists and tucking them to on side for singles. But of late he has been unsure of his off stump and that shuffle is becoming more of a drag and he ends up playing deliveries which he should leave. This little shuffle has resulted in a gigantic weakness: his head, which used to be oh-so-gloriously still before, is no longer so. He is on the move and hence mistimes his patent strokes; the shift in balance is not happening properly as he shuffles, with his head on move. His shot-making decisions are also getting suspect as a result: going for extravagant off-drives and ending up nicking them.

However, the worst aspect of Sachin's decline has been his recently-developed tendency to go into an inning with a premeditated plan. He has been on record that he suffers from insomnia on match eves, but of late, this seems to be resulting in a premeditated batting plan when he comes to the crease the next morning. Sachin, these days, just makes up his mind to do something on the field and rather than playing on instinct, more often than not, is constricted by this premeditated plan. Case in point was the TVS Series final, when India were chased 230 odd. Sachin just made up his mind to show restraint that night and wasn't trying to play shots even when he had to.

Akash Chopra – India's newest opening batsman of some success – has been quoted as saying that one needs to back technique with the instincts one develops as a batsman. Just having good technique without trusting one's instinct or just playing by instinct without any reliance on technique could be dangerous. This batting philosophy — backing one's technique and going with the instinct out in the middle — used to perfectly describe Sachin Tendulkar. He had the solidity of technique to back his instinct.
Now that the technical aspect is sort of awry in his mind, with his head on the move, with the pronounced shuffle, with even at times a forward movement prior to release of the ball, it is affecting his shift in balance (and how wonderful it used to be, the most balanced batsman fans ever saw… hark back to his awesome Edgbaston inning on an iffy pitch, the way he moved, either forward or back — was great to watch even for someone who had no clue about cricket or batsmanship) and he ends up playing strokes badly.

Being a pure genius, he knows this more than anyone and when his instincts tell him to hit, he does and when he fails or gets a nick or mistimes the shot, it makes him angry and upset with himself. So as evidenced by his SCG double ton, he is curbing his instincts because he is not confident on the technical aspect of his game.

This is more than aptly reflected in how he exclusively practices these days with bowling machines. Apparently, he does not face to live bowlers, prefers to stick to his machine which is calibrated to deliver him high-speed deliveries pitching on or just outside the off stump, in an attempt to try and get his movement and technique back. The rare occasions he does face bowlers, he asks them to stand close and chuck at him.

But this puts him in a bigger dilemma: if he does that at nets, he is not able to refine his basic technique. In real match situations, he is following the bowler's hand and he does not know what's coming at him and his footwork is not in control and he ends up being frustrated by being unable to master it. This is a vicious circle, since in a real match situation, he has to face that element of surprise and since he is yet to get back to his perfect technique, it's a clash between instinct and his technique. In his mind, he is probably thinking, "Let me get my footwork, my head position right at nets facing the machine and then I will let my instinct guide my hands during match play." But so far, it has not stood him in good stead. Tendulkar's game is essentially based on confidence derived on solid technique which allows him to follow his instinct. Now he is on shaky ground with his technique, hence his confidence is eroding and hence the trust in the instinct is not there. He is not an Adam Gilchrist or a Ricky Ponting, who would, regardless of their form, go after the bowling due to the confidence in their technique. This is the reason why Sachin has had remarkably few bad patches as opposed to the Laras and Pontings and Steve Waughs.

At the end of the day, the current version of Tendulkar is no Sehwag, to flow like a river unabated. He will do so only after in his mind tells him that a dam can be erected at any point of time and his technique is good and solid. He will not be forced into a tactical decision, purely based on opposition strategy. Even his slog sweep against Warne in the Tests in India was not a result of instinct taking over — it was extremely methodical in its origins. He had L Sivaramakrishnan and other leg spinners bowling at him at a rough patch outside leg for a month and was perfecting that shot well before Warne even landed on Indian shores with his cans of baked beans.

His natural instinct is to attack and he successfully employs his technique to do that, whereas a Rahul Dravid's natural game is to defend and he employs his technique to do that but the basis is same in both - solid technique. Unlike what people think, Sehwag and Tendulkar are heaven and earth apart, as opposed to the similarity that he enjoys with someone like Dravid.

You won't see Sachin Tendulkar flow unless he is sure of its success and unless he wants to. The Little Master won't be baited into anything poetic for the sake of it, he won't indulge. At the end of the day, he is a very simple, middle-class brain with an instinct of a millionaire and his millionaire instinct will be unleashed only when that brain is ticking and is in control.

Tendulkar's remarkable talent has, however, been to prove detractors wrong time and again. Karachi might yet see the rebirth of a true genius.