Knocking Around the Nets - II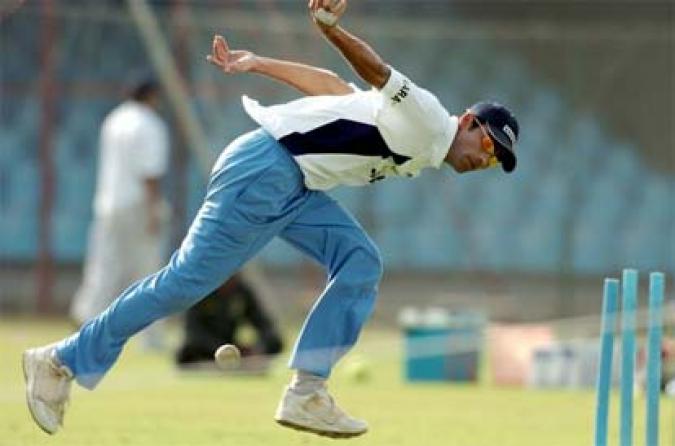 By Rahul Nair - Mar 23, '04
March 25 2004
The nerves have settled down and the players seem to be hitting their strides. The crowds keep getting bigger as the stakes get higher. The Samsung ODI Series has come down to the final match on Wednesday at Lahore. Here's another installment of news and views from the sidelines. THE PESHAWAR PITCH
Traditionally, the first hour at Peshawar has always favored the bowling side. So it is not as if the Indian batting line-up didn't know what to expect. After the match, many have been saying that the much-vaunted Indian batting failed at its first big test, but the conditions were very grim during the first hour-and-a-half. Sachin Tendulkar didn't really nibble at the ball; it was a good length delivery that moved quite late. The fact that the bowler had a sequence of wide, wide, legal ball, no ball, wide, followed by a totally beautiful ball that got the edge, must not have helped much either.
Sehwag could have been out in first over when Inzamam failed to pouch his edge on zero. He played and missed plenty of times, and not in the manner of a typical Sehwag innings. Eventually the ball moved too much and beat his forcing stroke towards square leg transforming it to a leading edge towards point.
V.V.S. Laxman looked clueless against a fired-up Shabbir Ahmed who had settled down to a very dangerous line and was getting it to seam all over. Laxman was reduced to guessing as to which way it would seam. A couple moved away, then one was a little straighter, then one sharply cut back, all from around the same spot on the pitch. The first time Shabbir got it to jag back, it hit Laxman's pad and Moin appealed for a caught behind. Next time around, after a few away-cutters, it cut back and almost got him – one thought it had taken the stumps, and was surprised to find it had hit his thigh guard and gone just over the stumps. Then finally, after two more away-cutters, one of which he played and missed at, Shabbir got one to cut back sharply and go right through him.
Dravid came in and promptly edged one as well — and should have been caught by Hameed who went for it too late. It wasn't really as hard as he made it look. Laxman was also dropped before he got out. Basically, at 37/3, Pakistan had already dropped three catches. And of those 37 runs, around 20 had come by way of extras. Batting conditions were tough with the early moisture on the pitch and it was a terrible toss to lose.
Given all that, it was a terrific comeback to make it to 244, which was almost a good score on this track. Ganguly had settled it down, but should have stuck around till the end. Mohammed Kaif should certainly have stayed longer. From a precarious 140-odd for 6, Powar and Yuvraj put on 30-odd before Powar was dubiously given out. The tail made a sizable contribution to cap off an excellent effort in the end.
While defending, Irfan Pathan was unlucky not to have had Hameed leg before in his first over. The Indians also bowled a poor line and seemed far too one-paced. Ganguly was reported as saying he missed a spinner during the post-match press conference, which brings us to a very interesting debate.
CAPTAINCY
There has been a lot of discussion about the captaincy and tactics on both sides. Ganguly has kept his losing streak with tosses going, while Inzamam-ul-Haq made a good call at Peshawar to field first but erred badly in choosing to defend under lights (with dew playing such a big factor) at Lahore. Inzamam's team tactics haven't been great, but he hasn't done too badly either. On the other hand, Ganguly's usage of his bowling resources has been bizarre, to say the least.
Consider this: in Australia, he bowled Rohan Gavaskar for nine overs. This was the pattern of Gavaskar's two spells: He bowled seven overs between the 23- and the 35-over mark. He conceded 43 runs in those overs (with the last three being particularly expensive) and was rightly taken off. But strangely enough, he was brought back to bowl the 45th over (8 runs) and the 47th over (5 runs). This was, of course, Gavaskar's very first match but what extraordinary advantage did Ganguly perceivably gain by bowling him for two crucial overs in the slog phase? Even more curiously, he wasn't asked to bowl even a single over in the next five matches he played.
Right from the beginning of this season starting with the home series against New Zealand, Ganguly has used himself, Sachin, Sehwag, Yuvraj, Badani, Rohan and now, Powar, in this haphazard manner. It is unsure if Ramesh Powar comes under the category of a part time bowler or not, but that is how he has been used by his captain. In the second match at Rawalpindi (which was Powar's debut) he gave up 20 runs in his first five overs. When Powar was introduced into the attack, Pakistan who were batting first, had scored 152 runs in the first 21 overs. In the next 10 overs, only 43 runs were scored and the scoring rate dropped from 7.2 to 6.3. Given these circumstances, Powar's introduction into proceedings should have been deemed a success. Inzamam got after him in his sixth over in which he conceded 15 runs, and he was taken off the attack for good. From Powar's end, Ganguly first tried Sehwag and then Tendulkar (who went for a total of 67 runs in the nine overs between them.)
Things get even more bizarre. Tendulkar ends up bowling the 49th over in this match, because Nehra has already finished his quota and Ganguly doesn't seem to think much of Balaji, even though he has four overs left. Nehra, who bowled a superb last over in the previous match, this time ends up completing his quota in 46th over. As for Tendulkar being given the 49th over, he was hardly used in Australia and in the first match at Karachi, he conceded 34 runs in three overs.
LAHORE MATCH ONE
A terrific showing by Dravid and Kaif, and to a lesser extent Yuvraj, to win the game for India from what seemed like a fairly precarious position at four down for less than 100. In the end, the high scoring rate achieved by the top 4 batsmen did prove very useful since Dravid and Kaif were able to play without pressure of maintaining a high run rate and eschew all risks. Perhaps this is a tactic worth being discussed further and adopted regularly in some measure by the Indian think tank. This has been traditionally a very Australian tactic — keep scoring at a high rate no matter how many wickets fall. Perhaps India should adopt it while chasing, since we have two lower order batsmen who are not big hitters, but rather steady run gatherers, capable of retrieving the situation like at Lahore.
Pathan bowled very well in his first spell, getting the ball to curve into the right hander (and getting Youhana LBW that way). Afridi fell to a poor shot to a delivery that probably rose about half a foot higher than he expected it to.
Zaheer's second spell where he took a couple of wickets was very good, because he got a few to move in the air and varied his pace and length well. It was a quietly good comeback for the Indian spearhead, just as the Tests get nearer. However, Khan's inability to bring the new ball into the right hander is something he needs to work on if he wants to get more LBW decisions his way.
A lot more credit is due to the India bowling effort at Lahore and in general, considering they are playing without Harbhajan, Kumble, Ajit Agarkar and Ashish Nehra. Not many teams can square a series in Pakistan without four first choice frontline bowlers. In particular, Ganguly has missed those ten overs of solid spin from Kumble/Harbhajan Singh in the middle overs. Kartik was good yesterday, but is not in the same league, and Powar is still very raw and yet to gain the confidence of his skipper.
Shabbir Ahmed looked very ordinary today, and one wonders how he will fare when he is not bowling on a seaming top like Peshawar was in the first hour or so. Akhtar had worse figures than his bowling would warrant, mainly because some boundaries went very fine both sides of the wicket when Dravid/Kaif were batting. Some of these were quite fortuitous and came off inside edges. Akhtar in general looked threatening, certainly throughout his first spell.
Laxman finally looked like getting into some form with three crisp boundaries, after he was caught off a no ball. But once again his problem of just playing from the crease, neither front nor back, and trying to whip the ball off his pads cost him dear.
Ganguly looked in good touch as well, until he got a little too carried away and tried to drive one which he should have just let go. In general, the top order was guilty of extravagance in their stroke making. It kept the scoring rate high, but had they reined themselves in just a little more India could have won more easily.
The fielding is still very far from being a weapon. It is barely passable, and a couple of notches below Australia or South Africa. The throws from the deep are too slow and allow an extra run, while almost all attempts at the stumps from close never hit the stumps. The catching is good, but that is just one aspect of fielding. With this level of fielding, there is no possibility of the Indians constructing a run out — there will only be a run out when batsmen take a very foolish decision, and even then not always. Even a 20 percent improvement in fielding would have seen the Indians 4-0 or 3-1 up in this series. The coaching staff has to solve the problem of how the Indian fielders miss the stumps almost all the time in direct throws from the infield, and how throws from the outfield are almost never directly above the stumps to enable the keeper/bowler to affect a run out.
FAST BOWLING
Some of the bowling on display has been very, very quick. Shoaib Akhtar's opening spell at Lahore and Sami's spell at the death at Rawalpindi come readily to mind. But there have been whispers of suspect actions and not surprisingly, Pakistan coach Javed Miandad is not happy about it. He has asked both captains to refrain from controversial statements.
An amusing part of the television coverage was when during the Indian inning at Peshawar, the speed gun showed Mohammed Sami break the 100 mph mark and a huge cheer erupted. Then, when the Pakistan chase was on, Laxmipathy Balaji was clocked by the speed gun at over 100 mph. Not surprisingly, there were no speeds shown after that one during the match.
Despite the pace Shoaib Akhtar seems to be generating, he hasn't looked in peak condition and appeared to be bowling short spells or ran out of steam very fast, noticeably so at Lahore. He seemed to suffer from some sort of "oxygen depletion" prompting a wag among the group watching the match to ask, "Why doesn't he use the oxygen in the air like the rest of us?" He hasn't been the most consistent fast bowler through his career, in terms of fitness, and his condition would be a concern for the Pakistan camp before the Tests.
LAST WORDS
Murali Kartik doesn't give it a real tweak, making him wholly dependent on his smooth, easy action. He impressed some observers by bowling two entirely different lines to Yasir Hameed and Inzamam but until he learns to give a real rip at the end of his action, putting more revs on the ball, he's never going to be dangerous on tracks that don't grip and turn. That's why Harbhajan Singh is good, he gives it that big tweak which helps in flight, loop, top-spin and turn, even on unresponsive tracks.
Regarding our Test team selections, Nehra was unlucky to get injured when he had just begun to bowl well. Agarkar hasn't bowled at all and Zaheer Khan is just about getting back to resembling his old self. Powar has been picked for the Tests over Parida, Sarandeep and Bahutule. Ostensibly, he wasn't picked because he is a better bat, but probably because of his spell in the first innings of the Irani Trophy. (Laxman and Dravid took him apart in the second, but that's no insult, is it?)
Laxman looked to be getting back to his stride when he got two scorchers at Peshawar and Lahore. Both times, his trademark initial stride was not quite there. However, with each outing, his initial movement seems to be improving. His game is based so much on quick judgment and touch, that unless he gets his initial movement exactly right, he will have a problem playing towards mid wicket. He was being bowled far too full a length outside off in Australia, while in Pakistan they are keeping it just a wee bit short of a length and coming in to leg stump. However, there is nothing to worry. Laxman, as we all know, is more than capable of making the adjustment and the funny thing is when he does it, there will be many who will say, "Of course, he had to do well on these Pakistani batting beauties eventually. I mean, even Balaji has outscored him in this ODI series... Balaji!"