Knocking Around the Nets - III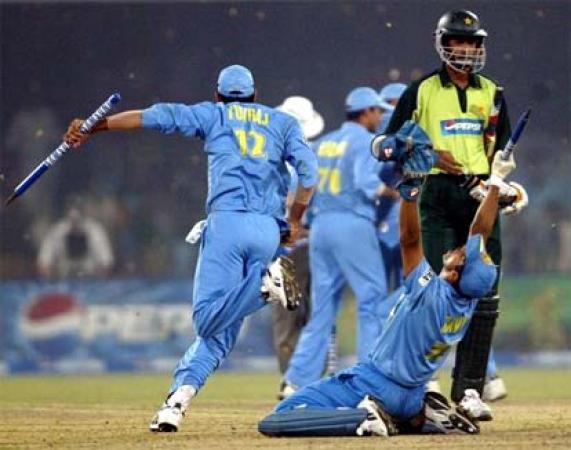 By Rahul Nair - Mar 25, '04
March 25 2004
So the "ODIous" part of the Indian tour to Pakistan got over yesterday. Firecrackers over Gaddafi Stadium greeted India's first series win in Pakistan. The contests starred some familiar faces and threw up some new heroes. Along with accusations of match-fixing, tanking, faking injuries and an explosive sub continental debut from an old-school swing bowling tyro. Like Bill Lawry would've exclaimed on Nine Sports, "It's all happening heah!"
QUESTIONING THE PRESS
When a mischievous hack reportedly asked Team India skipper Sourav Ganguly what he thought of Shoaib Akhtar's bowling action, there were a lot of column inches devoted in the rags about Ganguly's supposedly loaded response. Typically, though, there was another report that didn't get much mention. Apparently, Shoaib Akhtar was so upset at Ganguly reported suspicions about his action, that he went to Ganguly's room "to ask point blank why he was raising doubts about his bowling action and creating an issue out of it when the International Cricket Council (ICC) and the umpires and match-referee had no problems with it," according to a Pakistan team source.
Ganguly explained to the Rawalpindi Express that his statements had been misinterpreted. Ganguly told him that some journalist had asked him what he thought about the beamer Shoaib had bowled to Ramesh Powar in the second match and he had replied "You all saw it on television and can judge for yourselves," the source disclosed. "Ganguly explained to Shoaib that he had never raised questions about his bowling action and his remarks at the conference were not aimed at his action," he added. In other words, the press had made a mountain of a mole that looked like a molehill and predictably gone to town with it. Of course, it always helps that they can easily ride on Ganguly's unfair reputation as a sour-puss.
Apparently, Ganguly then told Akhtar that he should instead have a look at his media people (Pakistani) who were making an issue of Ganguly's statement. The "fast and the furious" Shoaib, who favors speedy motorcycles, is hardly the best ombudsman for the Pakistani Press. But this is a cautionary tale cricket journalists concocting headlines under deadline pressure would do well to keep in mind, in context of the bigger controversy looming over this historic tour.
MATCH FIXING ALLEGATIONS
Whenever India plays Pakistan, the specter of match-fixing haunting the badly-scarred sub continental cricket fan can never be too far away. However, this time the ICC and the PCB have decided to ask people to put their money where their mouths are. Rashid Latif, one of many ex-Pakistani cricketers who make a living from ghost-writing columns and is getting ready to release his so-called exposé on match-fixing, has been asked to furnish proof and recently met with ACU investigators in Karachi. He also faces a defamation lawsuit from the PCB. Truth is, it is very easy to play conspiracy theorist when safely ensconced behind a byline, but backing it up with credible evidence is easier said than done. Ask tehelka.com or Manoj Prabhakar.
The ICC's Anti-Corruption Unit has been keeping a close watch on proceedings and hasn't found anything irregular thus far. But questions like these from the media might lead to fans clamoring for investigations into the West Indies' collapse to 47 all out against Steve Harmison or maybe even Sri Lanka's repeated capitulation to Ponting's team from seemingly strong positions. And what about New Zealand's historic victory against the Proteas? Was that "fixed" as well?
Simply put, if you can't put up, then, like Inzamam-ul-Haq said, "Shut up!"
THE TEST SERIES
Now that the pajama cricket is out of the way, aficionados can settle down to watch some engrossing individual match-ups during the Test series. The pitches in Rawalpindi and Lahore are flat batting tracks and one can't imagine them being drastically different from what we saw during the one-dayers. But the first Test is at Multan Stadium and both the Tests played here by the hosts have been against Bangladesh – not an ideal case study. In the first Test played in August 2001, as many as five Pakistani batsmen scored tons: Saeed Anwar, Taufeeq Umar, Inzamam-ul-Haq, Yousuf Youhana and Abdur Razzaq. In the next Test played in 2003, skipper Inzamam saved Pakistan major blushes against a surprisingly resilient Bangladesh by anchoring a fourth innings chase in the company of the last man Yasir Ali with an unbeaten century. Bangla spinners Khaled Mahmud and Mohammed Rafique had spun webs around the Pakistani batting while the McGrath-esque Umar Gul was the most successful bowler for the hosts.
The conundrum for the Indian tour selection committee on the eve of the Multan Test would be whether to pick two spinners or go with three seamers and the lone spinner in Kumble. In any case, Irfan Pathan and Kumble will most likely play, leaving Ajit Agarkar, Zaheer Khan and the fast-improving Balaji (who has already achieved cult status among Pakistani crowds) to fight it out for two spots. Throw a fit Ashish Nehra, Amit Bhandari and Munaf Patel into the mix, and one can understand if Zaheer Khan feels very insecure about his future with Team India. According to John Wright, there is really no problem with Zaheer, "because once he gets his rhythm back, he will look unstoppable and completely different."
The Indian strategy would, then, be the same as in Australia: to put up tall scores quickly enough to give India's weakened bowling a fair chance of prizing out twenty wickets. Many Indian fans will be closely monitoring Parthiv Patel's improvement behind the stumps on the low turners against Kumble, since Mahendra Singh Dhoni and Dinesh Kartik are hotting up the competition for the stumper's spot.
The Pakistan camp wouldn't have been too happy at what they saw behind the stumps from Moin Khan in the ODI matches. Although he did keep reasonably well against a very wayward pace attack, his keeping to Malik and Afridi was quite poor. He regularly dropped edges and nicks off the spinners, almost muffed a very easy stumping and was a complete washout with the bat until the last match. Some message boards have been touting the advantages of blooding Akmal or Zulqarnain in a pressure series such as this, since Pakistan's current team is quite young (besides Inzamam and Youhana) and is ostensibly trying to rebuild for the 2007 World Cup in the Caribbean.
Most worrying for Inzamam and Miandad should be the form of his pace bowlers and main back-up Shabbir Ahmed. It looks like Ahmed is struggling with his new, improved hip position. (He was sent to the University of Western Australia for correcting his action after being called for illegal deliveries in New Zealand. The UWA experts determined that his problems stemmed from his hip position and provided advice on how to change it so it wouldn't affect his arm action.) In the process, he has lost a vital ingredient — control. Saqlain Mushtaq and Danish Kaneria are the spinning options and neither would appear to hold much threat to the formidable Indian line-up. Umar Gul may have to fulfill a wicket-taking role as well, apart from being the steadying influence.
From a purely cricketing point of view, it was Pakistan's batting performance in the finalé at Lahore that left the likes of Imran Khan seething with humiliation. However, even Dravid claimed that the Pakistani team had let the foot off the pedal in Game 4 when there were about 25 runs left in the Indian chase. Probably a case of the relative youth of the Pakistan team getting mentally overpowered by a toughened Indian team. But this makes it crucial for the Indians to seize the initiative very early in the Test series. Once they let the likes of Shoaib and Sami hit their straps and strike a rhythm, they may find the going really tough. Conversely, Inzamam may want to win the toss yet again, send India in on a fresh pitch and blast out the top order on the first morning and reverse the Indian momentum.
LAST WORDS
V.V.S. Laxman seems back to his season-long form, after making the necessary fine tunings to his unique technique and adjusting from Australian pitches to sub continental featherbeds. He has got his initial movement just about right and seems to once again have oodles of time to play the likes of Shoaib and Sami. His century at Lahore was not only typically elegant and cultured, but remarkably mature in its restraint. He was never below run a ball, yet never hit it in the air except that one time when Umar lost it in the sun and when he finally got out in the slog. One can be sure to expect a more free-flowing Laxman in the Tests, considering the more attacking field settings he is likely to face.
Also pleasing to note was Tendulkar's off-side play during the last match. One particular off-drive off Shabbir echoed that familiar resounding crack the moment it hit the bat, and all the old Sachin fans in the room knew that it was a four right away and started clapping, while the master held his pose with the bat raised after the follow through.
Zaheer is still struggling in terms of pace and movement. He bowled well within himself in the last match and may have bowled himself out of the first Test eleven. Ganguly's injury has still not been completely diagnosed, but it may be foolish to risk a half-fit Ganguly in the playing squad. Mohammed Kaif has been asked to stay back as cover, but Yuvraj Singh might just pip Kaif to the post, if Dravid ends up going out with Inzamam for the toss on March 28.
My pick for the final squad: Sehwag, Chopra, Dravid, Tendulkar, Laxman, Ganguly (if not fit, Yuvraj), Patel, Pathan, Agarkar, Balaji, Kumble. Here's looking forward to a great series.