Surrender to Virender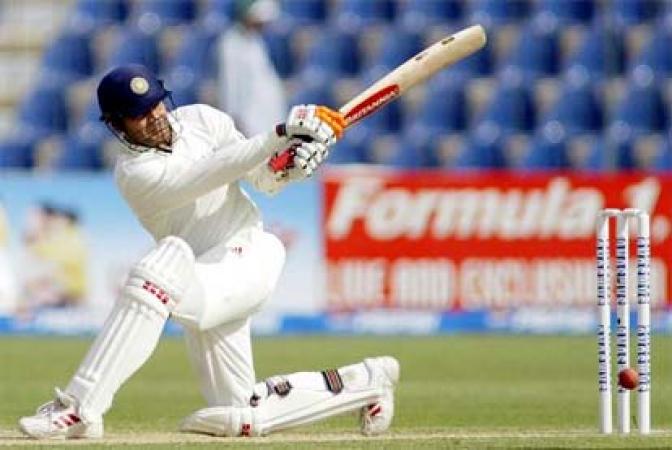 By Anil - March 28, '04
April 5 2004
25-year old explosive opener Virender Sehwag unleashed a brutal assault on the Pakistani fast bowlers on Day 1 of the opening India-Pakistan Test at Multan, helping India to a mammoth 356 runs for the loss of only 2 wickets with his aggressive unbeaten double ton. English curator Andy Atkinson, who had been drafted in by the Pakistan Cricket Board to prepare a seam-friendly pitch in Multan, had said ahead of the start of the match that this was a track which would assist pacemen on day 1. He seemed to be repeating the obvious, given that Multan already had a reputation of doing so based on past matches played on it. Atkinson warned that he had rolled an abundance of dry grass into the surface in an attempt to make it fast and bouncy. But skipper Rahul Dravid, deputizing for the injured Souav Ganguly, appeared to brush aside the groundsman's comments as he unhesitatingly chose to bat after winning the toss. The confidence from winning the Samsung Cup ODI series just completed was carrying over into the Tests.
After that, it was left to the dangerous Virender Sehwag to demonstrate just why the Indians asked Pakistan to field, and he did so in typically merciless fashion. Fresh off a tour of Australia in which he had taken severe toll on the much-vaunted Aussie pace attack on the most pace bowler-friendly pitches in the world, hammering the likes of Jason Gillespie and Brett Lee all over the grounds throughout the India-Australia Test series in which India easily took the Gavaskar-Border Trophy, Sehwag now took apart Pakistan's much-trumpetted fastest bowling attack in the world by repeatedly sending the ball screaming to the boundaries at a speed faster than it came at him. The exhausted pacemen succumbed to his aggression, burned as much by his brutality as the hot sun overhead.
Fours and sixes off Shoaib Akhtar, Mohammed Sami, Shabbir Ahmed and Saqlain Muhstaq rained from Sehwag's destructive blade on his way to an epic run-a-ball 228, propelling India to the mammoth score of 356-2 at the end of a first day in which both opener Akash Chopra and the greatest batsman in the world, Sachin Tendulkar, played supporting roles to the abrasive and belligerent genius at the other end.
Virender was to say later, simply: "This is my best innings in Test cricket." In so saying, he rated it higher than his 195 which floored Australian pacemen Lee and Gillespie on Boxing Day only a couple of months back, on the lightning-quick first-day Melbourne pitch during its most lively hours: while the grass was green and fresh, and the wicket pacy and bouncy.
But the supremely confident Sehwag added a remark that will concern the Pakistan team even more: "No Indian batsman has ever scored 300 in Tests. Crossing that landmark is my next target."
In fact, Sehwag may well set a world record in Tests tomorrow, crossing Brian Lara's and Hayden's records of 375 and 381 respectively. Sehwag's double century was among the fastest ever seen in Test cricket, coming against a much more credible bowling attack than the couple or so that are faster than his.
Tomorrow, a well-rested Virender Sehwag resumes at 228, and an ominously solid-looking Sachin Tendulkar at 60. With brilliant middle order batsmen VVS Laxman and Yuvraj Singh yet to come, Pakistan will consider themselves lucky to get India out under 700. Against that sort of first-innings score, it would be surprising if Pakistan did not resort to a strategy of stodgy defense during their turn with the bat, in the process likely collapsing under pressure and following on. With the menacing specter of their nemesis Anil Kumble looming on a pitch that has already started to take turn, it is already clear that Pakistan will struggle mightily to save this Test.