Knocking Around the Nets - V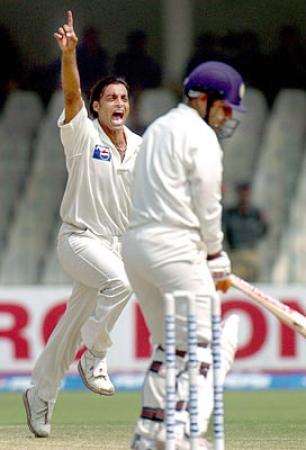 By Rahul Nair - 9 April '04
April 9 2004
The Pakistani bowling has finally come good. India has conceded the second Test by nine wickets. The specter of another overseas series defeat looms again. Ganguly is back in Pakistan, but will he play in the Rawalpindi Test? THE TOSS
Much has been made of Dravidís decision to bat first after winning the toss again. But it was the decision of the captain of a team that was up 1-0, with its strength in batting. It was also partly based on the reports flying around before the match that Lahore would sport a green top. If it had turned out to be one, this would have been an attacking move that eventually paid off in the fourth inning. However, except for the pronounced seam movement in the first three hours of the match, it was pretty much a wicket where, once you got a start, it was hard to get dismissed. So it was the combination of misreading the pitch and a rare top-order failure that made Dravidís otherwise calculated gamble appear foolhardy in hindsight.
TEAM SELECTION
Given the eventual ineffectiveness of Agarkarís bowling in this match, it is hard to understand why BCCI didnít get him to play the Ranji match for Mumbai to regain some match fitness before coming into the national side. As it were, he ended up not having a proper length, unlike his spell in Adelaide. Agarkar is most dangerous when he gets it to skid from just short of a length, moving it both ways and occasionally surprising the batsman with the sharp bouncer. He seemed to get it right on the second morning in his first two overs or so, but then was suffering from a reported calf strain, which even saw him making an awkward mess of a possible chance from Farhat at fine leg.
Nehra possibly missed out because his webbing injury has not fully healed and would have been a liability on the field. Both Yuvraj and Farhat demonstrated the vital difference sharper fielding can make.
Pakistan made as many as four changes: Gul, Akmal and Kamal made the cut over the ďinjuredĒ Shabbir Ahmed, Moin Khan and Razzaq respectively, while Kaneria replaced the out-of-form Saqlain. Pakistan opted for six specialist batsmen, a decision amply vindicated by Kamalís superb shepherding of the stubborn tail.
THE PITCH
The playing strip had a fair sprinkling of grass, but given the time of the year in Lahore, it would have been over-ambitious to expect anything other than a batting track, which would take slow turn on the last two days. The moisture that Andy Atkinson utilized to keep the top surface bound together, combined with the sweating under covers, enabled an exaggeration of seam movement on the first day, until the second drinks break. The help in the track seemed to diminish with the departure of Umar Gul from the field due to cramps, but he had wreaked enough havoc on the Indian batting by then.
A MAGIC SPELL
Akhtar and Sami, who are the bowling spearheads of the current Pakistan team, rely more on pace and, when they find it, movement through the air than off the pitch. They ďfloatĒ the ball up as opposed to hitting the deck like a Zaheer Khan does. The first morning confirmed this and a start of around 60 runs in ten overs was sufficient proof that Dravidís decision to bat first wasnít wrong.
After the first drinks break, Inzamam brought Umar Gul on. He proceeded to hit the perfect length and aided by the responsive pitch, his seemingly innocuous mix of off- and leg-cutters mixed in with a couple of straighter ones made a complete mess of the much-touted Indian top order. Sehwag was tempted into giving young Akmal catching practice. Sachin Tendulkar, who had been reported as studying videos of Gul before the match, obviously didnít glean enough. He was caught on the move and the extra movement beat his bat. Some may argue Taufelís decision was harsh since it seemed a tad high, but he would have been better served getting more decisively forward and playing straighter. Laxman seemed to have still not fully committed to the front foot game, despite his ton in the last ODI. He paid the price for continually playing from the crease by getting a thorough interrogation from Gul (very reminiscent of the spell he faced from Shabbir in Peshawar) which put so much pressure on him that he wafted at a wide one and was snaffled in the slips. Dravid seemed reasonably comfortable, while Yuvraj had a couple of anxious moments at the other end. Yuvraj got into his stride quickly enough, when Dravid had a lapse off concentration and slashed at a delivery he had been leaving alone all morning for Inzamam to pouch a fine low catch. Patel completely misjudged one from Gul and was LBW shouldering arms while Agarkar snicked one behind. At this stage, India was 147/7 and if it were the Pakistan team of yesteryears, not many would have given India any chance of reaching 175.
But a superb fighting partnership between the doughty Pathan and an in-form Yuvraj bolstered the Indian effort. Yuvraj cut, drove and pulled with panache, encouraging his young partner and coaxing a good effort out of him. Pathan fell just short of a well-deserved half-century but Yuvraj posted his maiden Test ton and ensured his bowlers had something to bowl at.
OF UMPIRING AND TACTICS
Pathan once again got the ball to swing, but it was Balaji, who was the only Indian bowler who could hit the seam, that got the lone success on the first day. Gangulyís medium paced cutters would have been a good option on this pitch. The portents were not good when one saw Dravid opening the attack on the second morning with Kumble. Ostensibly, this was to change ends and to double as a surprise tactic, but as evidenced by Multan, the first and last overs of every session have to be utilized far more productively. Pathan and Balaji again bowled well, but without success. Agarkar got lucky with a loose ball wide outside off that Hameed tamely cut into Dravidís hands. But the hard-working Indian attack had to wait almost thirty overs (and through a Farhat ton) before they were successful. Farhat played a superbly restrained knock, eschewing all bravado and reprimanding himself for every false stroke. He even appeared to refuse Inzamamís congratulations when he reached fifty with a top edge that flew to fine leg, muttering to himself and regaining his focus. The Indians had a confident shout when Farhat was on 99, but he flashed at a Balaji delivery slanted across him soon after, bringing together Pakistanís main batting pair of Inzamam and Youhana.
The Indians fielding effort was spirited, considering the meager total they were defending and despite feeling aggrieved at the umpiring during the second afternoon. Taufel has been quoted as saying that it is tough to umpire in Pakistan because of the crowd noise, but the attendance that afternoon was sparse. Kumble in particular became frustrated to the point where he took a shy at Inzamam who was momentarily out of his crease following a defensive push back to the bowler. Kumble was denied a thick edge off Youhana by Taufel and he simply didnít seem the same bowler after that incident, which saw Parthiv Patel pulled up for dissent and eventually, fined 60% of his match fees.
Bucknor, too, seemed reluctant to award LBW decisions in Pathanís favor, ostensibly giving the impression that he was a not-outer. But that changed when the Indians batted again and he gave a debatable LBW decision against Chopra. One wonders if the Indians did themselves any favors by making their censure of Bucknorís adjudication in Australia public. They also do not help their cause a bit by going up in a full-throated appeal for a perfectly normal straight drive down the ground. Kumble and Patel are, in particular, two cricketers who seem have a very loose interpretation of the MCC Laws, when it comes to appealing.
Inzamam played a classy knock without ever seeming unruffled, while Youhana played within himself and only looked shaky after Taufel reprieved him off Kumble, almost as if he were embarrassed to be still out there.
BATTING COLLAPSE
Although the bowlers brought India back into the match on the third morning, Pathan and Balaji had been over bowled by the end of the first hour. Balaji bowled a peach of a leg-cutter that induced an edge from a very well-set Youhana. At the other end, Kumble was bowling much faster than at Multan and, as a result, being very predictable and flat. This meant that the tail wagged (with Shoaib and Gul showing tremendous character by staying put and giving Kamal support) and Pakistanís lead, which seemed manageable at one point, swelled to 202. Kamal played a perfectly paced knock, taking 79 balls for his first 26 runs and then exploding at the end with a flurry of sixes.
Even so, India was still in with a chance, provided they got off to a decent start. The first few overs gave sufficient notice that the Pakistani new ball pair were finally back to some kind of form, but it was the marginal decision against Chopra that opened the floodgates. Sehwag pushed to cover point and set off for a single that Dravid hadnít anticipated. Being slightly on the back foot, Farhatís direct hit at the strikerís end found him centimeters short of the crease. The Indian skipper had been dismissed without facing a ball. Following his first inning failure, Tendulkar was expected to drop anchor and play a knock similar to his Sydney effort. However, the Pakistan bowling attack seems to have a plan for Sachin, who will probably spend the days leading up to the next Test at the nets. This time, he stayed back to a quick in-dipper from Sami and was LBW hopping at the crease. More than pace, he was beaten by the length and he has to work on countering the just back-of-a-length in-dipper pitched on off and hitting leg stump. Laxman appeared to be much too aggressive for his own good, but was settling down when he got an absolute beauty from Gul that angled in and seamed away to knock off stump. Then Yuvraj came in and edged one that he seemed in two minds whether to leave or play at. The pressure of the Pakistan lead was telling on the Indian batting.
At the other end, Sehwag was his usual fluent self, if a little restrained. When in this mode, he simply doesnít look like getting out. He played a superb hand, as did Patel on the fourth day, after Shoaib prized out the key wicket of Sehwag. The young lad showed tremendous guts after being hit on the box by a Sami scorcher that didnít rise as high as he expected. But he hung around and stayed unbeaten till the end.
Pakistan knocked off the required 40 runs to win in 7 overs aided by some fluent driving from Umar and Hameed. Balaji got Farhat caught at point by Yuvraj, but Pakistan leveled the series seemingly without much ado and itís everything to play for at Rawalpindi.
LAST WORDS
A lot of loose talk is on at the moment among fans and in the media that this series is fixed. Itís time for all of us fans and media folk to either conclusively prove something without rumor-mongering or make a concerted effort to give the system the benefit of the doubt. Realistically speaking, only Dravidís decision to bat first could have been fixed before hand. However, the toss has only so much importance and, as Dravid himself pointed out in the post-match chat, Pakistan won because they played better cricket over three and half days.
Ganguly will be fit for the next match, leading to unnecessary speculation over Chopraís spot and the possibility of Yuvraj opening. If that indeed transpires, it will be one of the most retrograde steps in the Ganguly-era, which has fostered the notion of nurturing promising youngsters by giving them a fair shot before being asked to make way for others.
In any case, one hopes relieving Dravid of captaincy duties will aid him to find some form (he has been our most consistently successful overseas batsman in recent series). Laxman has to remind himself to play like he used to on the flat batting tracks he grew up on and get out of ďAustraliaĒ-mode. Pathan has to learn to use the bouncer more judiciously while Balaji needs to bowl that leg-cutter more often. Kumble has to relax (maybe his sonís birth had him over-excited) and bowl slower and with more of a tweak, like he so successfully did at Multan.
All in all, the series has now come down to the last five days. Whoever sustains a concerted effort over all the five days will win. And despite what some rumor-mongers insist, no one really knows what the result at 'Pindi will be.