Knocking Around - Day 4: Can Pak snatch a win?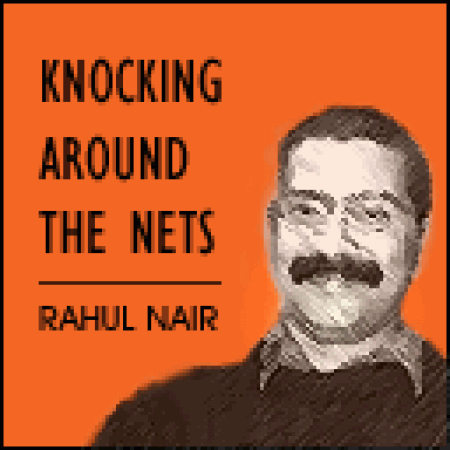 By Rahul Nair - 15 April '04
April 16 2004
Thanks to Dravidian heroics, India holds all the aces in the decider. Ganguly's return to the helm has sparked off more than a mere revival. Will Pakistan manage to pull out an amazing surprise on the last day? RETURN OF THE KING
With the return of Ganguly to Pakistan, everyone expected pre-match posturing of the sort Ganguly has already been indulging on this tour. Remember how Ashish Nehra recovered miraculously and made the second ODI eleven? So it's debatable whether Inzamam or Miandad took his pre-match statement about him or Yuvraj opening with any seriousness. However, Ganguly had already taken the bold and unprecedented step of announcing the final eleven for Rawalpindi well before the match started, with the only changes being Nehra for Agarkar and Ganguly for Chopra. Even so, not many must have been prepared for the sight of the baby of the team, Parthiv Patel, coming out of the hutch with Sehwag when India began its reply. In the event, it turned out to be a tactical coup for the skipper, who has steadfastly maintained that this arrangement was a "one-off" in the deciding match of a crucial series.
Ganguly also had a welcome return not only to run-making form, but also to calling the coin correctly. He won the toss that mattered most and, despite more pre-match hype about batting first in any case, had no hesitation in asking Pakistan to take first strike.
On the Pakistani side of the build-up to the Test, there were various reports that claimed Sami wouldn't be fit to play but ended up making it to the playing eleven. The injury to Man-of-the-Match at Lahore, Umar Gul, enabled Fazl-e-Akbar's entry into the squad.
THE PINDI FACTOR
Rawalpindi's twin city, Islamabad, has a wonderful soil and would have been the ideal place to create a green top that the Pak management was ostensibly seeking. Rawalpindi strips have been traditionally those hard, dry surfaces which help scuff the ball up quickly to enable reverse swing going early. However, in the event, the nature of the surface didn't matter as much for the Indian bowlers who rely more on movement in the air. However, this meant that Pakistan's batting line-up was in for a severe examination, which they ultimately failed.
The Indian opening bowlers seemed over-excited by the help they got from the pitch, like a camel that gets disoriented when it reaches the sea shore. The amount of cut and swing on offer combined to make bowling the straight ball the hardest exercise. But once Balaji got his radar fine-tuned, he opened the floodgates. Taufeeq Umar was caught on the shuffle (yet again) and trapped plumb in front. Pathan was bowling an exclusive dose of banana outswingers to the left-handers at the other end. When Balaji was replaced by Nehra, he too overcame an average first over to hit a good length and soon got rid of Lahore centurion, Imran Farhat.
Yasir Hameed and Inzamam-ul-Haq raised visions of a revival with an enterprising partnership. The Indian bowlers began to hit their stride and bowled a superb length, allowing the help from the pitch to do the rest. Thus, Hameed's over-ambitious drive off Pathan found its way into Laxman's hands at slip. Inzamam, who was lucky to survive what looked like a plumb LBW appeal, was dismissed off the very next ball by Nehra, with one that seamed away just a touch and kissed his bat through to Patel.
BOWLING AS A TEAM
The Indian bowlers, with the exception of Kumble who struggled all day to find the right line on this track, bowled very well in tandem to create and sustain pressure. The pitch began to get easier to bat on as the day progressed, but the Indian pacers kept chipping away with wickets at regular intervals. Youhana was predictably snared by Pathan, while Balaji produced a career-best burst of 4-63, including a brilliant delivery that squared up Akhtar and took his off-stump. India's slip catching was top-notch. As a fielding side, India seemed to lose the plot only when the tail-enders helped Sami add 87 runs after the fall of the eighth wicket. They weren't helped by Patel, who dropped a sitter from Sami when he was on 35. Finally, Kumble struck by getting rid of Akbar and then a smart piece of fielding ended the rearguard action while denying Sami a well-deserved half century. Sami played a fighting knock, taking a number of hits on the body, one of them an especially painful one on the box.
Pakistan was whittled out for 224, leaving Indian to see off 15 overs until Day 2. It was the same script from Lahore, but with the roles reversed.
DIE BY THE SWORD
The commentators seemed definitely surprised to see Patel striding out with Sehwag. Usually, Chopra takes first strike, but this time Patel headed to the non-striker end while Sehwag took guard against Akhtar. It turned out to be drama from the first ball. Akhtar charged in and bowled one just short of a length on leg stump. Normally, Sehwag would have flicked this one for a boundary. But he seemed a little over-eager and closed his bat face too early, giving an easy catch to Hameed at point (who ended up making a straightforward chance look spectacular, after three attempts). India had seemingly given Pakistan a semblance of hope after their batting collapse.
In strode the most dependable batsman of the team, Rahul Dravid, and he guided young Patel through to the close of play. Patel hit a very nice square-drive and a pull off Shoaib and generally gave a good account of himself, leaving as much as possible and shoinh an intent to stay at the wicket. Apparently, he had been most enthusiastic about opening at Rawalpindi in a team meeting about the issue and hence he got the job.
THE GOOD SHEPHERD
At the start of the second day, the match was still hanging in the balance. Shoaib and Sami opened proceedings and were getting enough pace and bounce to disconcert both overnight batsmen. But Dravid decided this was the time to rectify the serious blip in his batting record against Pakistan by doing his best impression of a limpet.
He defied everything the Pakistani bowlers threw at him for 740 minutes before he fell reverse sweeping in the quest for quick runs at the end. Playing what was an unusually patchy inning compared to his fluent self, he also amassed his career best score, shepherding his young wicket-keeper and India's vaunted stroke players to guide his team to a position of invulnerable strength by the end of the third day. All the regular elements – timing, elegance and shot selection, backed by oodles of patience – were there. What was missing was the impeccable placement which saw a lot of full-blooded shots going straight to fieldsmen.
He rode his luck as well, surviving confident shouts for leg-before and a catch at short leg. But he never lost focus, keeping one end intact even as he lost Patel and then Tendulkar to a Shoaib snorter. He must have been relieved to see his old partner-in-crime, V.V.S. Laxman striding out to replace Sachin. After all, at that point, India was 130/3, Akhtar breathing fire and brimstone and Dravid intent on mere survival. But barring his first edged boundary, Laxman played with great conviction and purpose, taking the attack to the opposition and treating the few fans that had come to the stadium to some delicately wristy flicks and sublime drives. In the end, he lost sight of a Shoaib full-toss that moved in the air and hit his middle stump. But his 71 had already set the pace for India. Ganguly and Yuvraj merely had to continue with the good work, which they did. With Dravid appearing to have taken firm roots at the crease, their task definitely became easier and once past lunch on Day 3, Dravid opened out to score at almost run-a-ball. India ended up with a mammoth total of 600 and a lead of 376 runs. This was the third time in four innings that India had reached the 600-run mark.
CLOSING IN ON HISTORY
Pakistan was left with an awkward 15 overs to negotiate before stumps, after two grueling days on the field. Farhat and Umar began well and the Indian bowlers were again unable to control the new ball. But just like in the first inning, Balaji got things to happen as soon as he got his line right. He got one to angle across Farhat that bounced a little higher and held its line. Farhat played for the movement and got an edge that was duly pouched by Sehwag. Five balls later, Pathan got one to straighten into Umar and was rewarded with an LBW verdict. Hameed and night-watchman Akmal saw Pakistan to 49/2 at close of play.
It's never over till the fat lady sings, but unless Inzamam and two more batsmen bat out of their skins, Pakistan will struggle to save this one. India hasn't won an away series in a long time. It will be awesome for Ganguly to chalk up win number 15 (which would make him India's most successful captain ever) and for the team to close out a series win over Pakistan.
LAST WORDS
Besides the constant chatter of the keepers, the stump microphone picks up some amusing banter between the players. Chopra, who was substituting for Dravid, was at forward short-leg when Kamran Akmal walked in to face Pathan. This reporter was in splits when Chopra went, "Arre, Akmal, kya re, tereko nightwatchman bhej diya? Javed tereko itna bura samajhta hai kya? (Hey, they sent you in as nightwatchman? Is that how highly Javed regards your batting skills?)"
Ganguly's dismissal was rather amateurish. There was absolutely no reason he shouldn't have grounded his bat when his feet were almost abreast of the crease. However, he batted very well for his 77 and has made successful tactical decisions in this match thus far.
Kumble, in Pakistan's first essay, seemed in the same funk that he was in at Lahore and bowled an awful line. His bowling will be crucial on Day 4 and it is important that he bowls slower and with more variations.
Akhtar's injury was a disaster when it happened for Inzamam. He was going great guns and Ganguly had just come to the crease when he over-balanced and hurt both his thumb and back. He blasted out 3-45 from the Indian top order while none of the others realistically looked like taking a wicket. Inzamam must have really missed the services of Umar Gul. However, it was a little strange to see Akhtar sitting with his shades on in the dressing room, while his fellow express pacer Sami bowled 13 overs on the trot under the blazing Rawalpindi sun. He should have come out in the morning with the team, if only to give Dravid and Ganguly the (false) impression that he might bowl soon.
Lastly, my nomination for find of the tour goes to: Laxmipathy Balaji. "Balaji, zara dheere chalo…"